Young eyes on nature
View(s):

"Young Eye on Nature" the annual wildlife photography exhibition and "Kin Wild" the annual wildlife arts exhibition by the Young Zoologists Association (YZA) will be held on November 28, 29 and 30 at the J.D.A. Perera Art Gallery, Colombo 7.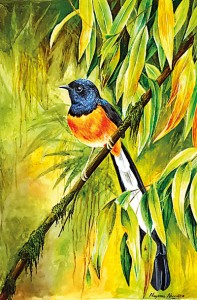 'Kin Wild' -the exhibition of wildlife paintings and sketches is the longest running wildlife art exhibition in the country. The Young Zoologists Association established the 'Wildlife Arts' group in 1989 to assist youth talented in drawing.  YZA held the first wildlife art exhibition in 1990 and since then it has been an annual event.
YZA initiated its wildlife photography exhibition to showcase the talent of its young members who chose photography as a media to capture the beauty of nature long before the digital age of photography. YZA groom the youth who aspire to be wildlife photographers teaching them techniques, while guiding them to take the ethical path. Its members use wildlife photography as a tool to raise awareness among the public on the need to conserve nature.
YZA is conducting Wildlife Art and Wildlife Photography classes every Sunday at the National Zoological Gardens, Dehiwala. The best art and photographs by its members chosen through a selection process will be showcased at these exhibitions.
Entrance is free for these exhibitions.