Lankan inspired Bohemian weaves
By Ruqyyaha Deane
Founder of Nakota Tuwa shares with the Mirror Mag how her brand came to life in Sri Lanka
View(s):
When you buy from an ethical clothing line, you know that there is a lot of love that has been put into creating that clothing. From the people who weave the fabrics, to the man who sells the fabric, to the designer that created the piece, to the seamstress that has sewn the clothes together and all the love and effort that is put into branding and marketing," shares Tif Florentina as she talks to us about her bohemian themed clothing brand Nakota Tuwa.
Derived from a Native American origin, Nakota which means 'friendly' and Tuwa that means 'Earth' is based on tribal Native American resort wear. Tif who is a resident of the UK came down to Sri Lanka for a temporary stay and fell in love with the little island and in turn led her to start her brand after being highly inspired by the country's surroundings.
"The heart and soul of Nakota Tuwa will always be Sri Lanka. Sri Lanka is where all my dreams seem to be coming true and I cannot believe the inspiration that I have got whilst travelling around the country," she expressed adding that it is important to give the country its credit and hopes it will inspire others to come to the country and soak up what it has to offer.
A fashion graduate from Sheffield Hallam University, it was her personal style that heavily influenced the brand's designs. A mix of boho chic, comfort and elegance, Nakota Tuwa's motto is 'Respectfully Sexy'. Elaborating more on the style, Tif shared that her designs stay on the conservative side in order to respect the culture of Sri lanka but also incorporates elements that will channel the inner confidence in women.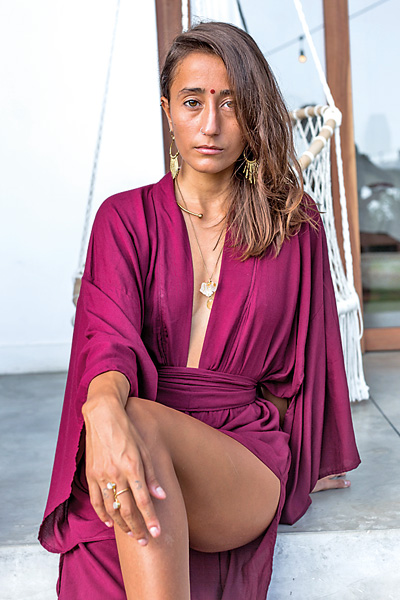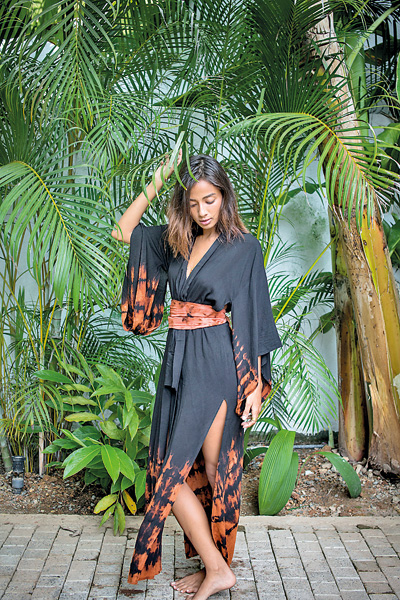 Ethical fashion is very important for the Nakota Tuwa brand. From the way they manufacture their clothing brands to the treatment of their staff.  "Sustainable and ethical fashion is not just important, it is the future. When you buy ethical clothing you are not only helping the more independent clothing brands but you are also supporting how they are helping different communities and supporting local people," Tif elaborated.
"We do not create in big factories as thats not what we are about, we want to keep everything local and help the community with jobs as we can in Sri Lanka to say thank you for giving me the opportunity of being able to follow my dream," she adds further. All their products are made from natural fibers and are locally sourced. As Tif designs the items, she credits an amazing final product to her tailors who understand the cut and thinking behind her designs.
"Our collection is coherent and versatile, so you can wear items in many different ways and match all the range together to get different looks. So when you buy our range you are buying more than one outfit, you're buying a wardrobe," Tif says as she talks about her target audience. Majority of the outfits she makes are one size fits all thus drawing in a wide demographic from teenagers to ladies in their late 70's.
"If we all try and follow all the fashion trends then we would not be dressing for our individual, beautiful body shapes and also expressing our own personalities," she shares on how her floaty designs have gained the attention of the public. They are currently releasing a limited menswear and yoga wear as well to further inculcate their vision of being a lifestyle brand.
Tif wishes to collaborate with other brands that follow the same ethos as Nakota Tuwa does and hopes that her brand will change the mindset of people regarding fashion and approach it in a more holistic way. When asked about what lies ahead for Nakota Tuwa, Tif replied saying "Ah well the world is our oyster and there is always room for expansion.The future plans are to keep doing what we're doing, stick to our ethos and spread the word worldwide. There are plenty more ideas in the pipeline so keep your eyes peeled."
Check them out at www.nakotatuwacom/  or follow them at @nakotatuwa on Instagram