Elders Day Celebrations with VCC
View(s):

Commemorated each year The International Day of Older Persons is observed on October 1st. The Vintage Car Owners Club (VCC) of Sri Lanka together with the Mount Lavinia Hotel hosted the 'Annual Elders Day Treat' at the 'Regency Room' of the hotel recently.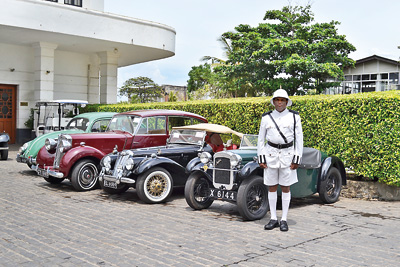 'The Vintage Car Owners Club' showcased a phenomenal display of classic road masterpieces. Quite fitting for the occasion, the owners drove and parked their classics at the hotel courtyard. On display were the oldest of cars each with a unique story, some even dating back to over 100 years ago' said a spokesperson from the Mount Lavinia Hotel.
The hotel extended their hospitality and service to the elders, who were brought from 3 different homes, namely 'The Moratuwa Elders Home', 'Meegoda Home for the Elders' and the 'Gamini Elders Home'. Over 50 elderly people were given the opportunity to experience the heartwarming friendly service of the grand heritage hotel.