Gotabaya pledges – I will do it my way
By Our Political Editor
View(s):
Gives new identity to the presidency which he fought hard to win
No portraits in state institutions, cuts down his security staff, no road closures for his motorcade
Selection committee appointed to screen those recommended as chairpersonsor directors of state institutions; pledges to eradicate bribery and corruption
UNP in turmoil, but Ranil likely to be the leader of the opposition; Vasudeva to take over as Speaker
The venue was historic. The Ruvanwelisaya built by King Dutugemunu, who became King of Sri Lanka after a war where he defeated the Chola King Elara some 140 years before Christ, on a sunny Monday morning.
Facing the limestone statue of King Dutugemunu, south of the imposing Dagoba, Nandasena Gotabaya Rajapaksa, declared elected by an overwhelming vote as seventh executive President of Sri Lanka, stood solemnly ahead of the armed forces commanders in their regalia. He declared "we knew from the beginning that the majority Sinhala community would be the decisive factor in this victory. I knew it was possible to emerge victorious with their sole support. I appealed to the Tamil and Muslim communities too to become parties in this victory. That appeal was not satisfactory to the level I expected."  Yet, he pleaded to "our Tamil and Muslim brethren to join together for the sake of the country's prosperity."
He was bold enough to tell the truth, He was not shy to pronounce his Buddhist upbringing and credentials. The Tamil and Muslim communities had en masse voted for his opponent, Sajith Premadasa from the UNP-led New Democratic Front (NDF). This is particularly in the North and East. That clearly was a strong message for the three pro-UNP parties — the Tamil National Alliance (TNA), the Sri Lanka Muslim Congress and the All Ceylon Makkal Congress. The disappointment was worse for Rajapaksa. Visits to Hindu and Muslim places of worship were an integral part his campaign to show he was reaching out to them.
There was euphoria as Sri Lankans countrywide, some consumed by high pitched propaganda of a Rajapaksa defeat and others discerning enough to know he was on a path to convincing victory, watched from their homes and places of work. An internal survey by the UNP showed that Premadasa needed to continue his focus on youth, women, Sinhala-Buddhists and rural voters, with him trailing at 32 percent to Rajapaksa's 45 and an undecided segment of 17 percent a week before the election. They expected Premadasa to receive 90 percent of the undecided voters during the last wave to end up marginally ahead of Rajapaksa with neither getting the required 50 percent in the first count. Clearly, it was not to be the case. The Buddhist clergy came out in numbers to back Rajapaksa for the Presidency.
Television networks provided live coverage while the count was in progress, and thereafter. The mood nationwide was reminiscent of the day in May 2009 when Tiger guerrillas were militarily defeated. Then, the title of being King Dutugemunu, the brave ruler credited for unifying the country, fell on Mahinda Rajapaksa who was serving as President.  In many towns and villages, people distributed kiribath (milk rice) and sweetmeats. At the turnoff to Pengiriwatte Mawatha in Mirihana, where President Gotabaya Rajapaksa now lives, even company executives in cars stopped by at a large tent to have their portions of kiribath and seeni sambol wrapped in lunch sheets. When not serving, helpers were jumping with their hands raised. Cries of Jayawewa, Jayawewa rendered the air. There were rapid bursts of firecrackers. Hundreds of motorcyclists went on victory parades waving the national flag and proclaiming that "the country has been saved."
The story of Satakaya
At the swearing-in ceremony itself, there was an event that literally went unnoticed. Mahinda Rajapaksa had in his hands a small package. He opened it and handed what appeared to be a folded maroon cloth to his personal bodyguard Major Neville Wanniaratchchi, to be handed over to Chamal Rajapaksa. It is only then that the elder brother unfolded it. It was a maroon satakaya (or shawl), the one worn by the three brothers – Chamal, Mahinda, and Basil. That was placed around his (The President's) neck by Chamal but President Rajapaksa lost no time in removing it and placing it in the hands of a security officer. He seemed content with a white collarless shirt and trouser.
That was a clear sign that he was bent on creating a somewhat different image of himself. There is no gainsaying that he is fiercely loyal to elder brother Mahinda and other close members of his family. It is more a case of a new identity, much the same way he formed two different organisations – Viyath Maga and Eliya. President Rajapaksa has declared that no photograph of his should be displayed in state institutions. Whilst being driven to the Presidential Secretariat on Tuesday, he asked "why are the roads closed and what is a Fire Brigade truck doing? Get the road opened and the truck sent away", he ordered. He pruned down numbers from his own security convoy. He has named a four-member committee – Lalith Weeratunga, Brian Gomes, Nalaka Godahewa and Susantha Ratnayake – to screen aspirants nominated as chairpersons or directors of state bodies.  According to Padmalal Sandungahawatte, the DIG in charge of Anuradhapura and Polonnaruwa Districts, more than 25,000 people attended the swearing in ceremonies.
There was also some ignominy for former government ministers when they arrived in the sacred grounds of Ruvanwelisaya. There were boos and cat calls for Ravi Karunanayake, Arjuna Ranatunga, Daya Gamage, Vajira Abeywardena and John Ameratunga. Some people in the outer perimeter hurled insults and charged that the ex-minsters were being permitted to go in whilst they were forced to stay out. Prime Minister Ranil Wickremesinghe who was assigned a Sri Lanka Air Force (SLAF) helicopter to fly from Colombo to Anuradhapura arrived thereafter. He also met with some boos and cat calls, but his personal bodyguards hurriedly escorted him inside the specially built dais.
Wickremesinghe returned by the SLAF helicopter to Colombo. He headed straight to a United National Party (UNP) parliamentary group meeting. It is here that what went on in the campaign of the vanquished, New Democratic Front (NDF) candidate Sajith Premadasa unfolded. In the lobbies there was a conversation between some Sri Lanka Podujana Peramuna members and UNPers. One of the main issues raised by an SLPPer was the Premadasa campaign. An SLPP member who claimed anonymity said he asked about the working of the three-member election committee for Premadasa – Kabir Hashim, Mangala Samraweera and Malik Samarawickrema. The reply from the UNPers – that two others – former UNP General Secretary Tissa Attanayake and till recently Senior Advisor to outgoing President Maithripala Sirisena, Shiral Laktilleke had taken over their tasks.
Attanayake's name also featured at the last "pre-Cabinet" meeting Wickremesinghe chaired. Lakshman Kiriella said that when Attanayake was General Secretary, the UNP won no elections. It had done so only after he left.
The duo was operating from their Vauxhall Street office and they were not kept briefed. In other words, the trio are saying that they could not play their assigned role. The same SLPPer also asked about fund raising for the campaign. It was only carried out by one person, came the reply. The meeting ended abruptly after Sujeeva Senasinghe and former Minister Daya Gamage exchanged strong words prompting leader Wickremesinghe to say the meeting was now over. Later, UNP General Secretary Akila Viraj Kariyawasam declared publicly that both the campaign and fund raising had been carried out from Vauxhall Street.
Sajith Premadasa was meeting supporters from different electorates who came to his Vauxhall Street office. Former Minister Thalatha Athukorale who had come to the UNP headquarters Siri Kotha, in Pita Kotte telephoned Premadasa to tell him that crowds of supporters were waiting for him. He said he would come there. When he arrived, the gates to the UNP headquarters were closed and he could not enter. Later, General Secretary Kariyawasam said it was done for security reasons.
Another event was playing out even before National Election Commission Chairman Mahinda Deshapriya called a meeting late Sunday afternoon to announce the results. Sensing a convincing victory, the Rajapaksas had decided to form a new government – a fact which the President later declared in his address to the nation on Monday. Prime Minister Ranil Wickremesinghe who leads the Cabinet was still in office and there was no sign he would resign. In fact, constitutionally, he is empowered to remain in office. That meant that the Cabinet of Ministers too would remain unchanged. Wickremesinghe also spoke on the telephone with Mahinda Rajapaksa last Sunday.
Intermediary plays his role again
This is where a leading businessman, a relative of the Rajapaksas by his marriage and a close associate of Wickremesinghe, began playing the role of an intermediary. The first proposal he conveyed was for the UNP to sponsor a resolution for Parliament to be dissolves and go for general elections in January, next year. Wickremesinghe believed he would receive SLPP support and thus a two thirds majority. He wished to remain as Prime Minister, a move which meant he could campaign whilst holding that office.
The Premadasa faction was opposed to the move. The dialogue went on to and fro. As one source privy to the dialogue disclosed, both 'persuasive measures' as well as 'high pressure moves' were used. Wickremesinghe was on strong legal grounds. SLPP lawyers advised them of the legal position. Some formidable sections were in favour whilst, yet others did not like the idea. The latter argued that the decision over a Leader of the Opposition was now a matter for the Opposition and should not be the concern of a new government. There was more pressure.
The result was a meeting between Wickremesinghe and President Gotabaya Rajapaksa last Tuesday. Accompanying the UNP leader for this meeting were Akila Viraj Kariyawasam and Navin Dissanayake. The talks led to a broad "gentleman's understanding." In terms of that, Wickremesinghe assured that MPs of his party or constituent partners will not move in Parliament for a vote of no confidence in the 'minority' government until parliamentary elections. In return, the government will not interfere either formally or informally in the selection of a Leader of the Opposition. Thus, that has paved the way for Wickremesinghe to become the Leader of the Opposition,
This is not the first time that the millionaire businessman has played an intermediary role. When results were being relayed on the January 8, 2015 presidential election and it became clear that Maithripala Sirisena was the victor, he accompanied Wickremesinghe for a meeting with Mahinda Rajapaksa. It was at 'Temple Trees' where the then President was staying. That night Wickremesinghe had called on the businessman at his Colombo residence to take him along. That was for the "smooth transition" of the government. Wickremesinghe also arranged for an Air Force Mi-17 transport helicopter for Rajapaksa to leave for Medamulana, his ancestral village.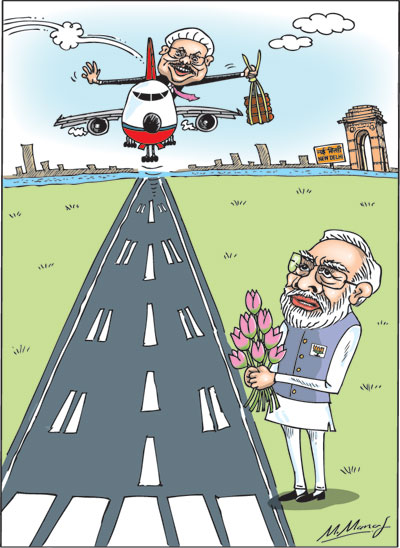 The delay in Premier Wickremesinghe resigning caused a consequent delay in swearing-in of a new Cabinet. Though he was to quit on Wednesday morning, on Tuesday night he telephoned Mahinda Rajapaksa to say he would do so on Thursday. At a 'pre-Cabinet' meeting, his last, at 'Temple Trees' on Wednesday, Wickremesinghe announced his decision to resign as Prime Minister. A discussion ensued on the defeat of Sajith Premadasa. Former Minister and House Leader Lakshman Kiriella castigated his then ministerial colleague Mangala Samaraweera as one of the main causes for the defeat of Premadasa.
He said there was no minister who had hurt Buddhist sentiments than Samaraweera. He had once declared that Sri Lanka was not a Sinhala Buddhist country. He had then criticised the Buddhist clergy. He cited an instance when late J.R. Jayewardene was President. He had admonished Minister Cyril Mathew for some "insensitive" remarks he had made. Mathew had thereafter resigned, he pointed out. However, neither leader Wickremesinghe nor deputy leader Premadasa pulled up Samaraweera for the remarks he made, he said. Wickremesinghe said those present should decide on the future course of action of the party. "Once you take a decision, let Navin (Dissanayake) know, He will convey it to me," he added.
Pro-Premadasa meeting
at Galle Face Hotel
Earlier on Monday, there was another meeting taking place at the Galle Face Hotel.
Parliamentarians who backed Premadasa were turning up there to sign a petition to Speaker Jayasuriya urging that Premadasa be recognised as the Leader of the Opposition. They were also placing their signatures on a letter                                         addressed to UNP leader Wickremesinghe urging him to step down. One of the sponsors who did not wish to be named said there were "already 50 signatures on hand now." However, from the 107 MPs, this is less than half.
The two letters were in the hands of Ajith Perera, when Speaker Karu Jayasuriya held a meeting of the Parliament Business Committee on Thursday. He told Speaker Jayasuriya that 45 MPs (by then) had already signed a petition to him urging that Premadasa be made the Leader of the Opposition. However, UNP General Secretary Akila Viraj Kariyawasam had already sent Speaker Jayasuriya a letter that the UNP had decided to have Wickremesinghe as Leader of the Opposition. Perera argued that no such decision has been made.
Speaker Jayasuriya made clear that he had to accept the letter of General Secretary Kariyawasam since he is the actual authority. He cited the instance where Mahinda Rajapaksa was recognised as the Leader of the Opposition. This was based on a recommendation made by the UPFA General Secretary Mahinda Amaraweera. "Your party has to sort matters out. As far as I am concerned, I must accept the letter from the General Secretary," declared Jayasuriya. Backing the Speaker's position, pointing out that it was the "correct thing to do," was former Minister Ravi Karunanayake. Those stoically silent included Rauff Hakeem (SLMC), Abraham Sumanthiran (TNA), John Ameratunga (UNP) and Lakshman Kiriella. Wickremesinghe won the day.
Even if he has thus become the Leader of the Opposition, troubles are not over for him and the UNP. The Premadasa faction is making fresh moves to oust him as the party leader. The former Premier, on the other hand, plans a purge of his antagonists and that would see a fresh round of battles within the party. He is once again set to take control of the party. Perhaps, actions by the present SLPP government may come as a bonanza for him. This is reflected in the portfolios of Premier Rajapaksa – Finance, Economic Affairs, Policy Development, Buddha Sasana, Cultural, Water Supply and Urban Development, Housing facilities. These includes the subjects handled by Sajith Premadasa under the previous coalition. Plans are already on the drawing boards to conduct detailed inquiries into alleged abuse of funds, particularly in the Cultural Affairs Ministry.
Speaker Jayasuriya is also to be replaced by Vasudeva Nanayakkara, leader of the Democratic Left Front (DLF). Though a maverick politician, he is reputed for his advocacy against bribery and corruption. He hails from a well-known family in Galle and has been a champion of the poor, A Trotskyite of yesteryear, groomed by political giants of the likes of N.M. Perera and Colvin R. de Silva, he has been a strong defender of the country during different controversies and has spoken his mind out.
Sirisena saved from
political disaster
There were other developments just before and when President Gotabaya Rajapaksa was visiting his office at the Presidential Secretariat for the first time. Outgoing President Sirisena, who chose to remain "neutral" at the presidential election, had wanted to be present to receive him. He made a telephone call to President Rajapaksa and made his wish known. Later, he stood at the main entrance to the Secretariat holding a sheaf of betel.
Not many Sri Lankans are aware of an incident linked to him when the presidential election campaign was under way. He had plans to mount the stage at Premadasa's election rally in Polonnaruwa on November 13. The news reached Basil Rajapaksa, SLPP national organiser and its architect. He had to embark on several efforts to dissuade him. His Sri Lanka Freedom Party (SLFP), where he had temporarily ceded leadership to an acting Chairman, was already a signatory to a Memorandum of Understanding with the SLPP. Thus, Sirisena was saved from a political disaster.
Yet, he has not been able to seek any successful office in the new government. His hopes of becoming the new Speaker have died after Vasudeva Nanayakkara has been identified. He has also not been successful so far in having a National List MP from resigning so he may enter Parliament. On Thursday, Sirisena told a former SLFP Cabinet Minister "Api megollanwa tharaha karaganna narakai" or we should not antagonise them (the government personalities). The remarks came as Mahinda Rajapaksa was sworn in as premier. Yet, Sirisena appears to have burnt his boats.
Prime Minister Rajapaksa was at President Rajapaksa's Mirihana residence when the results of the presidential election were finally announced. One of the visitors was Taranjit Singh Sandhu, High Commissioner for India in Sri Lanka. After wishing President Gotabaya, he dialled his mobile phone to get his Prime Minister, Narendra Modi in New Delhi so he may speak to him in person. The move showed that New Delhi was keen to foster good relations with the new regime without loss of time.  After the exchange of greetings, Premier Modi said he was sending his External Affairs Minister, Subhramaniyam Jaishankar, to Colombo. EAM Jaishankar was hosting Bhutanese Foreign Minister Tandi Jorgi. Soon after he hosted a lunch in his honour, he boarded an Air India flight to Colombo. Besides inviting President Rajapaksa to visit India (the date agreed was November 29), they also discussed a range of other issues. Matters relating to reconciliation, for which talks with Tamil leaders were necessary were also discussed.
The new government is yet to name a Governor for the Northern Province fuelling speculation that concurrence from Tamil leaders, particularly the Tamil National Alliance (TNA) was being awaited, claimed a TNA source. The man behind the move on the TNA side is Abraham Sumanthiran. However, there is no confirmation from the government side. A government source said they would also consult Minister Douglas Devananda. Just a week before the election, the TNA issued a three-page statement supporting Sajith Premadasa. Jaishankar also spoke with Premier designate Rajapaksa and Ranil Wickremesinghe, the then Premier. He left on Wednesday morning also by an Air India flight.
High voter turnout
At the November 16 presidential polls, Gotabaya Rajapaksa secured victories in 16 of the districts whilst Sajith Premadasa recorded victories in six. Of this five were in the northern and eastern provinces.  In 2015, the NDF won 12 electoral districts, to the UPFA's 10.
Premadasa captured 83.9 percent of the vote from the Jaffna district while in the adjoining Vanni district he recorded 82.12 percent. For Rajapaksa the highest percentage was recorded from the Matara district where he polled 67.25 percent of the vote followed by a record 65.3 percent in the Hambantota distirct. Premadasa lost his own Hambantota electorate.  In Monaragala district and the Galle district also Rajapaksa received high percentages with 65.3 percent and 64.3 percent respectively.
Of the 160 electorates Rajapaksa recorded victories in 114 while Premadasa recorded victories in 46 — 22 of them in the North and East. The others were in the Colombo district (6), Gampaha (2), Kandy (6), Matale (1), Nuwara Eliya (3), Galle (1), Puttalam (1), Badulla (3) and Kegalle (1).
The most significant feature in the outcome of the presidential election is the polarization of ethnic groups. If the Tamils and Muslims voted in large numbers for Premadasa, Buddhists unified to elect Gotabaya Rajapaksa. It disproved the theory that votes of the minorities are essential for a candidate to win the presidential election. That had been disproved before in 2010 as well. In fact, in his address to the nation, President Rajapaksa underscored this when he declared "The blessing of the Maha Sangha from the four corners of the country was instrumental in my election victory." At least 10,000 members of the Buddhist clergy went on foot campaign to seek backing for Gotabaya Rajapaksa.
Galvanising them into action was the previous coalition's abject failure in preventing the April 21 Easter Sunday massacres. This is despite having received advance intelligence warnings. The degree to which that triggered fears in Sinhala dominated areas, coupled together with the coalition's failure to conduct an impartial, transparent probe, created serious concerns among the Sinhala community. Even the measures that were adopted were viewed as devious exercises to protect some interested parties. It took a presidential election to highlight the enormity. This was why there was a 83.7 percent voter turnout — the highest in the history of presidential elections.
This is at a time when leading political parties guessed no candidate would receive 50 plus one vote. So much so, then Premier Wickremesinghe met EC Chairman Deshpriya on polls day. Contrary to reports that he was seeking clarification over roadblocks and checkpoints in the north, he sought to know what would happen in such a situation where no one got 50 percent plus 1 votes.  This is because the government had also wanted to take certain steps in such an event. The Polls Chief, however, had declared that he did not foresee such a scenario since the voting has been unprecedentedly high.
Just days after assuming office, President Rajapaksa has asked Cardinal Malcolm Ranjith to name two persons to a Commission of Inquiry he wants to appoint. The President does know the roles played by the Parliamentary Select Committee as well as the Criminal Investigation Department (CID). The truth behind most issues will surface.
Another myth that was exploded at the polls was the theory that a third party had room to emerge. Janatha Vimukthi Peramuna (JVP) leader Anura Kumara Dissanayake, who contested under the National People's Power (NPP) was in for disappointment. His own party had served as a proxy to the coalition and did not receive the votes it expected. So did former Army Commander, General Mahesh Senanayake who ended up with a paltry 49,000 votes.
The credit for an impartial, violence free presidential election goes to Election Commission Chairman Mahinda Deshapriya and his staff. They were in for full praise from observers, both local and foreign.
In his address to the nation on Monday, President Rajapaksa pledged to "protect social justice" and ensured the country would be "free of fraud and corruption." That one line was more eloquent than the chorus of voice in the coalition who came to power to fight bribery, corruption and abuse but ended up doing just that. This is because victory has not been delivered on a platter to Gotabaya Rajapaksa. He has earned it. More importantly, he is changing his ways as the new President, staying firm and committed to do the right thing.