Lack of funds holds up child's medical treatment
View(s):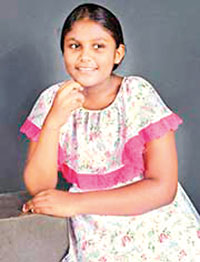 Chalani Divumini's parents are struggling to raise funds to take their daughter to Seven Hills Hospital in Mumbai, India, for a "blood transfusion as per dialysis system".
The eleven-year-old school girl was diagnosed with a congenital cardiac condition when she was just three months old, and had to be admitted to the Madras Medical Mission (MMM) in Chennai, India, for surgery.
Since then, she had to be taken to the specialised health facility from time to time for "surgical corrections and treatment".
The child was subsequently fitted with a cardio microphone for constant monitoring of her condition. According to cardiologists, she is suffering from a congenital heart disease diagnosed as "TOF, severe infundibular PS confluent PA".
As Chalani has developed blisters on her right leg, Dr. K. Sivakumar, Head, Department of Paediatric Cardiology, Institute of Cardio-Vascular Diseases, MMM in Chennai, wants the patient brought to Seven Hills Hospital in Mumbai as early as possible. She will have to be brought to the MMM later for a follow up cardiac examination.
With the blisters multiplying, Chalani's health condition is deteriorating. Her life could be in jeopardy if medical treatment is delayed any further, local doctors have warned.
Some funds were collected following an earlier appeal, but it's insufficient to meet the medical expenses involved, which works out to Rs. 700,000, apart from the cost of air tickets from Colombo to Chennai and the onward journey to Mumbai and back, food, accommodation and incidental expenses.
Those eager to contribute towards this worthy cause can credit their funds to A/C No. 102657129083 at Sampath Bank, Panadura branch or 8124458 at Bank of Ceylon, Panadura branch in favour of the child's father, H. P. Nalaka Soysa. He can be contacted on mobile 071-4758595 or 0788-795930.