Profiles of a friendship
Appreciation
View(s):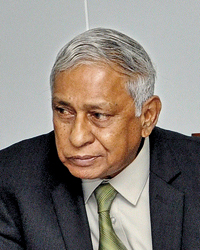 Aubrey Kuruppu
I recollect, one day in 1974, when I was also in the Department of English, University of Peradeniya, Aubrey, who was already there, asked me whether I would like to play cricket. I had played cricket from my childhood. In fact, 21 years earlier, in 1953, my mother gave me some money to buy a pair of tennis shoes, specifically, to play cricket. Cricketing ended when one of my classmates at Kadawatha High School/Senior Secondary School, Kadawatha, Stanley Dabare, now a retired Assistant Auditor General, was struck on his chest by a leather ball. Aubrey, apart from being a cricketer, was the best English Commentator for Cricket Matches, for quite some time.
There were many people whom I mingled with after my daily duties as Editor of IWMI, but only a few of them liked Aubrey's commentaries, because only a few had listened to them. On the other hand, I would meet many other "English educated" cricket fans who didn't like Aubrey's commentating, because they didn't understand his English. How can they appreciate such a Niagara of meaningful words embedded beautifully in Aubrey's commentaries?
I saw "Maname" when I was 17 and a student at Ananda College then, but two dozen years later, its female star, Trilicia Gunawardena became my batchmate when I was doing some studies at the Colombo University, while I was on sabbatical leave from Peradeniya University. On her demise, I attended her funeral at Borella Kanatta, where I met many seniors in other fields, such as Prof Carlo Fonseka, Nanda Abeywickrama of IWMI, who was earlier Permanent Secretary to Minister Gamini Dissanayake and Prof Ashley Halpe, the last-mentioned being one of the best teachers of both Aubrey and myself at the Peradeniya University English Dept., to whom I put forward the fact that Aubrey was going great guns with his cricket commentaries, to which, to my disbelief, he answered in Sinhalese for the first and last time, "Ekath iganagaththa eka hondai neda?" (Isn't it good he has learned that too?). I wrote this note on Aubrey a little while ago, when he was still alive and kicking, because of his positive comments on Lasith Malinga. I wrote many other things that'll be forgotten forever, because I deleted them to mention I was shocked that Aubrey had left us so soon on his last journey, when, let us hope, he'll regain his paradise, whether earlier he had lost it or not.
Kingsley Kurukulasuriya   [kurukulasuriya@gmail.com]