The Christmas charity bazar like no other soon to hit the city
By Ruqyyaha Deane
View(s):
You know that the season of Christmas is near when the Spa Ceylon International Christmas Charity Bazaar (ICCB) takes place giving shoppers a great opportunity to pick up some exciting offers. Launched in the 80s, the ICCB is much awaited by those looking to purchase seasonal goodies and food items which are not readily available locally.
The ICCB will take place once again at the Galle Face Hotel (GFH) on November 24 from 12 noon to 4 p.m. and the hotel is opening up not just the ballroom facilities which includes the Jubilee Ballroom and the Palm Lounge, but also the entire Verandah and Checkerboard area mainly for brunch, live entertainment and music. "It will be great fun and games for the kids too,"  General Manager at GFH Wendell Rebeira said. There will also be a high tea corner, a BBQ and new exciting dishes served at affordable rates, not to mention magicians for the kids.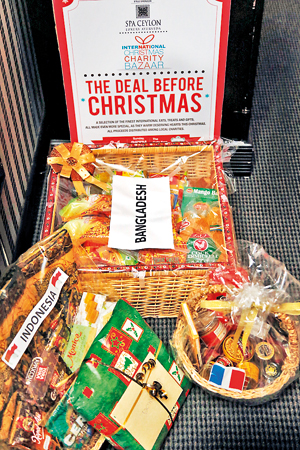 Parking will be at the hotel premises and a space on Galle Face Green has also been allocated.
Both the Spa Ceylon ICCB organising committee and GFH have ensured security measures for the safety of guests and visitors. Working with the police, they have arranged a separate lane on Galle Road for vehicles that are coming into the bazaar which will reduce the risk of traffic congestion as well as help quicken the process of security checks.
"ICCB is a great way of partnering with the community and it is towards a great cause too. What's different this year is that this time it's not just the bazaar but we are opening up the entire property and inviting people to spend the day with us," Mr. Rebeira said.
This event is not just about buying. The committee aims to increase the collection each year in the true spirit of the season of giving and it is the charities and their communities who will benefit most importantly from the success of the bazaar. These include the Lady Ridgeway Hospital's Little Hearts project to help children with heart defects,  EASE, Lanka Alzheimer's Foundation, the Convent of Perpetual Help, Apé Lanka to name a few.
Tickets priced at Rs. 700 are available at selected Spa Ceylon outlets -  Colombo 3, Leyn Baan Street, Galle Fort Dutch Hospital, Kotte, Ward Place, Pelawatte and Bambalapitiya.
 For more information, see  Facebook – https://www.facebook.com/International Christmas Charity Bazaar
Instagram – https://www.instagram.com/iccb/srilanka
Prizes galore
Shoppers at ICCB can get lucky and win many great prizes tooLucky dip

The Lucky Dip has always been a big attraction at the previous bazaars with each try being priced at Rs 200. There's a multitude of prizes to be won.

Gifts for the Lucky Dip in the form of hampers and gifts have been donated by participating countries, charities in and also from companies, individuals and committee members.

Spa Ceylon's own lucky dip which was introduced last year will be taking place again this year.

Qatar Airways raffle

Sponsored by Qatar Airways, with gifts valued at Rs.50,000 and over, this limited draw of just 1000 tickets will have as first prize two economy class tickets to any Qatar Airways destination in the world.

2nd  Prize – Chopard Imperial watch from Chatham Luxury.

3rd  Prize – Two nights at Four Seasons, KudaHuura, Maldives.

4th Prize – Two nights at Santani Wellness Resort and Spa.

5th  Prize – Two nights at Nisala Villa, Sri Villas.

6th  Prize – White gold and diamond ring courtesy of Colombo Jewellery Stores.

7th  and 8th Prize – SK ll set of essence luxury gifts.

9th Prize –Diamond earnings courtesy of Alankara.

10th  Prize – A bottle of Dom Perignon vintage Rosé 2004 courtesy of Lanka Premium Beverages.

There's more: luxury hotel stays, vouchers and an Illy espresso coffee machine.

Each ticket to ICCB comes with a Rs 500 voucher from Anim 8. Tickets (if remaining) will also be available at the door on the day.

All proceeds from raffle tickets, sponsor donations and the funds collected by the countries from their sales will benefit local charities.

ICCB's partners are Spa Ceylon Ayurveda (title sponsor), Galle Face Hotel – (Venue sponsor), Studio Plus One – creative partner, Wijeya Newspapers – media partner, Anim8 – printing partner, Elysian and Qatar Airways.