Artistic exploration against hatred, violence
View(s):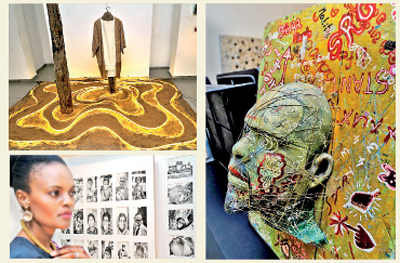 It was a collective voice for unity, for harmony–A voice against hatred and violence.
Making a powerful statement to end what they called the 72-year cycle of violence in Sri Lanka, several of Sri Lanka's contemporary artists came together to present 'be. the BREAK'  at the JDA Perera Gallery on September 19. The exhibition looked to explore the 'break in human nature that has perpetuated cycles of violence and hatred in Sri Lanka'.
Apart from artists Pala Pothupitiye, Bandu Manamperi, Sujith Rathnayake, Koralegedera Pushpakumar, and many others, there were designers such as Sonali Dharmawardena, Geshany Balder & Salvage, Kur by Kasuni Rathnasuriya and students of the Sri Lanka Unites Reconciliation Centres  all lending their artistic force to the exhibition.
Pix by Ishanka Sunimal