Appreciations
View(s):

She was my best friend, guide, helper and pillar of strength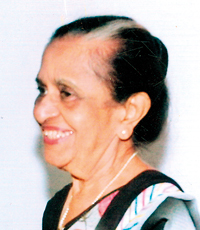 LAKSHMINI HEWAVISENTI
From the time I was engaged to be married I can truthfully say that the first time I met my future sister-in-law, Lakshmini, it was love at first sight, – on my side at least. The fact that she was stunning to look at (tall with thick black hair falling to her shoulders, wide, lovely eyes, impeccably dressed) may have had something to do with my immediate admiration, but her genuine sweetness and gentleness captivated me instantly. I was soon to learn that all her friends, many of whom dated back to her childhood, felt likewise.
She became my best friend, a guide and a helper in many ways, a pillar of strength when I needed it and a lifelong mentor. My first example of this came within days of my marriage. Coming, as I did, from a vegetarian, teetotaller family, I was not well versed in catering to dinners of a more sophisticated nature. Frantically I called my sister-in-law for aid.
She was packing to leave for England in a day or two where my father-in-law- had just been appointed High Commissioner, but she spent the entire morning and a good part of the afternoon with me. The dinner was perfect and I have never forgotten her patience and understanding of the trials of a new wife in a completely different home setting to her own.
In addition to gourmet cookery, Lakshmini had been a student of Constance Spry, the world famous expert on flower decor, while she was in London. On her visits back to Sri Lanka, she taught me (or tried to) the difficult art of doing flower vases in my own home. She naturally saw to the flower decor at the High Commissioner's dinners and functions. On one memorable occasion, Madam Vijayalakshmi Pandit (India's High Commissioner to the UK at the same time) walked up to one of her three foot flower arrangements and said, "This is the most beautiful arrangement I have ever seen. Who was your decorator?" It was a compliment Lakshmi always treasured.
Upon her return to Sri Lanka she began to use her designing and dressmaking skills (she had done the full Kathleen Dress Making Course) to good use. Several friends suggested that she start her own business but she said she had no head for finance and preferred to sell through already established concerns. Her dresses sold almost as soon as they were made and to this day I have kept one of her smartest creations made for my daughter's 8th birthday.
Given her strong Buddhist background it was inevitable that Lakshmini would soon be drawn into Buddhist activity. Apart from attending the many sermons by priests and laymen held at the Mettarama Temple, she was heavily involved as Vice President of a family run orphanage in Lunawa. This took up a great deal of her time and she regarded this work as her contribution to the welfare of young Buddhist girls.
Born in Galle, Lakshmini was an old girl of Southlands and she kept in touch with her old Principals when she was in the UK. I recall the name of one of them-Miss Ridge. Those were the days when Principals had closer personal ties with their young charges and Lakshmini always remembered her with gratitude.
The gift of giving true friendship is rare. It is something my sister-in-law had in full measure. She seemed to have time for everyone. Growing up in an outstation meant that friendships were closer than they were in larger cities. She and her friends loved music and dancing and formed a club of youngsters which they titled the "Astaire Club" after Fred Astaire. With enthusiastic  support these young people had a wonderful time and until she was well into the fourth decade of her life those friends remained friends.
Certainly her two children had a full time loving and caring mother. She sent her son and daughter to London for Accountancy studies and set them on successful life careers. But more than this, Lakshmini gave them the right values in life, a sense of integrity and a strong moral basis on which they have built their own lives.
She was a greatly admired cousin to many of her many younger relatives who counted it an honour to take her out to dinner or to be invited by her to her home. Her sense of fashion being strong, she was often consulted by relatives on the subject of suitable attire! I can truthfully say that she guided me in this line from the day I married her brother, 'Bunchy'.
Before I end this tribute, (a totally inadequate one I feel) I would like to mention the names of those friends whose love and constant presence in her life gave her so much pleasure. Many are from her Galle days….Eileen, Estelle, Iranganie and from after including relatives….Manel, Ramani, Irene, Premala, Sriyakantha, Geetha, Ranji. (Surnames are not given but they should know that Lakshmini's family greatly appreciated their constant visits and affection for her.)
From her children Lakshmini received the love she so well deserved right up to her passing. She always had a lovely home, the best medical care and their presence by her in her last illness. Her last few years were spent reading Buddhist texts and discussing (sometimes arguing) with Bunchy and me over lunch. She followed the Dhamma talks on TV by many Buddhist scholars and this brought her much peace of mind.
I end giving my grateful memory of a perfect sister-in-law. She was never judgmental and never spoke a word to me in annoyance or anger. How many can truthfully and sincerely say as much?
Goolbai Gunasekara
---
He taught us the great qualities of a human being
Uthum Herat
October 2019 marks the tenth death anniversary of Dr. Uthum Herat but the memory of him continues to haunt some of us. Still I wonder whether he was too good to be alive among the ever changing modern world of treachery and deceit. I write this appreciation mostly to celebrate his sterling qualities. More than all, for those who did not know him, to let them know such a "great" person was living among us.
Uthum was the Deputy Governor of the Central Bank of Sri Lanka at the time of his untimely death in October 2009 at the relatively young age of 52 years. At that time the Central Bank was held in high esteem as a centre for excellence. Had he been alive probably it would hurt him to see the current public image of the institution he loved and laboured for so much. He had a brilliant academic career starting with a first class honours degree in Statistics simultaneously completing the Final Examination of the Chartered Institute of Management Accountants. Contrary to the general expectation of a career in private sector with more lucrative monetary gains, he decided to join the public service and entered the Central Bank in 1983, a year a lot of professionals would have ventured out seeking greener pastures. Later, he obtained his PhD from Purdue University in USA.In his Central Bank career, he always acted with humility and modesty.  He had an illustrious period at the Depar-tment of Economic Research finally ending up as its Director. He also had a stint at the IMF as the alternate Director for South Asia, a coveted position for  the majority of the Central Bankers. On his return from Washington, he was appointed Assistant Governor and later, in May 2009, a few months before his unexpected departure, was appointed the Deputy Governor of the Central Bank.
The last time I met Uthum, he was so happy that the war was over and the foreign reserves were building up steadily. His unparalleled loyalty to the institution he belonged to was amazing. Despite his refined personality he could easily put international experts in their place if they tried to patronise him. I still admire his ability to live a frugal life. He chose what he thought was important in life and stubbornly stuck to his own principles. Since he was "near perfection" as a human being he needed little outer trimmings. When he eloquently moderated a Central Bank event or made an eloquent speech nobody questioned in which car he drove into the venue. Nobody cared that he got into a bus to get back home after work.
I sometimes wonder why he had to bid goodbye to this world at the peak of his career.  I am surprised that people actually admired and respected this unassuming, soft-spoken, courteous gentleman despite him deliberately keeping a low profile. I believe he was too useful to so many that his presence could not be ignored. In addition, his varied talents endeared him to many but he never fought for any credit. His demise was a great loss to academia, to the professional world and to his friends all over the world and more so to the financial sector. However, Uthum in life taught us the great qualities of a human being.
When we interact with modern day 'professionals' we see their 'know all' attitude. Today humility and simplicity are weaknesses in a character. Modesty is 'folly' and 'dishonesty' is 'smart'. In such a world "Uthum" would have been a 'misfit'. However, his belief in God would have saved him from the disappointments of an 'ordinary' human being.  He could enjoy simple things in life. After his death, I heard from his friends and acquaintances that he could enjoy seeing a blooming flower, planting a tree, reading a book, teaching and preaching.
He was someone whom I could talk to without reservation; someone whom you could confide in and had the time for a friend despite a busy schedule. He was rather reserved in judgment but would objectively point out a different dimension to my views which made me think. Today, I have started to second guess the motive behind every remark.
We miss you very much, Uthum.  We miss your sense of humour, your intellect, your humility and more so your sincerity. We miss your boundless friendship and generosity of giving your ear to us when we needed your time.
Life is a journey and we are sure to meet once again, in another form, in another life. However, the cherished memory of you will bring strength to those of us who admired and respected you to hold on to certain ideals which are fast diminishing in the modern world.
Au revoir, Uthum!
Sriyani Hulugalle
---
A larger than life figure in my life
Amy Flora Elizabeth Samarakkody
The first death anniversary of Amy Samarakkody, my mother falls on October 29. She was 99 plus years old when she died. She was blessed with a long and healthy life, and it was only after she reached 98, that her movements were restricted due to her advanced age.
My earliest recollections of her, as her youngest child, was, that she was always very active, and that she never seemed to be tired. Her charisma was so great that everyone was motivated into action whenever she was around. I would watch how she moved briskly around our house, ordering the servants to do things and allotting various tasks to her children. I remember when I was only about five years old, my elder brother Mohan, and the two elder sisters Shiranthi and Amithra, were engrossed with their own work, my mother got me to help her with whatever she was doing as I was the youngest in the family. I was happy to oblige as I enjoyed being with her.
My mother was born on June 6, 1919, at Gampaha. Her father was Gate Mudliyar of Aluthkuru Korale, Charles Harry Alexander Samarakkody, and her mother was Fredrica Deraniyagala Peiris Siriwardene. She was the seventh child of a family of eleven, and they lived in their parents residence which was a large mansion standing on a 40- acre land in close proximity to the town of Gampaha. This land was called 'Sorodoven Estate' and it was the biggest 'walawwa' in Gampaha at that time.
She had her education at St Bridget's Convent, Colombo, and attended that school until she passed the Junior London Matriculation exam. In those early days, very few girls pursued higher studies. They were trained in other useful pursuits, until they were married. My mother used to relate how she learnt to sew, cook and decorate the house with flowers from her elder sisters. As their residence, with 30 rooms was very large, and the land which also had many farm animals, their life had been very exciting. My Grandfather had an elephant which was trained to plough and work on many lands which he owned, in various parts of the country, and my mother and her siblings were never bored being at home.
Tragedy struck, when her parents and other family members were holidaying at Kadugannawa, in their holiday home, when her father suffered a heart attack, and died. About a year later her mother too passed away. The eldest in the family was Solomon Samarakkody, who had by then passed out as a lawyer.
They continued to live in their palatial home until World War II broke out and the British colonial government, took over their home, for the Army. They had to move away to other houses. It was a difficult period for my mother and her family members as they were scattered in many places. My mother was able to adjust to her new life. She married my father who was her cousin, and they built a house in Gampaha, on a land close to her original home. The ancestral walawwa, with ten acres of land, was sold to the Holy Cross Convent which ran the Holy Cross College. Today, Holy Cross College is one of the biggest girls' schools in Gampaha.
My father who was a lawyer practised at Gampaha, and later joined the judiciary and was stationed at Kurunegala. My two sisters attended Holy Family Convent and my brother and I attended St. Anne's College. I was in the kindergarden for a very short time, when my father was transferred to the Gangodawila Courts. He was the President, Rural Courts and Commissioner of Requests of the entire Hewagam and Salpiti Korales and he had to travel to several circuit courts.
My mother built another house at Mount Lavinia at Siripala Road, adjoining my father's ancestral house. My sisters attended to Visaka Vidyalaya, Bambalapitiya, and my brother and I attended S. Thomas' College Mount Lavinia, where my father's and mother's parents and brothers also had studied. In our spacious house we enjoyed life with my mother, an excellent cook, hosting many parties. We had Pirith ceremonies and alms givings as she and my father were very religious and were devoted Dayakayas of many Buddhist temples.
Christmas time was memorable too with my mother making wines and Christmas cakes and entertaining many friends and relatives during the season. She also made family trips very enjoyable as we used to stop by roadside picnic places and enjoy her home cooked food. She would play the  hawaian guitar and sing her favourite songs during these trips.
Unfortunately for my mother and us, my father fell ill when he was in his early forties. He was in and out of hospitals, as he had a serious heart desease. In 1964 at the age of 48, my father died and my mother became a young widow with four minor children to fend for.
This was an era when women were mainly housewives.With her children still being minors, my mother had to manage the lands which she and my father owned. At the age of 45, she decided to learn to drive the Peugeot. Only a few women dared to drive vehicles in the sixties. My mother managed the properties well and succeeded in bringing up her children until we all became independent adults. It was a tough time for her bringing up four children seeing to their needs including education etc. In times of illnesses, she was a great nurse, who never rested until we were back in good health.
She was both a father and a mother to us, and it was a great blessing for us to see her, reaching old age, gracefully and happily until the end, she was very cheerful. She read books on Buddhism, and gained a very good understanding of the Buddhist Philosophy. She practiced meditation, and mindfulness, which helped her live a long and peaceful life gracefully.
May she attain the supreme bliss of Nibbana.
Romesh Samarakkody
---