Two political satire plays at Punchi Theatre
View(s):

While the political situation getting heated up with Presidential Election on November 16, playwright Udayasiri Wickramarathne has scheduled stage two political satire plays "Garu Katanayakathumani" and 'Thunsiya Heta Eka" on November 9 and 10 in Colombo. Udayasiri's latest play "Garu Katanayakathumani" will be staged at 3.30 pm and 6.45 pm on November 9 while 'Thunsiya Heta Eka" will be staged on November 10 at the Namel Malini Punchi theatre in Borella.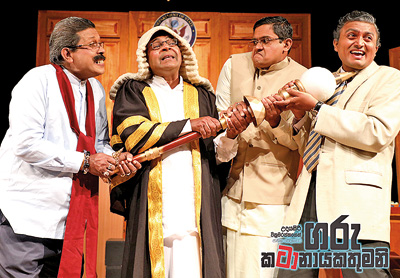 "Garu Katanayakathumani", a comedy on contemporary political condition in the country, is played by Jayalal Rohana, Sulochana Weerasinghe, Sudarshana Bandara, Snajeewa Dissanayake, Mihiri Priyangani and Ishara Wickramasinge. The play is produced by Jude Srimal.
The cast of the play '361' includes Gihan Fernando, Umayangana Wickremasinghe, Ruwan Malith, Chamari Nisansala, Mihiri Priyangani, Susanga Kahandawalaarachchi, Rohitha Jayakoday, Kusal Maduranga, Ishara Wickremasinghe and Nayanthara de Silva.
Udayasiri Wickramarathne is famed for his earlier theatrical directions like 'Suddek Oba Amathai" (A White Man Addresses You) "Rangapem Ivaral" (Adieu to Acting) and "Pem Yuwalak One Kara Thibe" (Wanted a Pair of Lovers).