Tropicana-style Party : King of the Mambo celebrates 1st anniversary
View(s):

Colombo's popular Cuban trendy 'King of the Mambo' marked its first anniversary last week. In celebration, it transported guests to a tropical Oceanside oasis with 'One Night at the Tropicana'- an anniversary bash for invitees.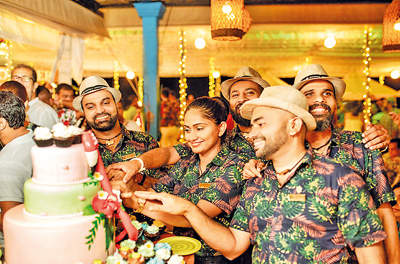 'King of the Mambo' Cuban Restaurant Chain opened its first South Asian outlet in Colombo at the Gall Face Hotel October last year. 'King of the Mambo' unlocked the passion of the food lovers in Colombo by offering expertly mixed cocktails by an award-winning mixologist, linger for the Mediterranean-Cuban cuisine and live entertainment, and return for the stunning sunset views from Sri Lanka's most iconic heritage hotel.
'It's been only a year, although it feels like we've been bringing the mambo to Colombo for much longer' said David Lescarret, Managing Director of Dubai-based Infini Concepts, which partnered with the Galle Face Hotel last year to launch King of the Mambo in Colombo. Here was a hot new player bringing a new groove to lounge-style dining and drinking in the city; casual and trendy, with bold homages paid to its Cuban influence at every turn.
Since it opened, King of the Mambo has also introduced a la carte day-time dining and an extensive weekend brunch menu for guests to savour the warm, breezy day time by the ocean. The restaurant-lounge hybrid's location by the sea, at arguably the most atmospheric location in the city has made it very popular with families during the daytime and with revellers in the evening.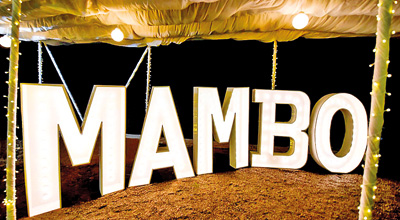 'We brought Cuba and the Mambo to Colombo, but it's this city's spirit that really brought everyone together' added Lescarret. 'Colombo has a cool, casually laidback approach to dining and partying that sets it apart from other capitals- this works perfectly with our brand of fiery South American hospitality. The combination has made King of the Mambo 'the' place to be on any evening'.
Over the next year, expect fresher and exciting experiences from King of the Mambo, added Lescarret. 'We've had a ball introducing new flavours to Sri Lanka–both dining and experiential. Our guests can definitely look forward to more of this- we always have such great fun dreaming these ideas up' he noted.
At the anniversary bash, guests indulged in the stunning Indian Ocean sunset that King of the Mambo is known for, with an expertly mixed zesty rum cocktail in hand and nibbles from the restaurant's Mediterranean-Cuban hybrid menu. Guests celebrated in their tropical chic- in keeping with the spirit of the Cuban themed restaurant, set to the soothing soundtrack of the Indian Ocean in tropical Sri Lanka.
King of the Mambo opens at noon every day, and service is open until late. The live entertainment is as essential as the cuisine, and takes place daily in the form of a band or DJ, with regular performances from Cuban entertainers.