Gearing up for 'The Rumble'
By Sashini Rodrigo
Elizabeth Moir Senior school students will take to the stage with West Side Story next month
View(s):
The thrilling tale of two rival gangs in New York City is set to go on stage once again, as the students of Elizabeth Moir Senior School present West Side Story on November 8 and 9 Saturday at the Lionel Wendt Theatre at 7.30pm.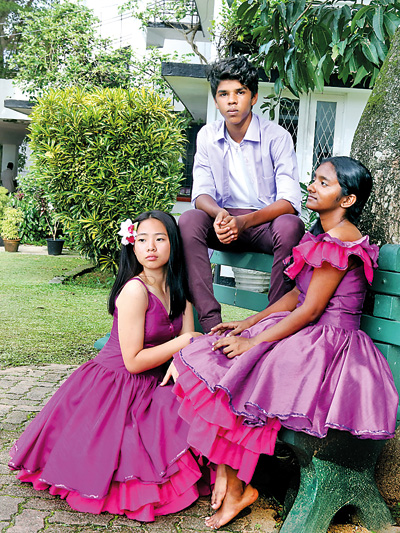 Directed by Anushka Senanayake, with musical direction by Sureka Amerasinghe and choreography by Melissa Fisher, the electrifying musical is renowned for its gripping drama, intense dance numbers and Broadway jazz with Puerto Rican flair. This week, the cast give us some insight into their portrayals of these iconic characters.
Playing the lead roles of Maria and Tony respectively, Serika Siriwardhana and Leeth Singhage are getting to do what they do best. Serika enjoys acting, singing and dancing and has been in a number of smaller school productions. Leeth has plenty of stage experience under his belt, mostly recently as Doody in Grease: The Musical.
Maria is the younger sister of the Sharks' leader Bernardo and has just moved to New York from Puerto Rico. "She's a very sweet and naive girl.
She's got this whole idea of what being an American girl is and what sort of experience she'll have, especially when it comes to her love life," Serika says.
Maria is sheltered from the realities of her situation, which Serika believes is something that is true about youngsters in present times as well. "At the end of the day, people forget, but they're just 16 years old. It's just schoolboy rivalries on a large scale."
According to Leeth however, Tony's character is much more disillusioned and unsure. Though he started the rival American gang the Jets with Riff and is revered by its members, he doesn't enjoy being in it anymore.
"Now he's gone into this phase where he feels a bit empty, he feels as if there's something else for him," he says, adding that he finds that 'something' that he's looking for in unexpected ways. With the clear parallels between this story and Romeo and Juliet, Leeth tells us he was able to really understand the character better. Both Serika and Leeth had just joined Elizabeth Moir at the time of auditions, and were thrust straight into the deep end by being cast as the lead roles with just two intense months of practice. Yet, they have both taken on the challenge with enthusiasm, and tell us that being a part of the production actually sped up the process of getting to know their fellow students.
Echoing that feeling of camaraderie is Kaavya Gnanam and Gaeun Kim, who share the role of Anita. Having done duets together in the Inter-House Music competitions, they work well together and have gotten to know their character inside out.
Anita plays both Bernardo's girlfriend and Maria's close confidente. The girls describe her as a "strong, independent and fiery," woman who doesn't let anyone boss her around. In her portrayal, Gaeun chose to "focus more on her fierce side," while Kaavya opted to go for the "feminine, dramatic side" a lot more.
There are many sides to Anita, however, and her softer side comes out with Bernardo while her more commanding, overprotective nature around Maria shows a different kind of love. "Like a mother figure," Gaeun adds. They hope this dynamic will translate on stage, and the audience will be surprised with what they're going to see. "I think you go in expecting a tense show with gang wars and everything, but you'll leave with a lot of heart and soul," Kaavya says.
Anuk Gunasekara, plays Riff, the leader and co-founder of the Jets and has also performed in "Alice in Wonderland and Singin' In The Rain."
Aidan Thorstensen, on the other hand, has never been in a drama before. As someone who enjoys singing, he finally got his chance when he was cast as leader of the Sharks gang Bernardo.
In terms of their characters, who are sworn rivals in the musical, the boys observe how remarkably similar they actually are and how they function as leaders. "Even though we're going against each other, both of us glue the entire thing together," Anuk explains. Aidan adds that the respect from his gang for putting them first and his love for his family is something he really likes about Bernardo. "He's the one willing to stand up, even though he risks his life."
Despite the similarities, the contrasts are just as stark. "The play highlights issues of racism, immigrants coming into countries and not getting accepted, which I believe relates to today's situations as well." says Anuk.
West Side Story, will have you snapping your fingers to the beat, while delving into social problems that are still relevant today. Catch the show at the Lionel Wendt on Nov. 8 – 9. Tickets will be available at the senior school reception from Oct 28 onwards. Tickets will be priced from Rs 2000, Rs 1,500 and Rs 1000