From Nuwara Eliya to the US with just the turn of a page
With her debut work, Half Gods picked for the DSC Prize longlist, the young US-based writer Akil Kumarasamy shares some thoughts with Smriti Daniel
View(s):
Akil Kumarasamy's debut Half Gods arrives on the DSC Prize for South Asian Literature 2019 Longlist already boasting accolades and promising reviews. A series of ten interlinked short stories, the New Yorker said of the book. that, "Like a family around a dinner table, the tales in (Half Gods) support, contradict, and argue with one another. They provide a rich disorder."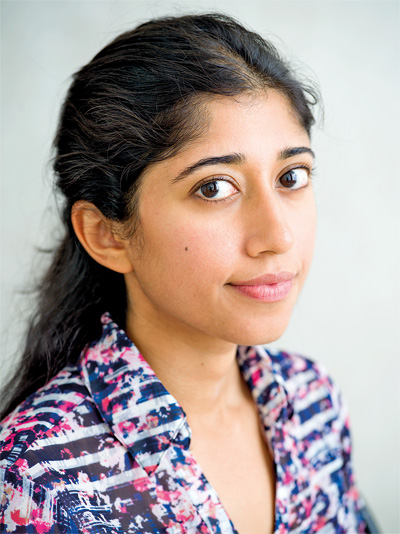 Hailing from New Jersey, Akil draws on her experiences of growing up in a South Asian community in the US. Disinterested in producing stereotypical narratives of longing and belonging, she has said instead that those early experiences gave her a nuanced take on being a person of colour. She has told journalists that by "putting brownness against a brown background, it compelled me to dig deeper."
Her fiction has appeared in Harper's Magazine, American Short Fiction, Boston Review, and elsewhere. She received her MFA from the University of Michigan, and has been a fiction fellow at the Fine Arts Work Center in Provincetown and the University of East Anglia. As she waits to hear if she will make the shortlist, she gave the Sunday Times this email interview in which she discusses her craft, and the evolution of Half Gods:
Why did you become a writer? What place has writing had in your life?
I didn't plan to become a writer and wasn't even aware it was a possible profession. At university, I studied economics because I was interested in why people made certain decisions, but it was also a time period when I was introduced to contemporary writers. I kind of fell into writing from reading though I never saw myself making a livelihood from it. For me it was a way to process the world and communicate it back. Now, I have a more expansive outlook of writing and see the act of living—spending time with friends or even watching a film—as part of the process.
You've spoken of your childhood in Dismal Swamp, New Jersey. Would you give me a sense of how growing up in that community shaped you?
What did you know of Sri Lanka in this time?
I grew up in a predominantly South Asian neighbourhood, so I was very conscious about how history overlapped and intersected. The massacre of Sikhs in Delhi happened in 1984 while the massacre of Tamils in Colombo happened in 1983. Sometimes, we see history as isolated events contained within borders. In writing, I hope to explore the messiness of history and identity. Along with the various histories of my friends and classmates, the civil war in Sri Lanka was formative to my identity as a Tamil.
I'd love to hear a brief history of Half Gods. Were the stories written over the course of many years? You have said you had somehow forgotten about the manuscript, and that when you re-discovered it, you had the sensation you had written it for your future self. Would you tell me why it felt that way?
The stories were written over the course of many years. They are non-linear and jump across time and countries. I think the short story form allowed me the flexibility to make those larger geographic and temporal jumps, but like a novel, the stories have accumulative power and have larger narrative arcs. It felt like I wrote to my future self because I wrote about things I had not yet experienced like losing a parent. Re-reading the book after experiencing that loss felt comforting in ways I had not anticipated.
Half Gods was a play in one of its earliest iterations. Why did you choose that format and then rework it as a short story collection? What did you find the stories both gained and/or lost in that process?
There's an immediacy to playwrighting and a very visceral collaboration between the audience and the actors on stage. I liked the conceptual idea of the stories as a play, especially the idea of having characters in the full regalia of gods as they gave long monologues. That would be quite a different story.
Reading is also a very intimate experience between the reader and the text. The quiet space of a page allowed me more room to world-build and to take more drastic jumps when it came to scenery and time periods. I can move from the eve of independence in Nuwara Eliya to the shoreline in the United States with just the turn of a page.
In what ways does the Mahabharata find its way into your book? When did you first encounter the epic and why did you become interested in referencing it in your own fiction?
The two main brothers are named after the demigods in the Mahabharata, Arjun and Karna. Their family story can be interpreted as a very loose retelling of certain aspects of the epic. I first encountered the epic when I was a child. I think it was in comic book form, probably the Amar Chitra comics. They interested me because we are constantly circling around childhood, it is such a formative time. Like the characters of the Mahabharata, our childhood, our origin stories, take up such a mythic space in our psyche. I wanted to delve into that more deeply in my writing.
When it came to representing violence in the book, what did you consider your challenges?
I was very conscious about not wanting my writing about violence to feel exploitative. Also, at the same time, I wanted my writing to feel imaginative and truthful. So many people have written about war, how do you do it in a way that doesn't simply recreate the violence? It was helpful re-reading writers like the Iraqi writer Hassan Blasim.
As a writer, what do you most love about short stories? Short stories can be underrated in the publishing industry – did you yourself have qualms about making your own debut with such a collection?
Short stories feel very true to how we experience the world. Our short stay on this planet and the various phases and experiences we have during one life can often seem contradictory or implausible. In a short story collection, they can all exist side by side. Yes, short stories are undervalued, but I do see this book living somewhere in the middle between a novel and a short story collection. I think I was able to take the best from both worlds. Really, it is the subject matter that decides the structure of the book. For the narrative I wanted to tell, an interlinked collection works perfectly for it. The cover doesn't say novel or stories. Part of me wishes we, as readers, just approach a text simply as a book, free of categories.
Finally, congratulations on being on the longlist for the DSC Prize! What significance does this have for you?
It means so much to be on the longlist. This book has characters who break through so many categories: Punjabi, Bengali, Hindu, Sikh, Muslim, Tamil, India, America, Sri Lanka, that I really appreciate the judges recognizing the nuances of the text. There's such a high calibre of literature coming out of South Asia that I am really honoured to be part of this list of wonderful writers.
(The DSC Prize shortlist will be announced on November 6)