'Muthu Ahurak' short drama festival by MAF
View(s):

Moratuwa Arts Forum (MAF) will be presenting a short drama festival on Saturday 19th October at 6.30 pm at the Buddhist Hall Auditorium, Moratuwa as their first project of the 25th Anniversary year.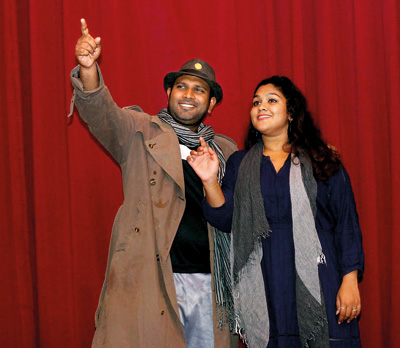 Five numbers of short stage dramas titled 'Wendesiya', 'Sekku Gedera', 'Apooru Madhusamaya', 'Yuga Bheeshana' directed by MAF President Lucky Deva, Rohan Priyadharshana, Keven Sudhar, Kamal Dias respectively are billed to be staged at this festival along with 'Mithu Sumithuru' -a special drama directed by the M. J. F. Foundation. Many well-known dramatists and stage personalities are expected to patronise this event.
'Moratuwa Arts Forum has come forward in presenting these dramas as there is a distinct void created in Moratuwa for good quality stage dramas despite having a fair patronage. Same time, keeping with the motto of uplifting young talent this project gives the opportunity to the upcoming young directors, actors and actresses in showing their talents' said Lucky Deva.
The project committee comprises Kevin Sudhar, Niresh Silva, Viranjan Perera, Jagath Devapriya and Kamal Dias and are determined to price the tickets quite moderately as they feel that it is a social responsibility of Moratuwa Arts Forum towards the populace of Moratuwa in fulfilling a void of stage dramas in the town.
Tickets for the event are priced at Rs. 500/-, 300/- and Rs.100/- . Call Keven Sudhar on 0776406947, Viranjan Perera on 0777224184, Lucky Deva 071 2653599 and Jagath Devapriya 071 4722 830. Arrangements could also be made to deliver the Rs. 500/- tickets on request to any of the above mentioned Project Committee Members.