Become a Medical Doctor with Triple International Qualifications
3 International Qualifications | 6 Years Commitment Enter with O/Ls and A/Ls
View(s):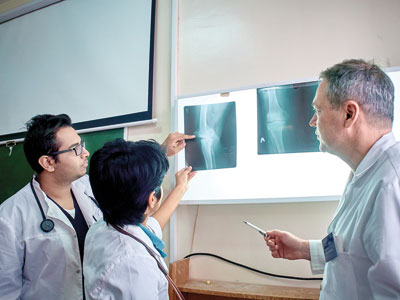 International Medical Campus (IMC) the leading medical education pathway provider and the Largest Medical University Placement Centre in Sri Lanka, offers an ideal programme for students after their O/Levels and A/Levels for the first time in partnership with two distinguished higher educational institutions.
Now Sri Lankan Students as soon as they complete their A/L Examinations (student's After O/Ls can do a transition via the IMC Foundation in Science (FIS) Pre Medical Programme) join the European Leader in Medical Education, Vitebsk State Medical University (VSMU) to commence their Doctor of Medicine (MD).
While students studying for the 6-year Doctor of Medicine (MD) programme at VSMU, at the completion of 4th year student will be awarded a BSc (Hons) Biomedical Science Degree and at the completion of the 5-1/2th year they will be awarded a MSc in Medical Science Degree by research from the prestigious Lincoln University College, Malaysia in addition to the Doctor of Medicine (MD) degree at the completion of 6-years from VSMU.
Benefits of Choosing this pathway:
3 International Qualifications in 6 years [BSc (Hons) Biomedical Science, MSc Medical Science, Doctor of Medicine (MD)]
Highly affordable.
Eligibility work in the USA, Australia, Canada, UK…etc as a Researcher, Senior Lecturer while preparing to sit for Medical Licensing Examinations as such as USMLE, AMC, PLAB…etc.
Highest level of education compatible with European standards.
English medium curriculum.
Educational process is organized on the basis of traditional European curriculum (lectures, seminars, laboratory and practical classes)
Focused European standard education with 10:1 students-to-staff ratio;
15 hospitals and medical centers are clinical sites of the university where students have practical training;
Availability of electronic library with high-speed Internet access to scientific medical materials and world database.
About Vitebsk State Medical University (VSMU)
Vitebsk State Medical University (VSMU) is one of the most distinguished higher medical institutions in the Republic of Belarus and considered to be one of the European Leader in Medical Education and Research.
VSMU was established in 1934. Currently, many overseas medical students including more than 450 from Sri Lanka currently studying Medicine (Doctor of Medicine – MD) in this world class medical university. In addition to Sri Lankan students, there are more than 30 nationalities of students are studying at VSMU making it one of the most popular medical universities for Sri Lankan students.
About Lincoln University College, Malaysia
Approved by the Ministry of Higher Education and Malaysian Qualifying Agency (MQA -National Accreditation Board) in Malaysia, Lincoln University College is, a leading private higher education institution focused on ensuring students have access to quality education. The needs of students in obtaining an in-depth knowledge base are highly prioritized as part of their role in being committed academics by the founders and administrators of Lincoln University College. Such future professionals will dive into the education, study, and even employment.
About IMC Education
IMC provides unparalleled opportunities for students who are aspiring to become medical practitioners in the future. IMC Facilitates students to select a medical university based on the country of destination, tuition fee, payment plans, future career plans, scholarship opportunities, specializations available. Students will be guided and advised on university selection, exam preparation, financial commitments, visa assistance, pre-departure briefing and post settlement arrangements.
IMC will guide students on choosing the best possible option to match their needs and achieve their career aspirations.
Admissions for 2020 February and September intakes are now open, therefore students who are looking to secure a Medical University Admission are encouraged to directly contact International Medical Campus (IMC)
IMC Education – 0773 08 88 40 | 0774 42 15 97 | 0774 40 29 15 |  No. 154, Havelock Road, Colombo – 05.