My appeal for help
View(s):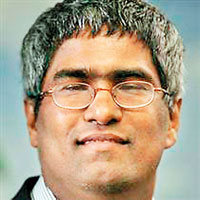 Dear friends,
I was diagnosed with Myelodyplastic Syndrome , a type of blood cancer in July this year. Doctors say the  cure  is  a bone marrow transplant in Singapore because the transplant for this blood cancer (MDS) is considered as very high risk procedure and currently there are no facilities to perform this type of transplants successfully in Sri Lanka. They tell me that , If not 50%  will live for two years and others live a little  beyond. I don't know which 50% person I belong to.
I am not greedy for life,  but I am not finished here yet… since there is a cure.  I am determined to get  well.
I am appealing to you for help  because the costs for treatment are exorbitant and this is unfortunately a matter of life and death and we need to raise the money soon as the doctors in Singapore are looking for a bone marrow donor.
The National University Cancer Institute of Singapore has estimated the cost to be Singapore Dollars  220,000  (approximately 30 million Sri Lankan Rupees) excluding any complications.
Three of my friends (with the support and blessings  of several others) , Admiral Ravi Wijeguneratne, Neil Iddawala and Kusal Subasinghe have  opened an account at the Commercial Bank to fund my treatment.
Do try to help me in any way you can for which I will be eternally grateful. You could send your contributions to :
Commercial Bank  – Battaramulla, Sri Lanka
Account No. 8005463011
Bank Code- 7056
Branch Code- 029
Swift Code- CCEYLKLX
Those who are remitting money outside of Sri Lanka please mention Bandula Jayasekara as name of the account.
I assure you that my friends and I  will account for every rupee, dollar you contribute towards my wellness.
God Bless You
Sincerely
Bandula
Email : dgpm@rocketmail.com, Mobile: 0094773219711