A celebration of urban landscape
By Ruqyyaha Deane
View(s):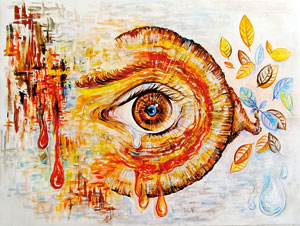 A lecturer in English Literature at the University of Colombo, Erandathie S.K. Damunupola always knew that art was her true passion. She began painting as a child, and after support and encouragement from her family and friends "to do something more" with her art, she is ready to share her paintings.
'Urban Greens' her first exhibition of paintings is on October 11 and 12 from 9 a.m. to 8 p.m at the Lionel Wendt Art Gallery.
Urban Greens will encompass a selection of Erandathie's paintings focused on nature in the urban landscape. "I draw inspiration from the dynamic organic beauty of nature around us. My work depicts branches that reach for the sky and roots that stay hidden underground, the blooming flowers and the wilting ones, the intricate designs in bark, in a shell, leaf or feather," she says.
Her preferred medium is acrylics as she can capture the dynamic energy in nature through texture it provides. However, there are also paintings done in watercolour, pen and ink, and mixed media.
"The message I hope to take to the public is to enjoy the beauty of nature, cherish it and sustain it," Erandathie says. She hopes that those who love nature and appreciate the beauty of the environment will be moved and motivated to do their part, however small to sustain the urban green.