Sports has no place for child abuse
Play by the Rules
View(s):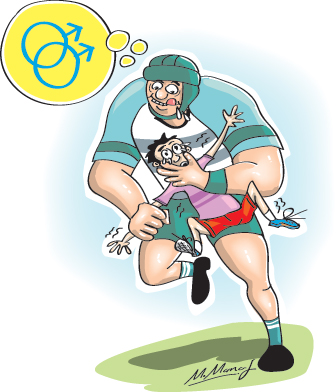 On September 20, ten days before International Children's Day, the Colombo High Court sentenced two former rugby players of a leading school in the capital to ten years rigorous imprisonment for sexually abusing an underaged child of the same school.
The victim of the two sportsmen, now serving their terms, was a six-year-old boy then. The abuse took place five years ago when the perpetrators were 16-year-old budding school rugby stars. Close sources of both parties said the Attorney General indicted the first accused for having committed the offence on an underaged child and the second accused for having aided and abetted the first accused to commit the offence.
The case dragged on for five years but was an eye-opener, particularly for parents and for others who have gotten away. It is widely known that there are cases that vanish into thin air because school authorities treat them with flippancy or sweep them under the carpet. The victim, according to the sources, was abused regularly but did not whimper a word until, one day, his parents noted blood stains on his pants. The school authorities were duly notified after their son finally divulged his harrowing ordeal.
The school, however, responded with lethargy, possibly in a predictable attempt to sweep it under the carpet. But the victim and his family with the support of friends sought legal recourse and were relieved to have been delivered justice. The question, however, remains: How safe are our children at school and during extracurricular activities?
There have been known cases in the past and even in recent times of authorities of certain leading schools taking stern action against rugby and other sportsmen of their respective institutions, slapping them with bans. In certain cases, key players were even expelled. These incidents don't make it into mainstream media or even to the courts. With the latest happening, however, there is now a welcome public debate on this scourge.
Responsibility for a child–boy or girl–weighs on the shoulders of their coach during training, matches and events. But in certain cases, specially at boys' schools, it is an open secret that junior players are bullied or sexually harassed by some senior team members. The verdict on the two former school rugby players–now in their early twenties–is a timely eye-opener to anyone involved in school level sports.
Firstly, schools must bear the onus of safeguarding their juvenile players who represent the flag of their respective institutions. Coaches, masters and teachers-in-charge of sports disciplines have a bigger responsibility than parents to ensure that children are on their radars at all times until handed back to parents or guardians. Secondly, parents have a responsibility to look into the activities and behaviour of their offspring, regardless of their age. They cannot ignore them when they need attention and must insist on being updated about how they were trained or have performed during the day or in a game from coaching staff.
The time has come to stop blaming one another and to teach the value of life, faithfulness, camaraderie, companionship, trustworthiness and respect. That is what team games, such as rugby, are about–besides breaching the opponent's defence, scoring points and winning matches.
It really isn't whether you win or lose but how you play the game. And in this game, unfortunately, we see many losers–for all the wrong reasons.