Appreciations
View(s):

An honest man who met with success where-ever he went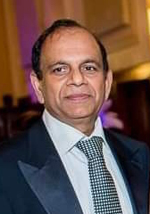 Anthony Kumar Fernando
Anthony Kumar Fernando passed away on the morning of September 12 in a hospital in Melbourne, Australia at the age of 66. He had so much of life ahead of him, but it is always said that God chooses whom he desires and loves, according to his time and will.
I am penning these few lines in appreciation of this close and faithful friend for 47 years. I first got to know Kumar through a mutual friend way back in 1972 when he played Rugby for St Anthony's College, Kandy. He was a member of the champion rugby team of 1972 led by Tuan Dole.
Soon after leaving school Kumar chose planting as a profession and joined Whittalls Estates and Agencies in around 1973. We both learnt work under the same boss, the late Brian Ratwatte, though at different times and later served on different estates in the early 1970's in Pussellawa. It's from this period that we became very close friends enjoying many a good time together, which culminated in Kumar inviting me to be his "Best Man" at his wedding in 1976. That was an honour I still cherish.
Kumar excelled as a planter serving in different capacities in some of the most prestigious tea estates in Sri Lanka, and finally at Stonycliff estate, Kotagala which is one of the most renowned estates any planter would wish for at a relatively young age. It was from Stonycliff estate that he was selected to proceed to Transkei, South Africa where he worked with Magwa Tea Corporation for 14 long years. This was the zenith of his planting career rising to the position of General Manager Operations in the company after a few years.
I recall Kumar bringing some of the owners of Magwa Tea Corporation from  South Africa to visit tea estates in Sri Lanka  including those of Aitken Spence Plantations and how happy they were that Kumar was working with them. Kumar was an asset to the company.
However, after a long stint in South Africa, Kumar made his new home in Melbourne, Australia, a decision he always looked back on with pride and contentment. His entrepreneurial competence helped him and his wife Nelu to build a successful restaurant business, in the heart of Melbourne, within a few years. This was a hallmark of his business acumen, even in a highly competitive environment like Melbourne. He always led from the front and believed in honest, hard work, and it was not surprising that he met with success everywhere he went.
Kumar believed in sharing his success with others, and I have personal knowledge of the numerous times he has helped people in different ways, to build up their businesses and getting people on their feet without the least expectation of receiving anything in return. He would even help someone who had wronged him, that was the measure of the man I knew so well.
Although I knew Kumar for a long time, you didn't have to know him for years to feel his kindness, warmth and care for others, particularly for the underdog and less fortunate. It was this quality of his that touched me the most.
He and his family were always God fearing, despite his fun-loving nature. He loved God and served him wholeheartedly, and I have no doubt that our creator God, Jesus Christ has welcomed his loyal and faithful servant with arms wide open when he moved over to the other side.
Nelu and the children could take comfort in that Kumar lived an impeccable life, which will be a hard act to follow. His pride and joy were his family, Nelu, the children Tehani, Ayesh, Sudesh and the extended family. His grandchildren had his heart and he spoilt them all to bits, and often unknown to the parents. We will all miss this wonderful human being.
Rohan M. Fernando
---
Memories of a wonderful Thatha who meant the world to me
Ebert Eusebius Fernando
It's been two years since you left us, but the void left by your absence is constant. Everything reminds me of you and your absence. I miss your constant guidance and humour. I miss your words of advice and encouragement, but most of all, I miss the loveliest man I knew.
I am still struggling to come to terms with losing you so suddenly and watching you drift away from us. It was the worst time. Darling Thatha, our lives will never be the same without you, but I know that you are out there watching over us and I feel your presence every day of my life.
I could never fully appreciate how crucial and central was your influence in my life, until you left us. I never realised how much I had relied upon your advice and guidance my entire life. You were my compass and my trusted adviser.
Thatha was the most resilient man I knew. When life's adversities came his way, he always rose above them. I have never seen Thatha moping around or being defeated by hardships that came his way. He had an extraordinary ability to keep his wits in a crisis. He always saw opportunities and solutions never the obstacles or obstructions, despite how bleak or impossible the situation might have seemed.
Thatha had the most charismatic and infectious personality. It was hard not be attracted to his outgoing, witty and bubbly personality. He was a happy-go-lucky person and there was not a dull moment when he was around.
Thaththa would always tell us how important it was to be fair and kind to others, regardless of who they are or their status in life. He would regularly remind us to treat others well, especially the people in need as he would always say, 'it is not by choice but by circumstance that they are in that situation."
He was a hardworking and resourceful man. He never retired. At the age of 77, he was still carrying on the same way as he did at 50. He did not get tired of organising business matters, attending meetings, helping others and socialising. He never slowed down or took it easy. I was fascinated by his energy and zest for life. I used to find it amusing that almost 40 years his junior, I was not able to do half of what he did in a day. One of his favourite phrases were that one shouldn't waste time and would constantly tell us, 'kalaya nasthi karanna epa puthe (do not waste time). This phrase was embedded in my mind and whenever I find myself unfocused or distracted, to this day, his words would spring me into action.
I always felt that for a man of his generation, Thatha was a liberal thinker. In a country and a culture where it is considered important for a young woman to be equipped in culinary and domestic skills, Thatha placed education and career above all that. Thatha taught me that for a woman, getting an education, having a career and being financially independent was of paramount importance.
When I was a young woman, Thatha would advise me on how to manoeuvre the minefield, that is dating. He was so open and approachable which in turn made me feel comfortable and at ease in confiding in him about any issue including boys. He would always give sound and practical advice.
He encouraged me to have dreams and goals. He eagerly listened to my aspirations. He provided guidance and active encouragement to achieve my goals. It was his faith and belief in me which presented me with the opportunity for me to travel abroad to study.  During the early years of my life abroad, I was so reliant on his letters of encouragement and advice. Thatha's inspirational words and advice kept me going in a foreign country and helped me focus and work hard to achieve my goals.
Darling Thathe, you were a wonderful father and the best dad anyone could wish for. You were my confidante, my best friend and the person I admired the most.
Darling Thathe, our lives were so enriched by your wonderful presence. When you left us, it felt like all the light and sparkle had disappeared from our lives. Without you, our lives have changed completely but I know that you are always with us. I continue my conversations with you. Happy times we shared together always bring a smile to my face even when I miss you the most. We were so blessed to have you in our lives. Darling Thathe we love you forever and miss you every day. Until we meet again.
Awanka Fernando
---
My brother was like a friend to me
 Kanagasabapathy Yogendran
To write an appreciation of someone whom you loved and looked up to, after his demise, is not an easy task, because every word I write about him reflects his face.
My older brother Kanagasabapathy Yogendran passed away in England, after a brief illness on September 27, 2019. He was 85.
He was the second born in a family of five, three boys and two girls to Manicavasgar Kanagasabapathy and Sivayogam Kanagasabapathy of Nallur/ Columbuthurai, Jaffna.
After his education in St.John's College/Zahira College in Jaffna and Colombo respectively, he joined the Anatomy Department of the Colombo University as a Technical Assistant. His ability to grasp things quickly resulted in him being awarded a scholarship to UK for specialized training.
His professor in the UK gave him an open invitation to join them after finishing his obligatory service at the Anatomy Department in Sri Lanka. So he completed his stint and went back to UK and joined the Institute of Neurology, where he happily worked till his retirement. He was taken there for treatment at the final stage of his illness, where his previous colleagues and friends did their best for him.
While at the Anatomy Department in Sri Lanka, he was a victim of Cupid's arrow falling in love with a girl from our village, Maheswari Vaithilingam of Columbuthurai, who was studying at the Science Faculty.  In the 1960s, love affairs, even among the relations were not welcomed   and there were minor hiccups between the parents which I too contributed my share in sorting out, despite being a younger brother.
All of us, three brothers and two sisters were affectionately united. Yoga was a role model /mentor to me personally; I learnt to ride a motorcycle from him and also followed him in his photographic adventures.
Yoga and Mahes, settled down in the UK as early as 1965.  With the passage of time, both of them were able to guide relations, friends and even acquaintances who came to the UK. Thus they had a large circle of friends who were in and out of their house often. Sadly most of his friends have predeceased him.
During my visits to see my son and family, we would visit my brother and stay with him for a few days at Croydon. His wife, a teacher by profession is referred to as 'Anni' affectionately by all Yoga's younger siblings. Always warm and hospitable, her care and affection was not only towards her own grandchildren, but extended even to all other children within her reach.
Yoga's two sons are doing very well in their life, and with their wives Bina and Shoby gave their parents the pleasure of the company of four grandchildren, who are now grown up.
When my son went to the UK, they guided him like one of their own.
I have heard various people referring to their friends thus, "he is like a brother to me" but my brother was 'like a friend to me' sharing good times and bad.
His absence will be a big vacuum to me, his family and friends, as his voice will never be heard again.
I can only console our Anni and nephews by saying that 'we will be with you until we join the departed, someday, somehow, somewhere, where ever it may be.'
K.Balendra
---