Sea level rising is real, Lanka urged to take urgent measures to avert disasters
By Malaka Rodrigo
View(s):
As new global reports issue fresh warning on the impact of global warming on our oceans, how vulnerable is Sri Lanka, especially in view of it being ranked second among countries facing extreme weather patterns due to climate change?
In 2004, the boxing day tsunami killed some 35,000 people in Sri Lanka and caused immense damage to property. It is said that in Batticaloa and other places in the east, the waves reached several meters high.
"If Sri Lanka were to be hit by a tsunami of a similar magnitude at a time when the sea level would have risen by half a meter, the calamity would be twice as bad as what we experienced in 2004," warns Dr.D.P.C. Laknath, a coastal engineer, insisting that Sri Lanka should be mindful about changes impacting the oceans due to global warming.
With the sea level rising, the erosion of our beaches will become worse, while extreme weather events can bring devastating floods to low lying coastal areas. Large areas of coastal areas of Puttalam, Galle, Hambantota and Jaffna face the risk of being submerged by the end of the century with the predicted sea level rise, mainly due to the excess water from now rapidly melting glaciers.
The recently released "Special Report on the Ocean and Cryosphere in a Changing Climate" highlighted the impacts of global warming on oceans and cryosphere —or those parts of Earth's surface where water is in solid form, including sea ice, snow cover, glaciers, ice caps, and frozen ground. Published by the Intergovernmental Panel on Climate Change (IPCC), the report once again emphasises that the sea level rise and other risks related to global warming are real.
The IPCC is the UN's scientific body evaluating the science behind climate change. Its special report assessed about 7,000 scientific studies by more than 100 authors from 36 countries. It says that while the sea level has risen globally by around 15 cm during the 20th century, it is currently rising more than twice as fast – 3.6 mm per year – and accelerating.
At the 10th International Conference on Asian and Pacific Coasts (APAC 2019) held at Hanoi, Vietnam from September 25 to 28, Dr. Laknath and his research team shared more findings, stressing the importance of getting ready to face climate change impacts, mainly due to the changes taking place in the oceans. Their research paper titled "Analysis of Cyclone Events in the Bay of Bengal and Simulation of Storm Surge in the Eastern Coast of Sri Lanka" won the Best Paper Award at this conference, beating more than 300 entries from several countries.
The intensity of cyclones and other extreme whether events would get increased with climate change,the research paper points out, particularly in view of the impact of warming oceans. Sri Lanka, which has already been placed second on a list of countries that had been impacted by extreme weather events in 2017, should be prepared to avert or minimise the devastating consequences.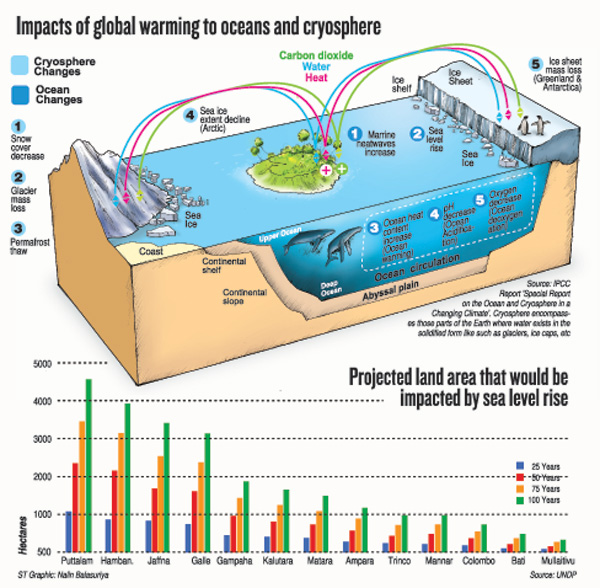 "When earth's atmosphere gets warmed due to the global warming effect, the sea surface temperature will rise. Sea surface temperature is one of the main contributors to generation of a cyclone and many other weather events. Thus the change in sea level temperature will increase the intensity of the weather events that impact Sri Lanka," says Dr. Laknath, a former postdoctoral researcher at Taisei Technology Centere in Japan.
For his research, he simulated storm surges on the Eastern Coast of Sri Lanka after studying the characteristics and behavior of the Bay of Bengal cyclones of last four decades. "The Eastern coastal area of Sri Lanka is more vulnerable to storm surges and coastal flooding due to cyclones; hence, a proper understanding of cyclones and the kind of damage they can cause are a prerequisite for saving lives and properties and the simulations can help to identify risks," he points out.
In January this year, the Presidential Expert Committee published a report titled 'Vision and Strategic Path for Sustainable Sri Lanka 2030'. The report whose chief editor was Prof Mohan Moonesinghe, a vice chair of the Nobel prize winning IPCC team in 2007, highlighted that climate projections and forecasts are very important for a sustainable economy and infrastructure planning.
The report said good prediction models, especially prepared for islands like Sri Lanka, will be necessary for climate forecasts. Most of all, developing a pool of scientists and researchers in fields such as meteorology, oceanography, geology and atmospheric physics is necessary to succeed in this task, it said.
The report also pointed out that about 5% of the land is located within a one-meter elevation from the mean sea level in the critical coastal zone that is exposed to sea level rise and the other forms of climate change effects. But of the total population of Sri Lanka, about 20% is settled within this zone. The on-going development patterns show that the populations in the coastal zone have been gradually increasing over last few decades making the residing populations as well as the properties are increasingly vulnerable to disaster situations.
Meanwhile, the National Aquatic Resources Research and Development Agency (NARA)'s senior scientist Dr. W.N.C. Priyadarshani says some of their studies on sea level rise have also indicated the vulnerability of Sri Lanka's coastal communities to the ocean-based disaster events is gradually increasing. The low-lying coastal area less than 1m of elevation is about 100 sq. km within the coastal belt of Sri Lanka including maximum area in Jaffna, according to the Shuttle Radar maps originally produced by NASA, the NARA studies show.
The Sea level rise around Sri Lankan waters was investigated by means of in-situ (Tide gauge) and satellite altimetry data over a period spanning two decades from 1993 to 2018. In-situ observation are made using automated permanent sea level monitoring stations which are established by NARA in Trincomalee, Kirinda, Colombo and Mirissa to cover the entire island. To study global sea level rise and ocean-based disasters and to take preventive and mitigation measures within the region, these stations are linked with a global sea level monitoring network established by the Intergovernmental Oceanographic Commission (IOC).