Pathbreaking play The One Who Loves You So launched in book form
By Yomal Senerath-Yapa
View(s):
George Beven's sensual semi-nude young men, in cotton sarongs- beautiful and paradisical- languished suggestively on the walls of the Barefoot Gallery. Coinciding, uncannily, was another event- the launch in book form of Arun Welandawe Prematilleke's 2018 Gratiaen-winning play: The One Who Loves You So.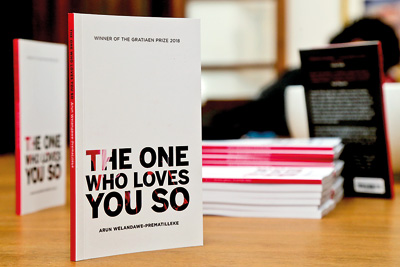 'Gay Gauguins' and queer theatre: it was a mingling celebration of a classic LGBTQIA work of art- as monumental as Funny Boy 'coming out' in 1994- only as a more mature take on the convoluted complexities of male homosexual love.
Despite the torrential downpour the Barefoot Cafe had a gathering of well-wishers- to see the official 'baptizing' of a pathbreaking play that had alternately been viewed as 'a delectable piece of queer art'- 'a brazen boundary breaker' and 'an outright attack on Sri Lanka's conservatism'.
Speaking at the event was Ramya Jirasinghe, one of the judges at the Gratiaen who unanimously selected the play amongst other strong contenders.
Ramya opined that the book went far beyond the LGBTQIA setting- leaping into unlit unexplored territories in all relationships- of sexual desire, attachment, betrayal, fear of loss, loneliness and the human need to connect to another.
The One Who Loves You So will be on stage again in January next year, Subha Wijesiriwardena the would be producer said, inviting donors to contribute to these future productions, and support original queer art in Sri Lanka.
The book priced at Rs. 1,000 is available at leading bookstores.