Ethnic and religious tensions could ruin economy
View(s):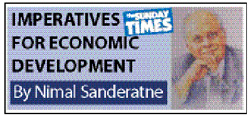 Sri Lanka could be a failed state and a nonperforming economy if ethnic violence and communal tensions are not eliminated. Furthermore, the country's capacity to service its large foreign debt repayment will not be possible if ethnic tensions and communal violence affect the country's capacity to access international capital markets.
National Dialogue
These were some of the views expressed at the National Dialogue for Countering Extremism and Building National Unity. Chaired by former president Chandrika Kumaratunga, the event was organised by the Office for  National Unity and Reconciliation (ONUR) on September 20th at the BMICH.
National unity
Intellectuals, academics, civil rights workers, social scientists and business executives who attended this colloquium were unanimously of the view that national unity and social harmony were vital for  the country to achieve its economic potential. They were seeking ways and means by which extremism could be wiped out and social harmony achieved.
Economic setbacks
The most serious setback to the economy in post-independent Sri Lanka has been the bursts of ethnic and religious violence from time to time. Foreign investment has been discouraged, economic activities have been disrupted and the economic capacity of the country weakened by a continuous brain drain. The cream of educated youth and young professionals are leaving the country today.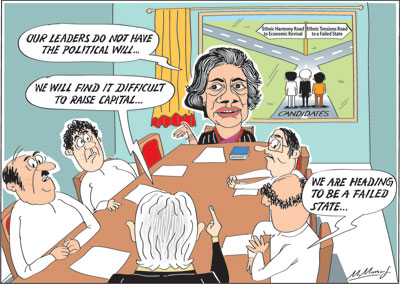 Economic development
It is only by achieving national unity and social harmony among the different communities that comprise the nation that an  environment conducive for economic development could be created. Unless the current ethnic tensions are eliminated, there is no prospect for the country to achieve economic growth.
Slow growth
The country is the least performing economy in South Asia, despite its infrastructure and developmental capacity owing to ethnic and religious disharmony. This year's economic growth is expected to slide down to 2.7 percent compared to South Asia's growth of 6 percent with the second quarter's growth dipping to one of the lowest at 1.7 percent. Political uncertainty and preoccupation with elections too are contributory factors for  this economic sluggishness.
Views
There is plenty of political rhetoric on the need for national unity, ethnic and religious reconciliation and social harmony. However this rhetoric is not backed up by a political will, commitment and resolve. Instead the country's politics is flawed by an attempt to woo the majority community by rousing communal hatred.
In addition, the existing laws to ensure peace are applied unequally and proper investigations are not carried out to ascertain the instigators and perpetrators of ethnic violence. Hate speech and extremism from several quarters are permitted and those with power and religious status enjoy impunity. These hamper the control and elimination of communal tensions and violence.
These views at the dialogue led to a decision to obtain the position and policies of the presidential candidates and their course of action towards achieving national reconciliation.
Presidential candidates
ONUR has decided to ask the Presidential candidates their position on several issues expecting their announced position to influence public opinion and bring about policies towards national reconciliation. These questions will address how  the presidential hopefuls would contain the rise of extremism and intolerance in the country; hate speech and 'fake' news; majority-minority relations; and institutionalised forms of discrimination based on ethnicity, religion  and  language.
Implementation
There is a strong view that the existing laws are applied unequally and that those with power enjoy a sense of impunity creating a political class that is able to survive regardless of which political party is in power. The candidates would be asked how they intend to correct this situation. What action will they take to ensure that elected representatives of the people act responsibly and transparently, how they  respond to this allegation and what steps they will take to ensure that all are treated equally before the law?
Their answers to these questions would hopefully pave the way for an improvement. However, as has been the case in the past, the rhetoric may not be backed by a resolve to implement policies that would eliminate extremism. Decisive steps may not be taken once in power towards national reconciliation, as with many election promises.
Summing up
Communal tensions and ethnic violence have been responsible for the slow growth of the economy. Sri Lanka is now at a critical juncture when further tensions could result in the country being a failed state and a nonperforming economy.
If ethnic violence and communal tensions are not eliminated and national unity and social harmony not achieved the economy would stagnate.  Furthermore the country's capacity to service its large foreign debt repayment will not be possible if ethnic tensions and communal violence affect the country's capacity to access international capital markets.
Conclusion
The economic crisis could worsen if ethnic tensions and violence are not eliminated. Will the forthcoming presidential election move the country towards national unity?