From Chairman Mao to President Xi, China's 70-year journey as People's Republic
By Jinith de Silva
View(s):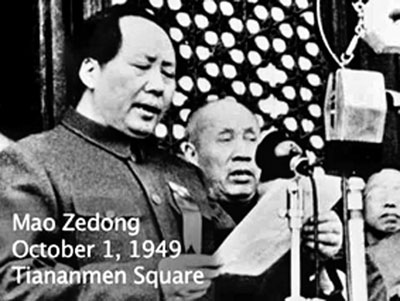 On October 1 this year, China will celebrate the 70th anniversary of the founding of the People's Republic of China (PRC).
"The Chinese people have stood up," declared Chairman Mao Zedong on September 21, 1949 at Tiananmen Square, announcing the creation of a republic of the people after the imperialists, foreign invaders and capitalists were chased away with the help of peasants. The intention of Mao and his fellow communist leaders was to improve the living conditions of ordinary citizens. The land owned by rich capitalists was taken by the state and distributed among the peasants.
The western powers were hesitant to recognise the peoples' republic. But Sri Lanka was the first country in South Asia to recognise China under Chairman Mao Zedong. Not only that, we even entered into a Rice-Rubber pact with China in 1952, while several other countries wanted to impose embargoes and isolate China.
Since the 1949 revolution Deng Xiaoping and Xi Jinping can be considered as outstanding leaders of China, besides Chairman Mao.
They all took bold steps to improve the living standards of the people. Chairman Mao improved the country's agriculture sector. A cooperative system was introduced to manage the agricultural lands. Government factories were opened across the country.
UN recognition of China in the year 1971 was a victory for the country.
Sri Lanka's then Prime Minister Sirimavo Bandaranaike backed China's admission to the United Nations.
When Chairman Mao died in 1976, the leadership passed to Deng Xiaping. In 1978, he took drastic reforms, gradually veering China away from the economic path it had been following. His reforms paved the way for an open economy. First, he created investments zones in eastern China. Foreign investments began to flow into China's free economic zones in areas such as Shenzhen, Guangzhou and Shanghai. This was an opportunity for leading global companies to send their goods to the world's largest population.
The Chinese market opened its doors to companies such as Coca Cola, Apple, Panasonic, Toyota, Volkswagon and BMV. This created employment opportunities while an industrial economy emerged, replacing an agriculture-based economy. A huge labour force from West China migrated to East China due to this rapid development.
Hong Kong and Macau were given back to China in 1997 and 1999, respectively.
An agriculture revolution took place in China in 1978. Eighteen farmers in Xiaogang, a village in the Anhui Province in East China, secretly agreed to divide community owned farm land into individual plots. This arrangement was accepted by the Central Government. This incident changed China's land distribution system. All taxes were removed from the agriculture sector, in 2006.
A key landmark of China's modern history was its admittance to the World Trade Organisation (WTO) in 2001. This paved the way for Chinese products to enter European and other international markets.
Under President Xi Jinping, China's economy became more liberal; new laws were brought in to encourage foreign investments and give foreign investors more freedom to conduct business.
President Xi's chief economic policy was the new 'Silk Road' or the 'Belt and Road' Initiative, which has gained international interest. Aside from China, several other countries are also benefiting from this project.
Under this project, some European countries built modern rail tracks, drastically reducing the time taken for European products such as Scotch Whisky to reach the Chinese market.
Another significant move was the setting up of the China-led Asian Infrastructure Investment Bank (AIIB) to support development projects in Asia.
China's rapid economic development saw its per capita income rising from $155 in 1978 to $9,000 today, and it has become the second largest economic power in the world.
It also holds the largest foreign reserves. In recent years, China has contributed more than 30 percent to world economic growth.
During the past 40 years, 800 million Chinese people have been freed from poverty. According to President Xi's plans, China will be able to completely alleviate poverty by next year.
China has set a successful example for poverty reduction in the world, and I think this is the China's biggest achievement. I have travelled to 20 provinces of China and seen the economic, social and cultural changes over the years.
For me, China's high-speed trains were the main attraction. These high-speed trains can travel at a maximum speed of 300-350 kilometres an hour. These trains have reduced travel time between cities by at least 50 percent.  An ordinary train takes 12 hours to travel from Beijing to Shanghai. Today, because of high speed trains, the journey takes only five hours. It took only an hour for me to travel from Langzhou to Xining by high speed train, in 2016. Though high-speed trains were introduced quite recently, as of the end of last year, China now has the world's largest high-speed rail network of 29,000 kilometres, about two thirds of the world's total high-speed rail network.
I had opportunities to meet young people during my visits to different regions of China. I noticed that they were extremely lively and cheerful. Even though China has undergone radical social and cultural changes, one thing still remains unchanged: their inclination towards hospitality. China made history as the first nation to land a spacecraft on the far side of the moon on January 3 this year — a great achievement for the country's technological and scientific innovations.
President Xi recently announced his two centenary goals. One of them is to achieve a moderately well off society (Xiaokang in Chinese) by next year, a year before the 100th anniversary of the founding of the Chinese Communist Party. The second is the building of a prosperous modern socialist country by 2050, a year after the 100th anniversary of the founding of the PRC.
People have begun to value President Xi's new concept of building a community with a shared future for mankind. His vision calls for world resources to be shared among all human beings equally.
We congratulate the people of China on their 70th National Day. They are a proud nation and we are proud to have this nation as our friend.
(The writer is the Vice President of the Sri Lanka-China Society.)