'Occy' hit by Arugam Bay waves
Text and pix by Amila Gamage in Arugam Bay
The 1999 World Surfing champion fails to impress, but is highly content with the amount of work he did offshore to promote the sport while in Sri Lanka
View(s):
All eyes were on the water for Heat 16 of Round 3 of the So Sri Lanka Pro World Surf League (WSL) Qualifying Series (QS) 3000 event, as the 1999 World Surfing Championship winner and sporting icon Mark 'Occy' Occhilupo paddled out at Arugam Bay for his first heat of the event, yesterday. It was one of the first real looks surf fans got of Occy this week as the legend had been busy hanging out with locals and enjoying what Arugam Bay has to offer.
But the moment he hit the water, Occhilupo was in competition mode, hunting down waves up and down the point and ripping in with his trade mark top to bottom backhand surfing. Occhilupo was however, unable to progress through the heat, but was still able to show glimpses of his iconic and powerful backhand, much to the delight of both the fans and his fellow competitors.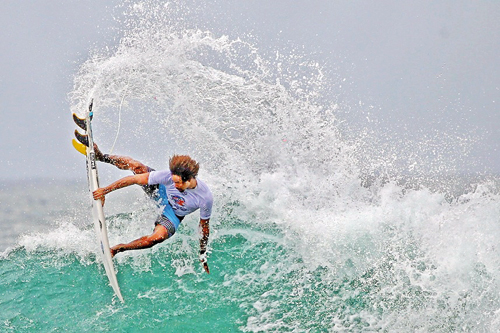 "I had so much fun out there," Occhilupo said.
"To pull on a competition jersey for the first time in a long time felt good. We were all having a lot of fun out there talking and laughing which was cool. It's been such a great week and really busy – I've done so much, from visiting a safari park to visiting local villages and surfing with the locals," detailing his work beyond the competition, Occy, stated.
Occy has been touring the world on surfing programmes, but this was the first occasion the champion surfer made a trip to Sri Lanka for the event that began on September 22 and ends today. But for Occhilupo, his visit to Sri Lanka is not all about competition. He used it to spend time with the locals and even pass on his knowledge and expertise on surfing.
"I even had a surf class with some Muslim women the other day, which was amazing. It's been an incredible experience all round. I'm stoked I came to Sri Lanka, the waves are fun and the people are so warm and welcoming it's a beautiful country. I love Sri Lanka, the people are so nice. Some of the nicest people in the world, I have met here in Sri Lanka," Occy, who was conducting training programmes, even minutes before his time for heats yesterday, said.
Although it has been almost 15 years since Occhilupo retired from full-time competition, he was still fit and was fully focused on his heat session. Despite his disappointing attempt, the powerful goofy-footer had showed earlier this year that he is still in the business, when he dominated lifelong rival Tom Curren in a 'Heritage Heat' at Bells Beach, in Victoria, Australia.
"I'm disappointed I didn't make it through my heat but the waves were tough for me today. It was smaller and a bit bumpy on the face but it's all good because I had so much fun. As far as I know, the Arugam Bay wave gets really good and today (Saturday) was not the best unfortunately. When you compete, you have to compete in the conditions that are given to you. So, I feel all right, but the conditions weren't my cup of tea," commenting on his heats yesterday, Occhilupo said.
In spite of his failure to conquer the Arugam Bay waters yesterday, Occhilupo was as always happy to see surfing grow. The training programmes and orientation sessions he conducted during the past few days at Arugam Bay are a fitting manifest of his passion for the sport and its progress.
"It's incredible since 1999, when I won the world title, to see the level of surfing has gone so high. The surfboards are a lot better, with the current improvements like live streaming and social media helping the sport, surfing has come a long way. I obviously don't compete. I did this just for fun and to encourage the sport in Sri Lanka. But I'm really happy to be here, and explore new conditions," said the champ after his round of heats.
The So Sri Lanka Pro World Surf League Qualifying Series 3000 event will come to an exciting end with the top 16 surfers set to hit the waves of Arugam Bay today.