Getting hooked on books once again
By Tera Jayewardene and Ruqyyaha Deane
The rains that came down did not deter book lovers from flooding the BMICH for the annual Colombo International Book Fair that ends today
View(s):
With umbrellas in hand and books clutched close to their chests, it appeared that not even the pouring rain would deter book hunters from the Colombo International Book Fair that ends today after another successful ten-day run.
An eagerly anticipated event not just for Colombo but the entire island, the Colombo International Book Fair 2019 held from September 20-29  has drawn the crowds who went home with bags full of books, stationery and school supplies.
"To make available to the public the latest books printed and published not only in Sri Lanka but also overseas has been our mission. Here is the place not only to buy books but also a meeting place to catch up with friends, have discussions and bring the family along,"  says Vijitha Yapa, President, Sri Lanka Book Publishers Association.
President of the Ceylon Booksellers Importers & Exporters Association Dinushi Abeywickrama shared that it was not just about selling books but other events that are tied in as well. "There are more writers coming up and we promote them as well. We have the main stage area where there are book launch events which are always packed and we give them prominence. We want them to come forward; when it comes to book publishing, it doesn't have to be a mass-market book and it could be anyone to promote their writing."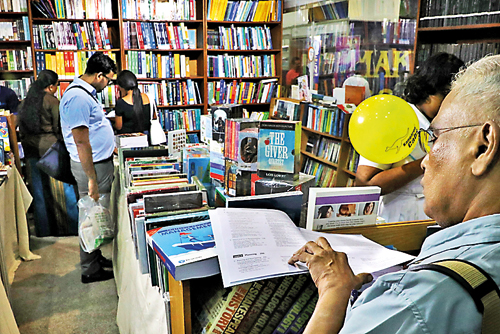 "This is an opportunity for people to come together and since you can't go visiting many bookshops in one day, this is the opportunity for the customer to see all the booksellers in one premises," says Immediate Past President of the Booksellers' Association Miles Brohier perfectly encapsulating the appeal of the book fair.
Books are more affordable  now, the sellers assert. "With the pricing structures we made universal to this part of the world, this concession has brought down prices by 30-70%," Ms. Abeywickrama says.
From renowned names in the business to smaller booksellers, the Colombo Book Fair is an annual event for which booksellers prepare months beforehand in order to cater to the different reading audiences.
It's been 21 years and the Fair's popularity and growth was little anticipated. "Being a bookseller I never thought it would build up to something like this in the beginning. I would wonder why they would spend time and money to come here to buy books but I am very, very happy that I was wrong," shares General Manager of Vijitha Yapa Group Lakshman Siriwardhana. Many shipments of books were brought down from different countries in preparation for the fair, he said.
Creating a bridge over the flooded water, the Richard's stall at the fair has become a safe haven. Once inside steaming cups of plain tea were served to people, with chairs occupied by tired book lovers. "What we really want to do is wholesale discount. If you are a mum, and have three kids at school, you don't need to pay the same price for three.  We give you a quantity discount. If you are buying stuff for Rs 2000, you save a decent amount and have money left that you can spend on something else for your kids," says Angela Jayatissa, Business Development Agent of Richard Trading Company, explaining why people rush into their store.
Hidden gems at the Fair
In 21 years, most of us have become  familiar with what the Book Fair has to offer. Yet, there are still a few hidden gems to discover.Confucius Institute at the University of Kelaniya

Collaborating with the University of Kelaniya, the Confucius Institute's stall at the Book Fair showcased Chinese culture with a demonstration that involved participants trying  their hand at an  art form called 'xingxing' which was star cutting and calligraphy of the Chinese alphabet. Apart from the demonstration, there were Chinese reading materials that varied from autobiographies, cartoons to travel books and more.

Xinzhi Books

At Xinzhi Books, the store has products from China -colourful pens and notebooks, to little trinkets and umbrellas that had many customers coming in to enjoy the stationery that is different from the norm.

2nd Hand books.lk

Rajitha from 2nd Hand books.lk is one of the many second hand booksellers who come annually for the Colombo Book Fair. Bookselling has been in his family for generations. From his grandfather onwards, the mantle of selling secondhand books has now fallen to him.

"The fact that we have books that are 400 to 500 years old means that we have a lot of first editions. We believe it's important that we have secondhand books that are available for people. We come every year as people expect us to," he says.

Although they are a profit-making organisation, they have a library system at their Narahenpita shop which allows people to come and read books that may not be found at national libraries.

As Rajitha aptly put it, "Sometimes, more than the books we find nowadays, the books back then are more meaningful to people."

Padanama Publications

Padanama Publications offers 'KetiSatahan' – tiny books of short notes on a variety of subjects for different grades. Their customer base consists mainly of parents and students who come annually in search of buying these helpful books for the next school year.

Learning Time

In the main hall among all the books mainly geared towards adults, Learning Time's  colourful stall sells sets of books that have eltee pens which allow children to listen to audio as they read. Books such as Amazing Places, allow the kids to learn more about the world while improving their reading skills.

Manga

Jeya bookstore has a small but interesting collection of Manga (Japanese comics) including One Piece, Dragon Ball and Tokyo Ghoul. They also have box sets of manga, which is something most Sri Lankans would have to order if they want to get their hands on it.