Appreciations
View(s):

Getting students to grapple with the fundamentals was the defining characteristic of his teaching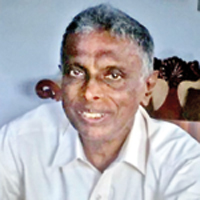 J. A. GUNAWARDENA
Prof. J. A. Gunawardena (Prof. G) – 'Gunda' to his friends and 'Kalu Gunda' to irreverent undergraduates –passed away recently at the age of 83 after a brief illness. Prof. G was an institution in the Peradeniya Engineering Faculty (EFac), not to mention the entire university. There were very few in the University of Peradeniya who had not heard or come across him. His stentorian voice pervaded the lecture halls, labs, and the corridors of the EFac.
I first encountered Prof. G in 1972 when he came to teach the 'Electronics' component of the Applied Electricity course module (which was compulsory for all undergraduates). He walked up to the blackboard and drew a 'diode' and an alternating current waveform at the input, and then told us to draw the output waveform. We hadn't a clue as to how to set about this task and Prof. G walked around the class with a mischievous smile playing upon his dusky features, no doubt amused by the bemused expressions on our faces. We, who had been used to 'one way communication' when attending lectures did not know how to deal with this situation.
Getting students to grapple with the fundamentals of a subject was the defining characteristic of Prof. G's teaching. Unfortunately, this did not correspond with what most undergraduates (engineering or otherwise) expect from a lecturer. The average student wants to be able to take down a clear note which can be used to study for exams.This was rarely possible with Prof. G's style of teaching and the result: considerable 'casualties' in the subjects he taught, particularly among students who had little or no interest in electrical engineering.
Later, I came to realize that Prof. G's lectures were not just fundamentals-based but also, particularly in the final year when he taught Digital Electronics and Control Systems, were really a commentary on the topics. This necessitated coming prepared for the lecture, another thing undergraduates rarely do. I remember him saying when he was introducing us to 'Worst Case' design of circuits, that one cannot simply assume the nominal value of a component required for a design (for example, assuming that, what is referred to as a 100 Ohm resistor in the marketplace will have a measured resistance of 100 Ohms). He pointed out that if you purchase such a resistor, its actual value will be either close to 90 or to 110; the reason being that component values have a 'tolerance' of say 10% and, when the actual value happens to be close to 100, the manufacturer will classify these as 'Precision Resistors' and sell them at ten or twenty times the price of ordinary resistors. For the first time we were made aware of the importance of incorporating commercial considerations into engineering analysis. What Prof. G was trying to get across to us was that if you designed something with an exact nominal value in your calculations, you would end up with a product costing ten or twenty times more than it should. This is hardly what a long-suffering public expects from engineers who are supposed to be capable of doing something for one rupee which a fool can do for two.
Prof. G went on to explain that if a component parameter can be anything between 90 and 110, the analysis would have inequalities instead of equations. Now, to minimize something, say the cost of a product, the presence of inequalities requires the mathematical firepower of non-linear programming, a field most engineers are not overly fond of. Prof. G recognized this fact of life and showed us how to avoid such mathematical complications by creatively identifying and using situation specific data. Creativity development is the "in" thing in this day and age and I understand many universities have course modules devoted to this. But, here was Prof. G, 45 years ago, teaching us how to be creative in a real practical way.
Precision in engineering was an obsession with Prof. G. Now, when undergraduates are required to perform calculations necessary to design some artifact which will not be constructed (e.g. a bridge or rooftruss), there is considerable temptation to take shortcuts or fudge the calculations. However, if the item in question is to be actually made and tested, the result of fudging your calculations, particularly in electrical engineering, can quite literally be an explosion. A few of my batchmates found this to their cost, and it was a miracle that the lab did not go up in flames after their exploits. In particular, two batchmates forming a project group blew up transistors with such monotonous regularity that they were nicknamed the "thermocouple"! After observing the "fireworks" in the lab, Prof. G prefaced his next lecture with a comment typical of him: "You may fool lecturers, examiners, and other human beings; but you cannot fool the Laws of Nature!"
Prof. G's integrity was unassailable. He believed and lived the hoary adage, "Because Right is Right to follow Right were Wisdom in the Scorn of Consequence" – notwithstanding consequentialist theories in ethics! If students failed his paper because they had not studied properly, that was their problem, and he would never alter his evaluation. 'Standardization' was a word that did not exist in his vocabulary. And even in other spheres, such moral values were manifest in the decisions he took. I am not sure whether this story is apocryphal or not, but it appears that when he passed his BScEng with first class honours, it was not he who had come first in the batch. But Prof. G was awarded the scholarship to read for the PhD. It is said that Prof. G had foregone the scholarship saying that his batch-mate who had come first in the batch should be the awardee. This selfless decision would undoubtedly have delayed his postgraduate qualifications.
When Prof. G went on sabbatical leave we, his final year students, went to his home to see him off. In the course of conversation he suddenly asked, "What is the definition of a Second Class?"and then proceeded to answer his own question: "A Second Class is what you get when you have not studied hard enough to get a First!"
My last personal encounter with Prof. G was in the electrical lab. He walked up to me and gave me a report of mine he had evaluated. From the corner of my eye I could see that he had awarded seven marks out of ten. But the figure seven had the lower case letter 'c' which, apparently, stood for 'conditional'. Then he turned to me and said, "I do not expect 'Good English' from you. There are very few people in this country who use 'Good English'. But, if you want to pass this subject, kindly submit your reports in 'Correct English'. I hope this 'appreciation' shows some evidence that I have profited from Prof. G's parting advice.
Ranil Senaratna
---
A life lived with courage, generosity, compassion and love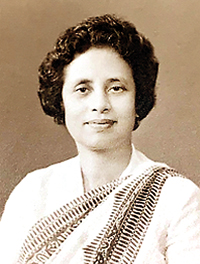 Freda Wijayaratna
Life's journey is a winding road. One day you could tread a beautiful flower laden path with blue cloudless skies overhead, and the next day you could be on a hazardous trail with dark stormy skies above. Anyone conversing with the serene and gracious lady, Freda Wijayaratna, could not have guessed that she had faced challenges that any woman would find daunting at any stage of life.
Possessing charm and good looks, Freda was wed at the age of 18 to Newton Wijayaratna. They had a comfortable and happy life with five children born in quick succession. The couple travelled to Europe and USA in the 1950s enjoying good times. She was suddenly widowed at the age of 31, having to raise three daughters and two sons, the youngest only seven years old and eldest approaching teenage.
She faced the future admirably – with courage and fortitude. Owning her own home did help, but it was her strong faith and disciplined life, that enabled her to see her children through school years to adulthood and marriage. Three of them later settled in Canada and two in Australia. It was in the comfortable home of second daughter Kusum and son-in-law Dr Nihal Heenatigala that she lived for over 40 years in Australia.
Good health enabled her to travel and see children and grandchildren. For her 80th birthday some of the family enjoyed a Mediterranean cruise with her. She had 11 grandchildren in all, and had a close bond with them. They gave her 13 great-grandchildren!
I failed in my GCE A/L examination to get into the Peradeniya Engineering Faculty in 1968, and decided to prepare for the second attempt doing combined studies with my friend Kumar, who was her elder son. Since I had been a classmate of her younger son Naushad at Royal Primary School, I was already known to the family.
Her kindness and warm hospitality on my frequent visits will always stay in memory. I was treated by her like a family member, and her home at 321, Galle Road, Bambalapitiya was one I would walk into at any time. I found it was not only me, there always seemed to be others there! She was a faithful and trusted friend to a few ladies who sought her counsel and enjoyed her company. Given her large home and its location, it was no surprise that relatives visiting from outstations also found a haven there. Her daughters Shalini, Kusum and Damayanthi, possessing their mother's charming ways, added to the warm glow in her home. They celebrated special family occasions inviting many to celebrations held at '321'.
What gave the home stability and calm was the foundation laid by her understanding of Buddhism. She did not care for showy religiosity but meditated on the noble precepts and practised compassion and generosity in her dealings with others. She volunteered with the Red Cross. During  July 1983, with mobs doing their worst in her area, she provided safety and succour to numerous Tamil neighbours who were in a desperate plight. She also enjoyed strong friendships with Muslim and Burgher families living nearby. It was in January this year that my wife and I paid our last visit to see her in Melbourne. On our previous visits during the past 30 years, she had cooked tasty curries and sometimes even made us hoppers!
This time, she spoke fondly of her family, visits of children and grandchildren and showed us pictures drawn by great-grandchildren. She talked of her life's path and satisfaction of how she had coped. She was aware that her earthly journey would be reaching its culmination before long. She had no major ailments but knew well about impermanence. She had not used wealth for herself but spread it around the family and rejoiced in their wellbeing. We told her that her example, wisdom and serenity had impacted on a large circle of people.  When she breathed her last recently, her family carried out her wishes for a quiet funeral. A life lived well, with dignity, courage, generosity, compassion and love had drawn to a close, and will spread its fragrance for many years to come.
Ranjan Abayasekara
---
A man with a vision and mentor to many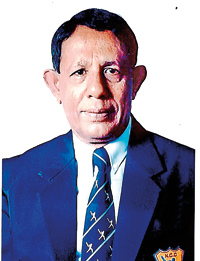 Lionel Mendis
It is almost four years since the passing away of Lionel Mendis. It is timely to reflect on this very special person's life. He mentored a countless number of students some of whom are well known public figures. He loved them all as if they were his own offspring. Of them all, his favourite undoubtedly was Arjuna Ranatunga.
Lionel left a void in his family which can never be filled.  I remember going to Ambalangoda for Vesak celebrations and staying at his ancestral home. Those were wonderful times we had with him and his close Ambalangoda friends. His younger sister Indrani lives in the old house now. There is a special room there dedicated to Lionel's life -a mini museum with countless photographs showing various events involving Lionel.
He was best known as a cricket coach. But he had a life outside the world of cricket. He was a devoted and loyal brother to his siblings and doted on his nieces and nephews.
My association with him lasted nearly six decades. He was my best friend and mentor and we were more like brothers. He guided me to become successful in my career just by speaking to me on a regular basis on the phone while I was in the UK for over 40 years. He had that rare ability to inspire those who had the fortune to know him.
During his long and outstanding teaching career, he never resorted to giving private tuition. He devoted his entire adult life to teaching and cricket.
Most people are not aware of his strong religious beliefs. His devotion to the teaching of Gautama Buddha was known only to his family and close friends. As a non-smoker, teetotaler and vegetarian, one would have anticipated a very long and healthy life for him, but we lost him in what would have been the evening of his life.
Getting together with old friends and enjoying a singsong was for him the ultimate pleasure. He was a talented singer and would imitate some well known singers to perfection. His sense of humour was legendary and he could make his friends laugh at the drop of a hat. Lionel's favourite song was "Dura penena thanithala".  A few days prior to his passing away, Chandra and I visited him with my sister Chitra and brother Gamini. His close friend and cousin Ansingh was there too at the same time.
We asked him whether he wanted anything and what he asked was for us to sing that song with him.
Despite several invitations, he never visited me in the UK because he did not want to abandon his responsibilities towards his charges. His number one priority was to carry on his work. That was Lionel the dedicated professional.
He was a man with a vision. A vision to do his best and make the world around him a better place.
May he attain the Supreme Bliss of Nirvana.
Mike Weerasinghe
---