Govt.-TUs wage war paralyses public sector
By Sandun Jayawardana
View(s):
A wave of strikes continued to cause chaos throughout the country this week with the Government and Trade Unions (TU) trading accusations, even as a Cabinet appointed ministerial committee was appointed to take a fresh look at the issues.
President Maithripala Sirisena convened an emergency Cabinet meeting on Friday (27) night to discuss the prevailing situation, following several crippling strikes launched in various sectors. Accordingly, a committee comprising Ministers Mangala Samaraweera, Ranjith Madduma Bandara, Vajira Abeywardena, Akila Viraj Kariyawasam, Rajitha Senaratne, Dr Harsha De Silva and Ashok Abeysinghe was appointed to study the issue and report to Cabinet next week. The Sub Committee is due to hold discussions with the TUs involved in the next few days.
The strikes left a number of sectors paralysed. State Universities remained shut this week too, as the strike launched by its non-academic staff entered its 20th day today (29). Meanwhile, Government executive officers and employees of the Railways Department launched indefinite strikes from Wednesday and Thursday respectively.
The Sri Lanka Administrative Service Association (SLASA) put off plans to continue with an indefinite strike. owing to difficulties caused by the adverse weather, but did not wholly abandon TU action, choosing only to attend to "limited work" at State offices.
TUs representing teachers and principals engaged in a 2-day 'Sick Note' campaign on Thursday (26) and Friday (27), effectively shutting down most Government schools in the island.
All TU actions were to demand authorities take steps to rectify salary anomalies affecting their respective services.
The strike called from Thursday, by TUs representing Railways employees, caused severe inconvenience to tens of thousands of commuters. Many office workers were left stranded due to lack of trains, with only a handful of office trains operating on Thursday and Friday. Images of commuters hanging on precariously, to parts of the trains and even travelling on carriage roofs, quickly went viral on social media. Only 6 office trains operated on Thursday, though that number doubled to 12 on Friday.
TUs representing Railway Engine drivers, guards and station masters were among those who launched the strike. A representative of a TU, who declined to be named, said the strike was called as authorities had failed to implement a Cabinet Paper approved in May 2018. that rectified their salary anomaly issue. "We have given the Government plenty of time to act. There is no reason for them to delay implementing an approved Cabinet Paper. We will continue our strike until the Government agrees to implement it," he insisted.
State Minister of Transport & Civil Aviation, Ashok Abeysinghe, however, hit back at the striking TUs, insisting that the strike was grossly unfair. "We received neither written nor verbal warning of a strike by the TUs. They only gave a statement to the media," he alleged. Mr Abeysinghe said his Ministry intends to request the President to gazette the Railways as an 'Essential Service', owing to the inconveniences caused by the strike, to the public.
The State Minister noted that the Government has anyway agreed to increase salaries in the public sector, as per the recommendations made by the 15-member Salary Review Commission headed by S. Ranugge, that was appointed to look into salary anomalies in the public sector.
Accordingly, effective from January 2020, salaries of public servants will increase by a minimum of Rs. 3,000 and a maximum of Rs. 24,000, he pointed out. He noted that TUs wanted this to be implemented immediately, which was not fair. He further criticized striking Railway workers for continuing to demand immediate salary increases, when they are already earning hefty salaries.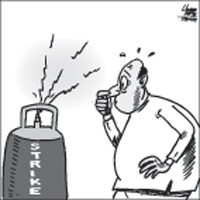 "I can state with responsibility, that an Engine Driver earns up to Rs. 300,000 a month, inclusive of all allowances and overtime. A Railway guard earns up to Rs. 250,000 and a Station master Rs. 200,000. They earn such massive salaries, while the Railways Department incurrs an annual loss of Rs. 7 billion," he charged.
A breakdown in negotiations, concerning a salary anomaly issue affecting Government Executive Officers, prompted the Government Executive Officers' Joint Committee (GEOJC) to launch an indefinite strike this week. GEOJC President Dr Nimal Karunasiri claimed that, some 35,000 Executive Officers in 17 Government Services, were engaged in the indefinite strike. The strike caused severe disruptions to services at most Government institutions, with staff staying away, he also said.
Representatives of the GEOJC held a meeting with the Secretary to the President, Treasury Secretary, Secretary to the Ministry of Public Administration and Public Administration Minister Ranjith Madduma Bandara on Friday afternoon. Dr Karunasiri stated that they pointed out during the meeting that, it would take less than Rs. 5 billion for the Treasury to rectify the salary anomaly issue of Government Executive Officers, that was caused by the 2018 decision to raise salaries at the Attorney General's (AG) Department. "We pointed out to them that they can't hide behind the excuse of the Treasury not having sufficient funds. They agreed that the issue should be resolved and to submit a Cabinet Paper on the subject at the next Cabinet meeting. However, we will continue with our strike, until this is done and the Cabinet Paper approved."
Public Administration Minister Ranjith Madduma Bandara noted that, if salaries of Executive Officers are raised in the manner demanded by TUs, it could also lead to a situation where non-executive officers such as Management Assistants and Development Officers will also demand a pay hike. "The Government has agreed to increase salaries of Government Servants, in line with recommendations made by the Ranugge Commission. Accordingly, salaries will be increased from January next year."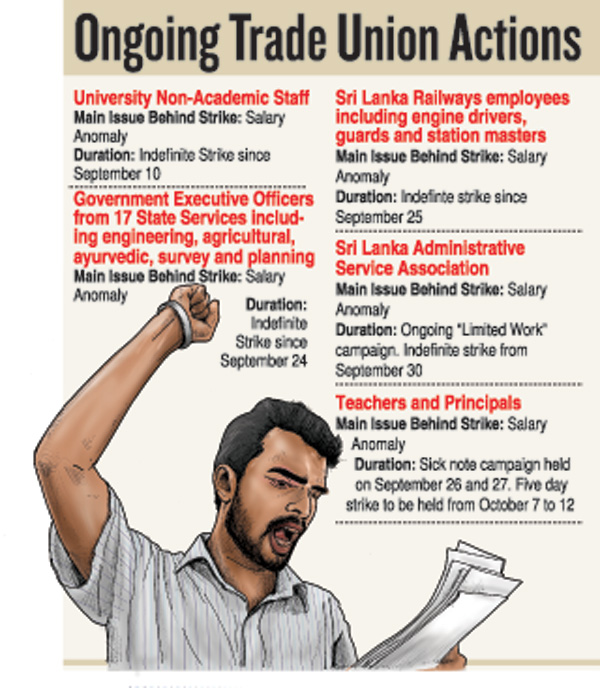 The SLASA, which is the representative body of SLAS officers, was due to commence an indefinite strike over the same salary anomaly issue created by the 2018 salary hike for AG's Department officers. SLASA President Prabath Chandrakeerthi told the Sunday Times, they decided to put off the strike for next week, owing to difficulties caused to the public, by the adverse weather conditions. The SLASA comprises some 2,500 members, who constitute the senior-most positions of the State apparatus, including ministry secretaries, department heads and district and divisional secretaries.
Mr Chandrakeerthi said, though they were at their posts this week, officers were only engaged in "limited work," meaning they were only attending to duties listed out in their appointment letters. He noted that a Cabinet Paper on the payment of an interim allowance, till their salary anomaly issue is rectified, was supposed to be presented to Cabinet this week. "The Finance Ministry and Treasury was supposed to submit their observations to Cabinet last Monday, but then, we had a strike by Management Assistants (who belong to Non-Executive branch of Government employees) engaged in a strike at the Immigration Department, and the Cabinet Paper was not presented. We have suspicions as to whether this strike was instigated by the Government itself, to try and prevent our demands being granted," he observed.
Mr Chandrakeerthi warned their TU members would commence an indefinite strike from Monday (30), unless they receive a definite response from the Government. "We want the Government to approve this Cabinet Paper in principle. We can then decide on a date from when the interim allowance is paid."
Meanwhile, some 30 TUs representing teachers and principals warned they would move from the 'Sick Note' campaign they held this week' to a 5-day islandwide strike, from October 7-12, as authorities had failed to address their demands, to rectify salary anomalies in the Education sector.
Ceylon Teachers' Services Union (CTU) General Secretary Mahinda Jayasinghe said their 2-day 'Sick Note' campaign held on September 26-27, was a resounding success. "There are 247,000 teachers and 16,000 principals in the State service. Of the combined number of 263,000 teachers and principals, we can say, almost 260,000 took part in the 'Sick-Note' campaign," he said, noting that academic activities in most schools came to a complete halt as a result.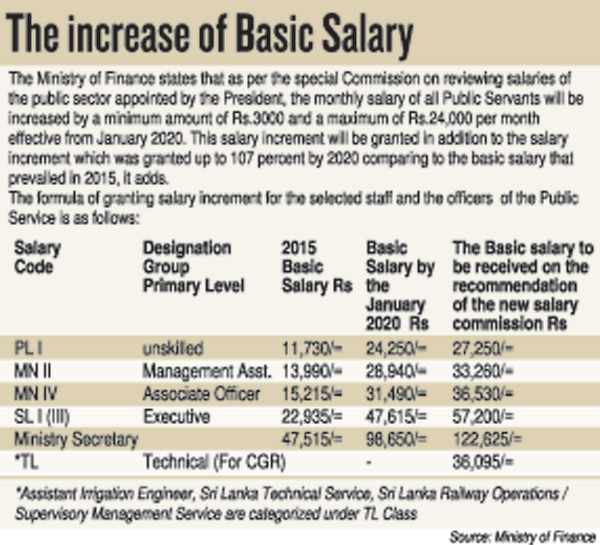 Mr Jayasinghe added that, though the Government claims it will implement the recommendations of the Ranugge Commission, TUs were yet to see the full report. "We also don't believe the report has addressed the question of salary anomalies of teachers and principals. It may give us a salary hike, but the reality is, we have a massive salary anomaly in the teacher service, that has existed since 1997. A teacher in the highest grade, known as Class I, is currently earning Rs. 31,000 less than what they should be earning," he stressed.
Mr Jayasinghe said the TUs were awaiting an invitation from the ministerial committee to discuss their demands, but warned they still planned to go ahead with the 5-day strike. "We will take a decision subject to our discussions with them," he stressed.