Young initiative to revive a reef and create awareness on plastic pollution
By Ruqyyaha Deane
View(s):
Not many 15-year-olds can boast of being a Junior Advanced Open Water Diver, but Devanga Silva is not your typical youngster.
Having been encouraged by her father who is a Master Diver for the Professional Association of Diving Instructors (PADI), at the tender age of eleven Devanga began her diving career during a vacation in Grenada in the West Indies.
"The first time I went (diving), it was amazing. You could see all the marine life and it's not like what you see on TV. It is absolutely beautiful," Devanga shared with the Mirror Magazine as she sat down to talk with us about her project 'Reef Revival 2019'.
As a student of the Overseas School of Colombo, it is a mandatory requisite for passing the IB diploma (the qualification they follow) for students to complete a personal project. The project required Devanga to take the initiative of thinking about a product she wanted to produce and then write a report about the process and about its achievement.
"At OSC all students in 10th grade have the opportunity to create, explore, analyze and reflect on something that interests them. The Personal Project is an experience that gives students, like Devanga, the confidence in their abilities to turn their ideas into successful outcomes and their dreams into realities, " Assistant Principal of OSC Clover Hicks said elaborating further on the assignment.
"I wanted to do something different and that moved away from the mainstream. The first part of the project is to brainstorm different ideas and I came up with multiple ideas like writing a book about women empowerment, but nothing really stuck as diving did. I like diving and I wanted to make a difference in some way."
Devanga realised that to go ahead with her diving idea there was a lot of planning that would go into it, and a project of this caliber was something she had never attempted before.
However, after much careful thought and consideration, the 'Reef Revival' came to life as Devanga decided she would perform an underwater dive cleanup at Swami Rock in Trincomalee which would lead to creating awareness about ocean pollution and diving cleanups.
Although there are many diving spots in Sri Lanka, Devanga chose Trincomalee for her project as it was a place she would visit frequently.
"I have gone to many dive sites all over the world, and you can see a clear difference. My first dive was a really beautiful place and there was no trash but once I came to Swami Rock I realised how polluted the ocean was. Everytime I would go out there for a dive and it wouldn't even be for a cleanup, I would invariably have to heave up trash to the boat," she stated. Due to many people visiting the Koneswaram Temple and the famed 'Lovers Leap', there is a lot of garbage that is being carelessly tossed over the cliff.
On September 13, Devanga and her team, which included her 11-year-old brother Dimitri Silva, and members from the Sri Lanka Diving Tours Centre, found 5 kilograms worth of trash from the dive cleanup such as huge bundles of rope, forgotten wire cages, anchors, plastic bottles and bags.
The date she picked for the dive was significant because the diving season for Trincomalee was coming to its end as October rolled by and World Ocean Cleanup fell on September 21. Devanga wished to use her event to raise awareness on the special date and that dive cleanups do happen in Sri Lanka.
Among the hurdles she faced was deciding what could be removed from underwater whilst respecting religious practices. Coconut shells, coins and shrines were left undisturbed.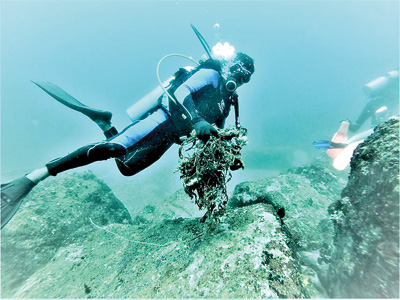 Even though the dive itself was completed, Devanga's project is not over. She is currently logging all the data from her dive cleanup on the PADI 'Dive Against Debris Survey' which is part of a campaign to change global legislature in relation to debris dumping. "What they are trying to do by the end of 2020, is to collect 1 million pieces of debris which will then result in changing the laws on ocean conservation and pollution," she shares, happy to be doing her part.
"I really hope that my initiative has somehow inspired the public and it does not have to be just in underwater cleanups per se but they can make smaller attempts at changing the way in which they reduce the use of plastic bags and straws. Use more reusable materials as possible because even though that's not a cleanup itself, it will prevent potential trash that could end up in the ocean."
'Spread awareness' is what Devanga would like to share as her special message with the public.