Moral tale brought to stage through dance in 'The Unwavering Mind'
View(s):

October will bring to the Lionel Wendt a metaphorical dance drama by director Nilan Maligaspe. This year's offering has taken a moral flavour.

Every year, the Arpeggio Creative Dance and Drama Academy (ACDDA) plans a show that is a testament to Nilan's complex, sensitive imagination- with the stage coming alive to the beats of dramatically choreographed renditions- of tales ancient and modern; mythical and real.

This year, the Academy will present 'The Unwavering Mind', to mark the silver jubilee of the ACDDA.

The drama has just one 'character', says Nilan- even though there is a substantial support cast. The majority billow about ominously- for they all portray 'minds' and not people- though they are all artistically involved at the same deep level.

The action begins with the brutal murder of a person by another (inhabiting the same earthly body).

The black spirit then flees, and wreaks havoc on society, not only disrupting but depraving humans till comes the point that society starts harassing this 'original sinner'.

At the end of a majestically operatic chaos, the bad mind decides to purge itself and become good- and thus society is healed.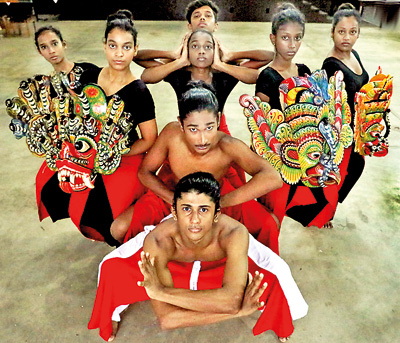 This deep eternal spiritual conflict, with humanized minds shooting around like cannon balls, acts as a profound parable- delighting with sensational dance.
The drama unfolds in step with mostly contemporary but also traditional dance, and to add indigenous zest, low country devil masks will disguise the darker minds of society. Woven in are touches of the exotic Kathak dance.
Nilan's own career as a dancer began with western dancing, and then miming. His first ballet was Kadatholu Nimeshaya in 1998. Just as he thus got a foothold in Sri Lankan ballet the whole niche began to crumble, but Nilan held on valiantly till better times surfed him up again.
Among his most memorable ballets were 'Lovers of Thambapanni' 'Ruhiru Pathana Kirula' which blended Greek traditions with the Mahavamsa story of seductress-Queen Anula, and such avant garde productions as 'Black, White and Red'.
Nilan and his students have performed all over the world.
Amidst all his commitments as a dancer, Nilan has two particularly cherished pet projects.
He is perfecting a method of dancing for hearing impaired children, so that they perform conscious of the meaning of the songs and music, while working, as always, to help the underprivileged students as well as children in prisons- by opening to them the delights of the arts.
'The Unwavering Mind'a drama with a core of contemporary dance, will unravel at the Lionel Wendt on October 12 from 7pm.
Tickets, available at the theatre, are priced at Rs 1500, Rs.1000, Rs.750 and Rs.500.