'MelaNota' technique denotes:
By Sanath Weerasuriya
The dawn of modern era for guitar and bass
View(s):
The grand launch of 'MelaNota' system, the latest Music notation system invented by Melantha Perera of 'Mirage' fame and the founder of 'Riversheen Music School' was held recently at the Marino Beach Hotel, Colombo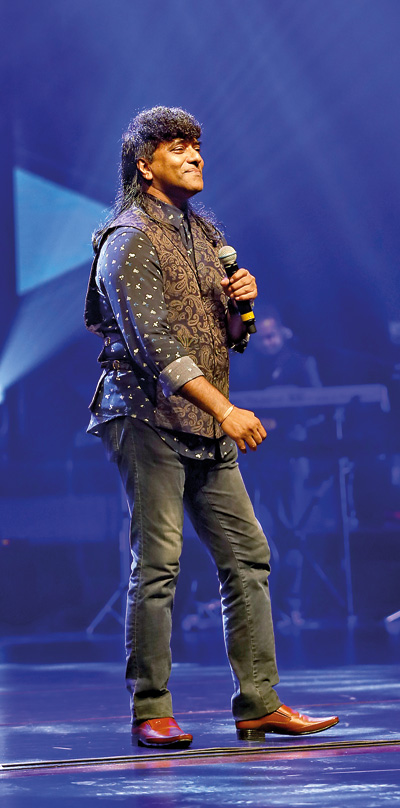 Musicians all over the world use various kinds of methods, names and symbols in different contexts representing musical notes. Various methods have been practising and experimenting for the past centuries. The well known and popular written methods that presented are, staff notation to indicate the musical notes written on lines and tablature format especially for guitar.
'This is being widely used in most genres of popular music, including jazz, pop, and rock corresponding with symbols are typically composed of existing systems' said Melantah Perera, the veteran musician and the founder of popular Music School 'Riversheen'.
Music notations methods are used to train the little fingers of the present day children grading them as a kid Grade I to higher University levels.
'MelaNota' system is Easy to learn and adapt where, numeric values over powers the existing methods of the guitar family with a system that never existed.
The launch of 'MelaNota' system was held under the patronage of legendary Desmon de Silva and a large gathering of musicians and singer.
Master of ceremonies brother Rukshan Perera welcomed Melantha on stage to launch 'MelaNota' system.
Melantha addressed the audience which included music teachers, music students, parents, fans who came from various parts of Sri Lanka.
'In the later part of 2015, I felt the necessity of a written document that would help the students to recollect playing what they learn in the music class. That was my main ambition and to come up with a modern technique. MelaNota technique trains the students to read and to write either a melody, bass line or to follow an arrangement of a song minimising errors' Melantha explained.
'It could be your hobby to listen or play music to relax after a school or a hard day's work at office. MelaNota technique will help you to spend the least amount of time to learn and play the instrument specially the guitar or bass. This system is easy to understand because it's not complicated. It's a very simple and novel technique which he has taken out sharps, flats, octaves and fingering which is not a problem in writing on MelaNota' Melantha gave a brief description about the 'MelaNota' the invention to the guitar world.
A short video was shown where Melantha Perera demonstrating few song using of the notation system to the students of Riversheen Music School. It was an easy go for students after that.
It was time for him to get someone from the audience to prove it that MelaNota is the easiest technique that ever been introduced. He called legendary Desmond De Silva on stage. It was less than a minute spent teaching the method to Desmond where he took the guitar and according to notes, which written in numeric started playing a tune.
The celebrities who were present at the launch-Dalreen Suby, Maxi Rozairo, Corriene, Mariazelle, Alston Koch, specially made a comment regarding the MelaNota technique and will take up on guitar. Before the conclusion Melantha answered all questions making sure the notation system MelaNota was understood by everyone.
Melantha said he is in touch with few guitar trainers in Canada and Australia, where he might take wings promoting MelaNota to whatever the country that going to invite him.
The official launch on the web was designed by Nadun Peiris a guitar student at Riversheen where Desmond did the honours by clicking the button.
'I would like to very specially thank my parents Boyd and Trilla Perera, my loving family – Devika, Michelle and Devshan and also my brothers Rukshan and Prasantha for giving me the support and encouragement to pursue my goals and ambitions for the cause of music' Mela said in a conclusion.
'Last but not the least a very special thank you to Himali the Secretary of Riversheen School of music and to the Committee Rajitha, Dushy, Nedra, Eswalal and Darshi, Eshantha and Natali for providing me with useful insights and planning out the launch he said.