A tragedy with a kick!
By Yomal Senerath-Yapa
View(s):
For once, Horatio gets to steal the show. With no Hamlet, Prince of Denmark to blot out the horizon, a publican's son (such as Horatio is in this play) can- with pluck and grit and good looks- just as well be the tragic hero.
With Hamlet at Elsie's Bar, directed by Sashane Perera and written by Feroze Kamardeen, the bard's best-loved tragedy gets a kick of fiery tavern ale. Feroze has reordered the universe of Hamlet (who is not even a character in this play)- coining new names out of the old, concocting a new tale of drunken Elizabethan alleyways out of an old Scandinavian legend of battlefields, graveyards and royal spectres.
Playing Horatio- the lead role apart from Shakespeare himself in this new production- is Ashiq Dole. The biggest challenge the cast faces could be that they are doing something that, given its ambiguous nature, between dark and funny can only tentatively be called a 'tragicomedy'. Mine host at Elsie's gets killed by his brother who covets his victim's wife. But he had reckoned without the couple's son, Horatio- who sets out on vengeance- with an unwilling Shakespeare in tow, while his own love life takes a fatal turn. All of this with a jovial musical flair.
Sashane as director, according to Ashiq, was very perceptive in the way he led them from the comic to the deeply tragic. The operatic range of emotions he had to have at his fingertips, and his 'character arc' which curves like a horseshoe, were highly demanding for Ashiq. Where there is a hero there's a villain. But Rehan Almeida who plays Claude, Horatio's evil uncle, is cut from the really congenial tragic-hero material- in physiognomy and persona: more a Romeo or an Othello than a scheming, viperous malefactor.
But that is exactly the drift- says Rehan. "We are trying to aim at an interpretation where, even though he essentially is the villain, we should have a sympathy towards him- because I think that's one of the richest things about some of Shakespeare's characters- to get the audience to try and connect as to why the bad 'uns are doing it."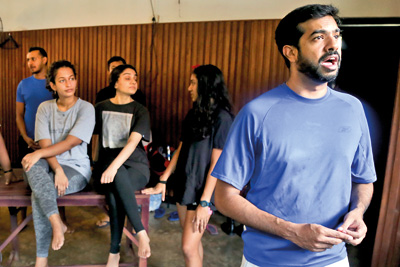 With this Hamlet, Feroze had gone on a blithe spree of anagrams and gender bending. Not content (in the earlier production) with taunting the audience with two made-up playwrights' names built up using his own, he has also made a Layertee (Horatio's true love) out of Laertes, originally old Polonius's son; a Guilda Stern out of 'Guildenstern' and a "Rosie Crantz" out of Rosencrantz- courtiers, corseted into barmaids.
Daniella Pereira plays Rosie- one of two conniving slatterns of maids whose jealous scheming ends in disaster for all. Like all others, Daniella enjoys the heady 'energy high' of the choreography and the music.
For the cast, the musical is a challenge but also 'enormous fun'. Watching rehearsals is like a trip to Neverland.
But the production promises to be brimming with the full gamut of Shakespearean drama and intrigue; comedy and high passions; tragedy, eros, and thanatos.
See you anon at the Wendt.
Hamlet at Elsie's Bar goes on the boards at the Lionel Wendt from October 4 to 8, from 7.30 p.m. Tickets are now available from the Wendt and the theatre's online platforms.
The cast
Demintha Fonseka plays Will Shakes while Gowrienathan Balarupan and Ashiq Dole play Horatio. Rehan Almeida / Vishan Gunawardena (Claude), Amarsha Tissera (Layertee), Daniella Pereira / Shenuri Pilapitiya (Rosie), Ama Jayasinghe (Gilda), Kanishka Herat (Osric), Shannon Misso (Ophelia), Niren Neydorff (Ben Johnson), Shazad Synon (John Donne), Avishka De Alwis (Christopher Marlowe), Bhanu Prabhasha (Bernardo) and Sanjeewa Weerasinghe (Francisco).

Hamlet at Elsie's Bar is produced by Dinesh Maheswaran, with musical direction by Tehani Tissera and Amarsha Tissera, and choreography by Ayushka Nugaliyadda and Mihara Jayalath.