Unearthing the story of our gems
By Oshani Alwis
View(s):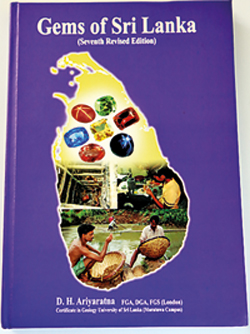 'Gems of Sri Lanka,' the 7th revised edition is a reference book on gems and the gem industry of Sri Lanka. Compiled by D.H.Ariyaratna, consultant gemmologist, the book provides in-depth information for gemmologists, geologists, mineralogists, geographers and general readers. The book is also approved for school libraries by the Ministry of Education.
D.H.Ariyaratna started his career in the trade in 1970 with a two-year course in Geology at the University of Sri Lanka (Moratuwa). He obtained a diploma in Gemmology (FGA) from the Gemmological Association of Great Britain, Post-diploma in Gemmology (DGA) and received the title Fellow of the Geological Society of London (FGS).
The book reveals that the history of Sri Lanka's gems dates back to the first century AD. It is recorded in the pre- Aryan period that two kings Chulodhara and Mahodhara fought for the possession of a throne of gems and that Lord Buddha visited Sri Lanka to resolve the royal dispute. It says in the Mahavamsa that the gifts of King Devanampiyatissa to the Emperor Asoka of India included gemstones.
Sri Lanka is famous for producing some of the largest gems in the world, according to the book. The largest known sapphire in the world, weighing 19kg was found in Sri Lanka's gem gravels. The Star of Sri Lanka (393 carats) owned by the Sri Lanka Gem and Jewellery Authority is known to be the world's third largest sapphire.
'Gemstone varieties,'one of the fascinating and informative chapters tells of  blue sapphires and many other gem minerals while andalusite, apatite, axinite, cordierite, danburite, diopside, ekanite, enstatite and much more are considered as rare or unusual gemstones.
Another chapter deals at length with gem testing and the identification process. Gem testing is done in three stages- rough and uncut form, cut and polished form and cut and polished stone mounted in jewellery. Identification of gemstones mainly relies on visual examination based on the experience of the person handling gemstones.
The chapter on gem trade notes that the value of a gemstone is purely an opinion of the individual valuer, given in good faith and expressed in monetary numeral terms, based on the prevailing market price per carat at the time of valuation.
The last chapter elaborates on the liaison between astrology and gemstones.
'Gems of Sri Lanka,' the 7th revised edition is printed by A & B Graphics, No.65, Old Road, Nawinna, Maharagama and is available at all leading bookshops priced at Rs.1800. Sale proceeds are for the charity managed by the author. Signed copies can be obtained from the author by placing an order through srilankagemsuk@gmail.com or on 0762 484 644.