Unusual coloured snake turned out to be common wolf snake
By Malaka Rodrigo
View(s):
A snake found in the premises of a temple in Hikkaduwa earlier this week, had residents and even experts in a quandary initially, with news reports of the discovery of an unidentified snake.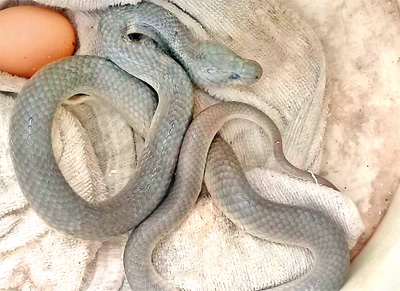 Hikkaduwa Wildlife Department officials said when the snake was handed over to them, there was even speculation that it might have originated from a foreign country as this temple received packages from Australia on a regular basis.
Adding to the puzzle was also the fact that the snake turned darker the following day.
The initial photographs of the snake even puzzled experts, but after checking more photographs Prof. Kalana Maduwage of the University of Peradeniya identified it as the common wolf snake (Lycodon aulicus). Explaining the change in colour, Prof. Maduwage said the wolf snake looks paler just before it sheds it skin and this snake would have been spotted just before it shed its skin. However, since the Hikkaduwa wildlife officers said that the snake had not shed its skin, it is believed that it was found soon after it had shed its skin. The snake expert said that a special liquid flows between the scales and the old skin which results in a pale colour.
The Common wolf snake is a non-venomous snake and is known as 'Alu radanakaya' in Sinhala. The snake found in Hikkaduwa was about two and half feet long. Though wolf snakes are common, experts say it is rare to see a full grown specimen in human habitation as they are often killed before they become adult snakes. The wolf snake usually has bands around it, sometimes mimicking the venomous Krait, But this snake didn't have such bands leading to further speculation. "This snake had a different colouration than that of a wolf snake. A wolf snake with this kind of colour morph is described as Lycodon aulicus unicolor, Prof. Maduwage said. "I have come across many of this colour morph specimens in the Southern Province," he added.
Leading snake expert Dr. Anslem de Silva also confirmed that this was a wolf snake. "There are many colour variations of this snake species," Dr.de Silva said. "It is not unusual to have different colour forms of the same species in the snake world. For example, a survey of more than 500 cobras revealed that their spectacle marks were different from one another. There were cobras without markings as well," Dr.de Silva explained.
| | |
| --- | --- |
| Help to identify snakes just a click away | |
| The website www.snakesidentification.org set up by Prof. Maduwage and some of his colleagues completes two years this week. One can upload an image of any snake that one encounters and get expert opinion on identification and other information. The website also assists doctors who need to identify snakes when patients seek treatment for snake bites. | |