Ravindran's 'Soundless Dance' creates echoes in Jaffna
5th Jaffna International Cinema Festival 2019
View(s):
The 5th Jaffna International Cinema Festival (JICF) 2019 concluded last week winning the Best Debut Film award for young exiled Sri Lankan filmmaker Pradeepan Ravindran's "Soundless Dance"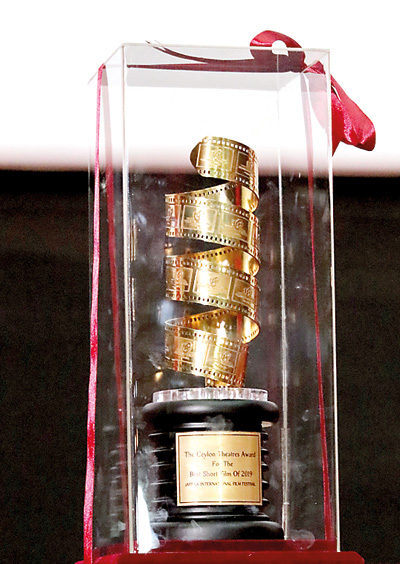 The France-Sri Lanka production of Pradeepan won the award while it was nominated along with 'Manohar and I' by Amitabha Chaterji (India) and 'House of my Fathers' by Suba Sivakumaran (France/Sri Lanka).
The jury which adjudicated the award for the debut film comprised of Prof. Neloufer de Mel (Sri Lanka), V. K. Joseph (India) and Cayathri Divakalala (Sri Lanka) and in their jury statement it is stated, "for its powerful story of a young Tamil man, and only son, who flees Sri Lanka's ethnic war and finds himself as a refugee in France;"
They further noted "for its vivid cinematic exploration of his inner self, as he struggles with the past and the present, with hallucinations and dreams, with different landscapes whether in war zones or urban Europe, and with the disintegration of his family and his own body and soul.
For excellent acting and strong character portrayal of the main characters that avoids stereotypes – For a command of cinematic language, of visual images of war-torn landscapes as desolate, destroyed and unpredictable; of cramped rooms and kitchens that embody the main character's feeling of entrapment and alienation, of the blending of war, digital and film footage"
JICF was held for the fifth consecutive time from September 3 – 9 in Jaffna with the participation of 22 countries with nearly 70 films including feature films, documentaries and short films. The countries that participated were Afghanistan, Australia, Bangladesh, Bhutan, Brazil, Canada, Czech Republic, Egypt, France, Germany, India, Iran, Italy, Malaysia, Nepal, New Zealand, Norway, Philippines, Singapore, Sri Lanka, the UK and the USA.
Honoring the seniors and encouraging the young generation of filmmakers, the festival presented a number of awards during the awards ceremony.
Award for the Best International Short Film was won by Malaysian filmmaker Anwar Johari Ho's 'Forget me not'. Iranian film 'Elephant Bird' by Masond Soheili and Singapore film 'Tenebrae' by Nicole Midori Woodford were the other two nominations.
Award for the Best National Short Film was bagged by Bavaneedha Loganathan for her film 'Generations'. In its citation about 'Generation' the film jury stated "It was difficult to choose a winner from a selection of films from film-makers with such great potential. But we felt the film that really stood out delivered creative excellence in every aspect. From story to script to cinematography, from the visual to the unsaid, this film-maker shows not only a technical maturity and an ability to tell a story but to deliver it with an original and distinctive style to call their very own. The jury were so impressed they wanted to see more of it." Bavaneedha was also received a cash prize sponsored by Ceylon theatres and Cargills Bank.
The jury for both national and international short films comprised of Helen Blakeman (UK), Asoka Handagama (Sri Lanka) and Robert Crusz (Sri Lanka).
Audience Award for the Most Popular Short Film was won by 'Vanitha Senathirajah for his film 'The Ruins'.
The Lifetime Achievement Awards of the fifth JaffnaICF were given to award winning Indian film critic V. K. Joseph and veteran Sri Lankan actress Swarna Mallawarachchi. Indian film critic.
Jaffna ICF 2019 also felicitated five journalists for their endearing support and contribution towards the betterment of cinema in the Jaffna peninsula. Aruna Gunarathna from Sarasaviya, Samantha Yahampath from Lankadeepa, Susitha R. Fernando from Sunday Times, Ramesh Uvais from Daily Mirror, and Sooriyan FM were felicitated for their contribution to promote cinema.