Inaugural batch of Youth with 'Hospitality skills'
View(s):

As part of the Cinnamon Youth Empowerment programme, Cinnamon Hotels recently held the graduation ceremony of the inaugural batch of youth who successfully completed the 'Skills for Youth Development Programme' in hospitality. All graduates were awarded industry-recognised certifications from Cinnamon Hotels and Resorts, along with the opportunity for industrial placements at world-class Cinnamon properties island-wide.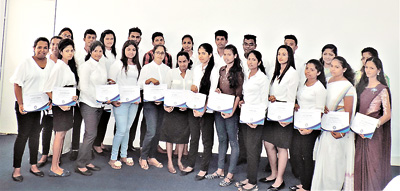 A release from the Cinnamon stated that the five-month course implemented by Cinnamon in partnership with Chrysalis, followed an inclusive development model to train the batch in both technical and soft skills. The programme is expected to strengthen the image of the industry as a rewarding and progressive sector, while equipping graduates with necessary competencies to pursue promising career options and opportunities.
Launched in December 2018, the Skills for Youth Development Programme not only aim to offer trainees fulfilling careers in hospitality, but also to enjoy financial stability and independence while contributing to the local economy. The course material was based on a qualitative research which looked at the issues or gaps of recruitment and retention of young people specially women within the industry. The programme offered trainees access to global industry insights across a wide range of specialisations in hospitality. Additionally, on successful completion of the five-month technical course, the students will be placed within a six-month industrial placement which will enable them to obtain an accredited certification from the National Apprentice and Industrial Training Authority (NAITA) of Sri Lanka, further expanding their career options. The learning from this programme will be used to further finetune existing practices and create an enabling environment for young people to join the industry.