There was no ethnic identity in his politics
20th death anniversary of Dr. A.C.S. Hameed
View(s):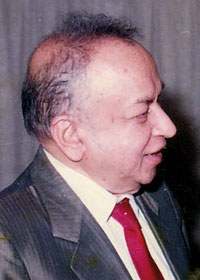 Dr. Abdul Cader Shahul Hameed was a member of the Parliament from June 1960 to 1999, representing the predominantly Buddhist electorate of Akurana which was later constituted as Harispattuwa.
He passed away on September 3, 1999 after a short illness.
During his unbroken 39-years in Parliament, he enjoyed his political career, virtually taking part in every debate. In 1977, he was appointed as the Minister of Foreign Affairs — a portfolio previously held by the head of government from 1948. In the subsequent United National Party governments, he held the portfolios of education and justice.
There was no ethnicity in Dr. Hameed's politics. He built a Bauddha Bala Mandalaya at Alawatugoda, and another one at Ranawana road in Katugastota.
He also built Sri Lanka's second seemamalakaya, overlooking the Mahaweli Ganga at Waratennae in Harispattuwa.
He made substantial donations to several temples and mosques. He helped repair a Hindu temple in Alawatugoda.
As Foreign Affairs Minister from 1977 to 1979, he chaired the Ministerial conference of the Non Aligned Movement. During this period, he became close to world leaders such as Yugoslavia' Marshal Tito who was a NAM founder member, Cuba's Fidel Castro of Cuba and Palestinian Liberation Organisation Chairman Yasser Arafat.
He was accorded a doctorate in Political Science by the Hankun University of the Republic of Korea in 1978 and a Honorary Doctorate of letters by the Sri Jayawardenapura University in 1990.
He made a great effort to find a peaceful negotiated settlement to the ethnic problem in Sri Lanka. He firmly believed that peace was the most appropriate solution to the ethnic problem.
He authored and published some books which include The Pursuit of Peace, Disarmament-Multilateral Approach, Foreign Policy Perspective of Sri Lanka, The Owl and the Lotus, and Spring of Love and  Mercy.
May Almighty Allah grant him a place in the Jannathul Firdouse!
Aameen
A.C.A. Ghafoor