Letters to the Editor
View(s):

Train drivers seem ignorant of  horning rule that could save lives

I was shocked and dismayed at the statement of the Loco Engineers ( Op) Union Secretary  in the article in the Sunday Times on July 21 saying that the horns in trains are used for communication codes between the engine driver and the station master and we do not use them to warn careless drivers or pedestrians.

This statement shows that engine drivers are completely ignorant of railway rules and regulations which they should be conversant with. They are required to pass an examination on rules and regulations before being allowed to drive a train. Lives are lost due to their ignorance of rules and regulations.

There are more than 30 instances in safety rules where the engine drivers are required to sound the horn  — even giving the duration to sound the horn in seconds. Here are the relevant rules and regulations  pertaining to how an engine driver should sound the horn to protect road traffic moving across level crossings and pedestrians walking along the railway line.

Sri Lanka Railway safety rules
and regulations:

Rule 54 (a): Whistling boards consisting of a red diamond with a white horizontal bar across the centre are provided where required for the purpose of warning drivers that they are approaching a level crossing unprotected by signals.

Rule 111: Fixed whistling boards are provided at level crossings where there are no signal or gate which closed across the railway and drivers on viewing these boards must sound the horn so as to give warning to road traffic if approaching a level crossing of and from which the view is restricted; the sounding of the horn on viewing the whistling board must be continued until the level crossing is within the driver's view. They must thereafter give a long blast on the horn of about a 10 second duration when the train is 90 to 180 metres away from the level crossing according to the speed of the train.

Rule 153 (viii): Keep a good look out at all times the locomotive is in motion, be vigilant and cautious and sound the locomotive horn when necessary.

Rule 156 (xi): Sound the locomotive horn as a warning when persons are seen on or near the line on which the train is running etc.

SLR rules and regulations

Part 1 ( Op)

Rule 146 (i): When the driver sights a fixed whistling board protecting a level or level crossing protected by fixed signals or not, give one long blast and if the level crossing is not in view, blast to be continued till level crossing comes into view.

District Inspector (Transportation Rtd)   Via email
---
A stamp of approval for those good  old days of the postal service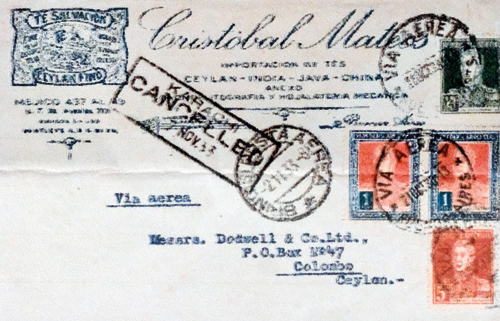 I was fascinated by the article appearing in the Sunday Times of August 18 'Please Mr. Postman, explain this Rs. 5 billion deficit'. I am one of those people who experience delays in receiving particularly overseas mail. There have been instances when the mail has never been received. This has led to some online vendors declining shipment to Sri Lanka.
It is unfair to place the blame solely on the Postal Department. In my view it is the inefficiency that has crept into the postal service not only in Sri Lanka but worldwide in general. As far as I know from my overseas friends, one will be very lucky  if even an overseas mail is received in countries like South Africa and in some parts of Latin America or if mail posted from these countries is ever received in Sri Lanka. I have experienced this myself.
Here are two small examples of the efficient service that prevailed in the 1930s to prove my point.
From Ceylon to England
This is a letter to England in 1936 posted on December 23 that reached South Devon on January 2, 1937. The route was Colombo- Madras-Karachi- Brindisi (Italy) by air and from Brindisi to London via Paris by train and steamer. It took only 11 days for the letter to reach England in an era when there were no direct flights to England.
From Argentina to Ceylon
This is a letter posted to Ceylon from Buneos Aires, Argentina in 1933.By studying the postmarks on both sides of the cover, one can observe the following: Posted from Buenos Aires- October 21, 1933. Arrived in Aohnait, Greece via steamer on November 2, 1933. Dispatched to Brindisi ( Italy) on the same day with the Brindisi postmark November 2, 1933.  From Brindisi to Karachi (at the time India) by air arriving Karachi  7th November, and from Karachi to Madras by air and finally  from Madras, connecting the Down Indo-Ceylon Travelling Post Office  (train) on November 13, 1933.
Possibly this letter would have arrived in Colombo about the 15th of November. A matter of 26 days to travel from South America!
In my view it is all about efficiency and commitment of the people of the day. Mind you there was no modern technology to depend on. These examples clearly highlight the efficiency prevailing in the days gone by.
Ravindra Ratnapala  Rajagiriya
---
 Here's hoping that the new head of Federation of Pharma Industry will be a change-maker
We congratulate Kasturi Chellaraja Wilson on her appointment as the new President of the Federation of Pharma Industry. She probably is the first  Professional Accountant to lead this chamber and with her background as a Finance and Audit professional where professional ethics is of paramount importance, she can be a change maker in the pharma industry to ensure zero tolerance to fraud, bribery and corruption.
We all undertake a career or an entrepreneurial activity primarily for a financial reward but under any circumstances we cannot tolerate fraud, bribery and corruption.
It is an open secret that there is massive fraud and corruption in the pharma industry. There is no better evidence than from President Sirisena  himself who mentioned during the early stages of his presidential career that he was offered US $ 1 million as a bribe from the pharmaceutical industry when he was the Health Minister.
I have seen my doctor friends enjoying foreign holidays, weekend stays in Sri Lankan resort hotels, obtaining luxury items as gifts from the pharma industry in return for prescribing branded medicines.
A good doctor should strictly adhere to ethics and should not work according to any hidden agenda to make money. Recently, I consulted a leading retired physician who in the first few minutes of conversation was keen to find out where I live (Cinnamon Gardens or suburbs). He put the question in a indirect way to show as if my place of residence impacted on my illness. I was smart enough to mention a suburb and was dressed simply. He prescribed the cheapest medicine in the market and my illness was brought under control with diet control and medication.
So, I appeal to those in the pharma industry to earn their money in a decent way by ethical marketing and in no way induce doctors to prescribe certain brands in return for gifts. Money earned in the honest way will last forever.
A word of caution to those in the pharma industry – The UK Bribery Act could penalise any Sri Lankan company having operations in the UK if it was involved in fraud and corruption outside UK.
Priyantha Perera   Via email
---