Appreciations
View(s):

Driven by commitment and compassion he helped the needy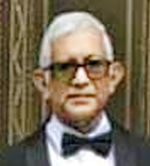 Vishwanath Vedage
Vishwanath Vedage, known to all his friends and family as "Vish", was born on November 29, 1947 in Colombo, Sri Lanka, the oldest of five siblings. He was initially educated at Greenlands College from 1953, and then joined Royal College, Colombo, in 1959 to continue his secondary schooling. He passed away in June 2019 in the UK.
While being a quiet student at Royal, Vish was well known for dabbling in Einstein's Theory of Relativity at a very early age. His thirst for knowledge in science was always a significant feature of his personality. His colleagues referred to him as "a quiet guy with an abundance of Metta (unconditional love) & Karuna (compassion)".
Vish joined the Port Commission in Colombo as an Apprentice in Marine Engineering and completed the first examination of the Institute of Engineers, London. He later took up the position of Chief Engineer of the "Diyakaawa" Dredger of the Port Commission in Colombo and then moved to settle down in the UK in the 70s.
Vish married Moh Nee in 1984, in the UK, and they have a son, Dave, born in July 1991.
He went on to work as a lecturer at Newham College and later at Havering, both in the UK, until his retirement.
Post retirement, Vish continued his great passion for books and learning and was also heavily involved in many social and charitable projects in Sri Lanka.
In 2013, Vish spoke of the importance of clean water and a possible solution through the installation of rain water harvesting systems in the affected areas of Sri Lanka at the Hela Sarana Chronic Kidney Disease in Sri Lanka awareness workshop. He was a committee member of Hela Sarana, formed by a group of Sri Lankans in the UK in 1996. The charity has been actively involved in raising awareness and executing programmes to fight kidney disease in Sri Lanka and also in many other charitable activities.
In 2017 Vish and a few others, of the Royal College '59 Group contributed funds to help a needy Royalist to continue his higher studies.
Over the years Vish worked tirelessly in supporting the poor children in a village by way of donations of computer equipment and other much needed learning resources.
It was only a few days before his passing that Vish and his close friend in Sri Lanka, K.A. Dayaratne, became aware that 72 students of Dimbulagala Mahawewa Primary School in Sri Lanka could not afford footwear. This led to the footwear project donation programme which they both initiated. Unfortunately, Vish did not live to complete the project and Dayaratne donated the shoes with his own funds in memory of Vish to fulfil his final quest to help the poor.
In appreciation of his support to the school, the library in the school M/Roshan Mahanama Vidayalaya, Weheratanne, Bogaswewa, in the Vavuniya District was named "Vishwanath Vedage Memorial Library".
I had the good fortune of meeting up with Vish in London in 2011, many decades after having left Royal College in 1967 and we caught up on many wonderful memories from our schooldays.
Compassion, commitment and hard work were the driving force behind the much deserving charitable activities that Vish engaged in.
May he Rest in Peace!
Fazli Sameer
---
Thank you for being the guiding light in our lives
SHAMALA LOUIS (nee RAJAKARIAR)
The life of a loving, devoted sister was snatched away from us on June 28, 2019.
My sister Subo and I were looking forward to visiting our sister Shamala in the US. Shamala Akka turned 80 last year and her health was not very stable. Since both of us had not seen her after 2016, we decided we should spend some time with her. The day we were to visit her she was admitted to the hospital and we spent time with her at the hospital.
Our happiness of being with her was short lived. We went there on June 18 and on the 28th she was gone. Coincidentally, June 28 was our mother's birthday and God chose that day to take her into his fold.
Shamala Akka, born on August 4, 1938, was the first grandchild to the Benjamin family and the firstborn of Constance and  Raju Rajakariar. Having had her education in Jaffna, she began teaching at the Little Flower Convent in Bandarawela. Her dedication in this field took her to the heights of principal of Wellawatte Tamil Vidyalaya.
She was married to James Louis and had two lovely children Shibani and Shehan. Yet life was not a bed of roses. When Shibani was 14 and Shehan 8,  she lost her beloved husband. Being a single mother it was not only a tough task to raise the two children but it was also a life of sacrifice. When both children were well settled in life with two lovely partners Wellington  and Rajika and three adorable grandchildren – Elizabeth, James  and Shevan, she had to face another tragedy of losing her 35-year-old son Shehan in 2009. With Shehan's death, her health started deteriorating.
After Shibani's migration to the US, she continued her life with her daughter-in-law Rajika and grandson Shevan who was the apple of her eye. When he was six years she had to move to the US with Shibani to spend the latter part of her life.
Where the family was concerned, she was the team leader and mother figure to her three sisters Premi, Subo and Puvi who looked up to her for advice and guidance.
A few days after her death, her old school, Wellawatte Tamil Vidyalaya, now known as Wellawatte Ramakrishna Vidyalaya, had a special memorial service for her.
Akka, you were a committed daughter, sister, wife, mother, mother-in-law, grandmother and teacher  and your parting has created a great vacuum in our family. You are in a special place with God now where there is no evil nor pain. So, thank you and farewell dear Akka and may your soul rest in peace.
Puvi Domingopillai
---
She left a legacy of love and dedication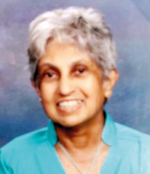 Dr Kamini Sujatha Alahakone
Dr Kamini was a dear friend with whom I associated very closely.
A distinguished alumna of Methodist College, Colpetty, Kamini passed out from Medical College in 1964 and thereafter served in various positions in the medical field until her retirement in 1991. She was happily married to Noel Alahakone – they were a lovely couple. They had two children Rohan and Denali who are presently domiciled in the US and New Zealand. Noel predeceased her.
She was a pillar of strength to her family and to all who came into contact with her. Her beautiful home was home also to many relatives and friends, especially the sick and needy. Her career was in the Family Health Bureau and after retirement she worked for Asiri Hospitals for a short time. Thereafter she worked for Prof. Harsha Seneviratne  at Vindana.
She helped with counselling and introduced Jesus Christ to many.
She dedicated her life and home to her voluntary work in the medical field. While at the Family Health Bureau during the late General Denzil Kobbekaduwa's time she volunteered to ride with the Air Force to camps in Jaffna to treat soldiers. Once the helicopter gunship she was in had to make an emergency landing in enemy territory to pick up a soldier. She used to go to refugee camps in the North and East to immunise children. She volunteered at hospitals when the doctors couldn't work there due to terrorist threats.
For her children Rohan and Dineli and their families, it is a vacuum that cannot be filled. The immeasurable love and kindness that she imparted will be etched in their memory. Her amiable and endearing ways always spoke to me beyond words. I had the privilege of staying with her during the last three months of her illness. She has left an indelible mark on my life.
Through her life of love and dedication, she left a legacy for all of us. May we meet on that beautiful shore once again. Until then we hold her close in our hearts and she will walk with us throughout our lives.
A heart of gold that stopped beating
Two shining eyes at rest
God proved to us that morning
That he called her to her rest.
Preeni Perera
---
My inspiration, my father
Albert Edirisinghe
Having the paternal care and love throughout
Gained the knowledge and aptitude for learning
The inspiration you gave me my beloved father
Is truly a sunshine to my life.
Still living contentedly and securely
Because of your valuable guidance and leadership
I truly cherish your precious qualities my beloved father
You are the light of the moon to my life.
As a true follower of the Blessed One
You left your home and relations in order to enter the Sangha
I clearly understand now my beloved father
The value of Going Forth to seek deliverance from the grievous suffering.
Knowing that knowledge alone was not sufficient for you
Fervent, pure and profound heart,
The message you gave me by Going Forth into Homelessness, my beloved father
Is of the holy goal, the incomparable surety of Nibbana.
Janaka Edirisinghe
---