All kinds of everything with the common coconut
By Oshani Alwis
View(s):
It was in 2012 that Harindra Mahakumara read a newspaper article that stated that 50,000 litres of coconut water go to waste each day as a byproduct of the coconut industry. Upon research he realised that canned tender coconut water (kurumba) is popular in the international market. His first product was bottled kurumba water which could be kept for 20 days when refrigerated.
His focus shifted to king coconut (thambili) in 2014, where the water is sweeter than of a regular coconut. "The aim was to protect the natural taste and goodness of king coconut water without adding any preservatives," Harindra says. Three years ago, Hela Coco- bottled king coconut water was launched by Harindra, proprietor of Hela Coco Energy.
Once the subject of much controversy, the versatile coconut is now considered a superfood with an array of nutritional benefits. With World Coconut Day falling tomorrow, September 2, we caught up with some local producers who are finding new ways to present an old staple in Lankan culture to both local and international consumers.
Harindra currently exports Hela Coco to USA, Canada and Australia with the assistance of Sri Lanka Export Development Board and the Coconut Research Institute. "I want to take something from Sri Lanka to the world by creating a local beverage brand name through king coconut," he says.
King coconut water could be promoted among Lankans as an energy drink for its rehydration properties. It is high in potassium which cleanses the blood, he adds.
Hela Coco- bottled pure organic king coconut water that also comes in flavours of cinnamon and green orange king coconut water is gluten free, and has no added sugar or water. It can be kept at room temperature for one year. It can be ordered directly through helacoco energy on facebook or by visiting www.helacoco.com
Ceylon Coconut Company
Ceylon Coconut Company established in 2014 strongly believes that Sri Lankan coconut is naturally of a premium quality – higher in taste, colour and flavour. The company offers a versatile range – from virgin coconut oil, king coconut water, coconut flour, coconut chips, coconut sugar, coconut vinegar, coconut honey to coconut milk upholding the company's vision of promoting the real taste and goodness of Sri Lankan coconut to global consumers.
All their products are 100% organic, from coconuts sourced from certified organic growers on the island. Explaining the nutritional benefits of coconut, Gehan de Alwis, one of the Directors of Ceylon Coconut Company stated, "Coconut oil is primarily a saturated fat which is healthy for the human body. It contains lauric acid- the building blocks of human cells which helps in regeneration of brain cells. Lauric acid is a natural resistance for diseases like Alzheimer, dementia and Parkinson's. It's been proven that coconut has over 56% lauric acid content."
One of their signature products is Coconut Aminos, a seasoning in three flavours of original, garlic and teriyaki. The sauce is ideal for flavouring meat for BBQ, as a salad dressing or marinade, to cook or saute with and is made with coconut sap honey and coconut vinegar infused with sea salt and spices. Coconut Aminos contains essential amino acids and is free of gluten, cholesterol, soy and lactose.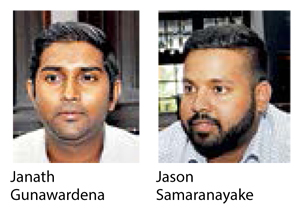 Also reputed is their organic coconut butter, a healthy gluten free and dairy free option, made with processed whole ground coconut meat. The thick and creamy butter with its natural coconutty flavour is recommended for frying, baking, or as a spread.
They also market Coconut pol pani, made to a traditional recipe, coconut yoghurt made with coconut milk and non-dairy vegan probiotic, which is popular among consumers who are lactose intolerant. This vegan product is free of preservatives, chemicals, flavouring, emulsifiers or sugar. Coconut yoghurt can be consumed plain or sweetened with coconut honey, coconut sugar, jam and marmalade, berries, fruits and with granola. Ceylon Coconut Company's organic coconut products are available for purchase at Keells, Softlogic Glomark, Odel, Milk & Honey Cafe, Good Market shops, Barefoot Cafe and on uber eats. See http://ceyloncoconutcompany.com/.
Don Coco coconut chips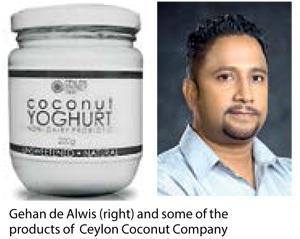 Don Coco coconut chips was introduced to the local market last year as the flagship product of The Almond Tree Organics.
A tropical delight, Don Coco's salted kithul treacle coconut chips mainly promotes the concept of having a healthy snack on the go. The crispy coconut chips made with pure organic coconut infused with kithul treacle and sea salt, are baked, vegan,gluten free,dairy free and preservative-free.
Jason Samaranayake and Janath Gunawardena, Directors of The Almond Tree Organics, who also coined the brand Don Coco related the journey they took to introduce a new snack to Sri Lankans.
Coming from a family manufacturing coconut based products, Jason has memories of following his father to the Mathammana D/C Factory in Minuwangoda, owned by his grandfather. "I grew up with coconuts and the smell of coconut was like incense for me," Jason recalls.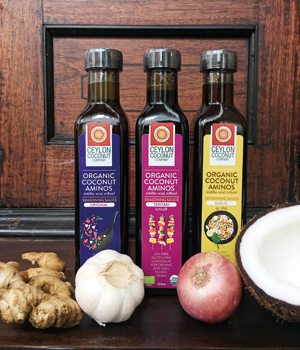 When he joined the family business last year, Jason noticing that snack trends nowadays are for healthy, organic, baked items with no colouring, no preservatives and vegan foods, together with Janath came up with Don Coco coconut chips. "We wanted to make it healthy, organic and easily accessible," says Jason. "It can also be paired with the supper food culture among the health conscious youth with the options of eating the chips as cereal, with fruits, desserts, or salads," Janath adds. As Jason states, Sri Lankan coconut is known to contain the highest percentage of healthy coconut fats.
Don Coco salted kithul treacle coconut chips are available at tier one Cargills Food City and Softlogic Glomark supermarkets, Good Market , Cafe Kumbuk, Black Cat, Bohemian Quest ,Urban Island, Island Hostels and Amari Galle.
Other flavours of sugar and salt, sugar and cinnamon, salt, toasted and half toasted organic coconut chips are available for bulk purchasing and can be ordered through Don Coco facebook page https://www.facebook.com/doncoco.sl/
Greenfield Farm
Organic Life
"We try to encourage a plant based diet by offering a sustainable solution that anyone could embrace," says Ahalya Chellaram, Creative Director, Greenfield Farm Organic Life about their range of coconut spreads infused with unique spices and flavours.
Their organic coconut spreads, come in a range of flavours of pineapple, ginger, cinnamon, cacao and pure coconut. All the fruits and spices used in the spreads come from Organic Life's forest gardens. "Sri Lankan cacao is high in antioxidants and Ceylon cinnamon is considered to be the best in the world," Ahalya notes.
According to her it was a challenge to come up with an innovative food solution for children and adults, a breakaway from the mainstream unhealthy food industry. The organic coconut spreads contain natural sugar of coconuts with a low glycemic index and have no added artificial flavours or preservatives. The spreads can be paired with toast, pancakes, waffles, muffins, dessert and ice cream.
Coconut sugar, another innovative product by the company, introduced as a substitute for normal sugar is made out of the nectar extracted from the coconut flower processed into sugar.
Organic coconut spreads are available at Urban Island, Good Market, Odel and Fairway Sunset Rooftop, Galle. All Organic Life products could be ordered and are delivered through their online shop http://www.organiclife.lk/
Going sweet and healthy

Nimshi Karunaratne was always passionate about cooking and making sweets. Inspired by her grandmother who introduced Nimshi to local vendors who sell ingredients for sweets, Nimshi's home based business, Doillies Unlimited was started with the intention of producing a unique sweetmeat.

Her coconut ice, a scrumptious dessicated coconut delicacy is a traditional sweet in Britain and popular in Europe. Nimshi did a few changes to the original British recipe for Sri Lankans who are known for their sweet tooth. "Sri Lankans are anyway used to the taste of coconut toffee and they love coconut," she says.

Talking about the nutrition facts, Nimshi states, "it is made of dessicated coconut which is a healthy fibre, condensed milk that gives protein and icing sugar." It could also be consumed as an energy bar as her coconut ice is free of preservatives, she says.

Energy balls, another confectionery made by Nimshi is flour free, gluten free and sugar free. It is high in nutrients and made with coarsely ground almond, hazel, cashew and pistachio combined with dates and coated in dessicated coconut.

Doillies coconut ice is available at Odel outlets in Kohuwala, Nugegoda and Ward Place. Direct orders could be placed on Doillies Unlimited on facebook and instagram.