Biomedical Science at MSI for Edexcel / Cambridge (O/L) or GCE (A/L) students
View(s):

The Diploma in Biomedical Science programme leading to the Bachelors (Hons) Degree, provides you a career pathway in the Biomedical, Medical or any of the Health Science Fields.
This pro­gramme has a strong emphasis on Research, which will be a great advantage for students who are inclined towards Health Science Research.
The competence in both Diagnostic and Clinical Aspects of the curriculum will certainly be of a great advantage in their future undertakings.
The students who have completed the Edexcel or Cambridge (O/L) or GCE (A/L) can start Biomedical Science programme and the career path allows you to end up with a Bachelor's Degree. After the bachelor's Degree you may even pursue to do a Master's Degree programme and then even progress to PhD.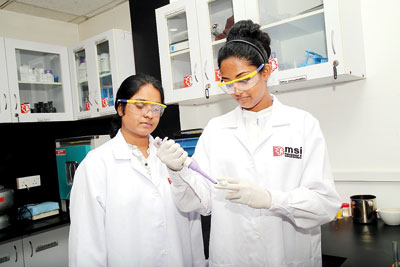 Biomedical Science is a new area of study and only a limited professional institute is conducting this course. Management and Science Institute (MSI) is one of the professional and leading institute that conducts a course in Biomedical Science with highly qualified and well-trained lecturers.
Management and Science Institute (MSI) Colombo is the ultimate choice for those visualizing academic excellence in their career path through higher education through its cutting edge in quality education with scope for students to pursue a vast spectrum of diploma programmes of their choice, cost effectively, using modern methodology, infra-structure facilities and a prestigious panel of lecturers.
MSI is geared towards academic excellence and reputed internationally, well positioned as a leading institute providing industry relevant qualifications through diploma programmes that eventually lead to Bachelor (Hons) Degrees, Post Graduate courses and Research Disciplines.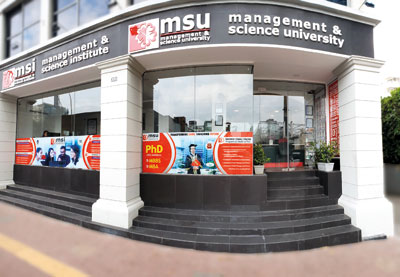 Management and Science Institute (MSI) is fully administrated by Management and Science University (MSU) Malaysia, which is 541st   QS World Ranked University and recognized by SLMC and UGC Sri Lanka. MSI Colombo is recognized by many Universities Worldwide including the United Kingdom, USA, Australia, Eastern Europe, New Zealand, Japan, South Africa, Indonesia and India.
MSI leads the professional education with a holistic approach to the expectation of the industry by meeting the global and ethical standards.
Other  Bachelor (hons) Degree programmes con­ducted by the MSI are Hospitality & Tourism Management, Event Management, Accounting, Business Management, Investment Management, Human Capital Management & Industrial Management
For more information on the programme offered at MSI, please contact us on  0112576644, 0112576700, Hot Line 0770777880,
Email info@msi.edu.lk
or  www.msi.edu.lk or
visit us at No;300 Galle Road, Colombo 3