UNP crisis deepens; SLFP, SLPP wrap up new SLPEP Alliance
By Our Political Editor
View(s):
Mahinda scuttles last ditch attempt to abolish Executive Presidency
Ranil says party disunity favours Opposition
Sirisena to back Gotabaya
The crises for the United National Party (UNP) and the Sri Lanka Freedom Party (SLFP), two of the oldest parties in Sri Lanka, have reached politically asphyxiating levels due to infighting as the tempo peaks over upcoming presidential election.
It comes when there is a strong likelihood that the Provincial Council elections would not be held immediately. This is on the basis of advice given to President Maithripala Sirisena by his legal advisors. They say the conduct of these elections would require the approval of Parliament, possibly by a two thirds vote. Thus, the National Election Commission (NEC) will from now on step up preparations for a presidential poll.
The enigma for the UNP, at least at present, is not to campaign to win the presidential election. It is entirely over who would be the candidate of the party and over the allies who would form the Democratic National Front (DNF). Party leader and Prime Minister Ranil Wickremesinghe is determined not to let his party deputy Sajith Premadasa be the candidate. Towards this, he is heading a multi-pronged offensive. This is whilst cracking down on dissidents. Parliamentarians Ajith Perera, Sujeeva Senasinghe and the Ven. Arthreliye Rathana Thera are already on the mat for allegedly violating party discipline. Wickremesinghe has been legally advised that a decision on the candidate should be made only after nominations are officially announced and the candidate should be picked by a party Nomination Board. No one can declare himself the candidate unilaterally. "These are multiple injuries including fracture for the party and just not a case of simple hurt," said a UNP senior who predicted that the issues would end in the law courts in Hulftsdorp.
Last Tuesday, Wickremesinghe took up a defiant position when he met the proposed DNF leaders (who now function as the United National Front). Taking part in the meeting were UNP Chairman Kabir Hashim and his predecessor Malik Samarawickrema along with John Amaratunga, Lakshman Kiriella, Ravi Karunanayake, Rajitha Senaratne, Patali Champika Ranawaka, Mano Ganeshan, Akila Viraj Kariyawasam and Ranjit Maddumabandara. The proposed DNF's constitution was almost concluded with Health Minister Rajitha Senaratne, who remained unusually quiet during the discussions, tasked to formulate the policies for the alliance. It was Hashim who raised issue over the presidential candidate and declared that a decision be made before August 31 (yesterday). He said Sajith Premadasa had the "best chance of winning." Added Samarawickrema; "Everyone is asking me to tell the PM about this" — a remark made on the grounds that he was once the closest confidant of Wickremesinghe.
Premier Wickremesinghe then declared that he would have to consult senior UNP members to discern what their thinking would be. He said he was therefore putting off the discussion until 11 a.m. on Friday (August 30).
At the meeting on Friday at Temple Trees, there were two 'non-seniors' also attending. They were Field Marshal Sarath Fonseka and Minister Daya Gamage. They had informed party leader Premier Wickremesinghe that they would also like to be presidential candidates from the UNP.
The first to speak was Minister and former Chairman Malik Samarawickrema. "I am speaking to you with a heart. The surveys we have carried out showed clearly that the only winnable candidate at the presidential election is Sajith Premadasa. Such surveys have been carried out at the grassroots level. We have to accept that and ensure that we choose the winnable candidate. I have always stood by the PM and I would urge that you consider our request in the interest of the party."
Minister Mangala Samaraweera said; "I am more comfortable working with you (Ranil Wickremesinghe). However, we have to think of the interests of the party. It is only Sajith Premadasa who can win this election. We must keep the party unity and take a decision. We are not against you. We have to ensure that the party is galvanised so we will be strong and win the elections."
UNP Chairman Hashim, who endorsed the statements of Samarawickrema and Samaraweera, said Premadasa's support at the grassroots level was the highest. He pleaded that this fact be taken into consideration and a decision taken immediately. He urged that no disciplinary action be taken against Ajith Perera and Sujeewa Senasinghe. "I will not do that. People who violated party discipline should face the consequences," asserted Premier Wickremesinghe.
Noting that Sajith Premadasa was not present, Wickremesinghe asked 'koh oyagollange janadipathi apekshakaya' or where is your presidential candidate. He then said 'methana dennek innava' or two candidates are here and referred to Daya Gamage and Sarath Fonseka. Lakshman Kiriella interjected to say 'mamath apeykshakeyek' or I am also a candidate. "So, there are three candidates here," added Wickremesinghe, not counting himself.
Premier Wickremesinghe was categorical that no UNP candidate will be announced until the nominations are declared. He said the Premadasa camp was counting on the Sinhala Buddhist votes and hoping the Tamil votes will come to him because of their dislike for the former Defence Secretary who is the SLPP's presidential candidate. He said there was no other plan of the Premadasa camp. Calling for unity within the party, he said the public display of disunity was to the advantage of the Opposition. Yesterday, Wickremesinghe spent the day touring the Kurunegala district and was scheduled to leave for the Maldives today to return on September 5. It was agreed they should meet again on September 6.
The developments at this meeting are a strong indication that Wickremesinghe will not relent. The prospects of Premadasa contesting under a different party are highly unlikely. He has said he does not want to do that and divide the party.
Ranil-Sirisena meeting
Wickremesinghe together with Minister Ravi Karunanayake met President Sirisena at his Mahagamsekera Mawatha residence on Tuesday night. There was no mention of this event to either leaders of the UNF or other seniors of the UNP. There were claims and counter claims as to who initiated the meeting. One side claimed it was Premier Wickremesinghe who proposed to President Sirisena that the Executive Presidency be abolished and they embark on the task immediately. The counter claim was that it was President Sirisena who wanted it done.
They both agreed, however, that SLPP leader Mahinda Rajapaksa's support was required for such an exercise, and also, that such support was unlikely to come by as his party (SLPP) had already announced its presidential candidate and already started its campaign to get him elected. In political circles, there is a general feeling that Mahinda Rajapaksa was not particularly enthusiastic about appointing Gotabaya Rajapaksa in the first place, but now has to go ahead with the decision taken. The abolition of the Executive Presidency would be like a nuclear bomb that would destroy the presidential ambitions of both Sajith Premadasa and Gotabaya Rajapaksa. That is not all. If the proposal succeeded, within the UNP, Premadasa and all his backers including cabinet ministers will be compelled to look to Premier Wickremesinghe to receive nominations to contest the parliamentary elections. In other words, a forced surrender if they want to remain in the UNP. A few more could face disciplinary action and find themselves out whilst others may have their requests turned down. Yet others who aspire to be on the national lists for fear of contesting will also be in for disappointment. In fact, Wickremesinghe referred to a UNP senior, who he said, was fearful of losing his seat.
President Sirisena conveyed the proposal to Opposition and SLPP leader Mahinda Rajapaksa at a meeting at his official residence on Wednesday night. Rajapaksa declared that he believed there was a need to abolish the executive presidency, but this was not the time. However, he asserted that it was an issue of national importance and could not be done to suit the requirements of one political party. That too, he said, in a hurry for reasons other than for Sri Lanka to have a good Constitution. Rajapaksa had also explained that if they were to abolish the executive presidency, that would, in no way, stop the presidential election. He opined that the National Election Commission (NEC) would, in accordance with existing laws and provisions of the Constitution initiate steps to call for nominations after October 8. That process could not be stopped just because a new Constitution was on the way, he pointed out.
President Sirisena's supporters, who are in favor of Wickremesinghe's proposal claimed there was "concurrence" on the matter between Sirisena and Rajapaksa. That appeared to be the result of this group hoping for a little time for Sirisena. In fact, one such area where prospects exist rests in the hands of the NEC Chairman. If, for example, he decides on October 8 as the day of nominations, he could decide on the election date within four to eight weeks. Nevertheless, President Sirisena is required to relinquish office on January 8, 2020.
Rajapaksa strongly rejected claims that he was in favor of the abolition of the executive presidency immediately. "To do so would be a joke. This government pledged when it came to power that it would abolish the executive presidency. Why did they wait all this time? Prime Minister Wickremesinghe is now talking about it for personal reasons that will benefit him. We are not willing to forsake the country's future for that," Rajapaksa told the Sunday Times. He said the opposition had made two demands to the government — not to sign agreements that affect Sri Lanka with foreign governments and not to introduce a new Constitution until elections are over. We will not be a party to Premier Wickremesinghe's personal campaign to suit the UNP needs, he added.
The week saw another move made. That was to convey a message to Colombo's diplomatic community whilst avoiding possible accusations of breaching protocol. The idea was to allow Wickremesinghe to possibly promote his preferred presidential candidate, if he does not contest — Speaker Karu Jayasuriya. He was to be "launched as the presidential candidate." Minister Ravi Karunanayake and his wife sent out printed invitations to envoys in Colombo for an "informal" dinner. The dress was "casual." It was at 8 pm at his luxury three-storeyed residence at Parliament Road in Kotte. Security measures to protect this house include over 40 surveillance cameras. At least two envoys were not sure whether they should take their spouses along since Mrs Karunanayake was playing hostess. When officials of the envoys questioned the Karunanayake household, they were told that the dinner was "stag" and was not for the wives.
At the appointed time, the guests began arriving. That did become embarrassing. The envoys of the United States, China, Korea and Pakistan were conspicuous by their absence. None of the envoys of Arab nations except for Qatar was present. The United States in particular has been a close backer of the UNP, but had clearly chosen to stay neutral in the light of the upcoming presidential election. Also absent were envoys of Germany, France, Rumania and other European Union countries and Cuba. Some had also not been invited.
It was 8.45 p.m. when Premier Wickremesinghe arrived. The Sunday Times learnt that Speaker Jayasuriya was invited to the event arranged for him and the Premier to meet the envoys. He was however absent. Whether this had anything to do with a meeting Minister Mangala Samaraweera had with Jayasuriya was the cause or not, is unclear. This meeting came after Samaraweera arranged the largely-attended Matara rally in support of Premadasa. During this meeting Jayasuriya did complain to Samaraweera that his ministerial colleague Harin Fernando had made some ugly references to him at the rally. He had referred to him as that 'Naaki Seeya' or Old Grandpa. Samaraweera politely conceded that his colleague should have avoided such references. Their conversation centered on a UNP presidential candidate and related matters.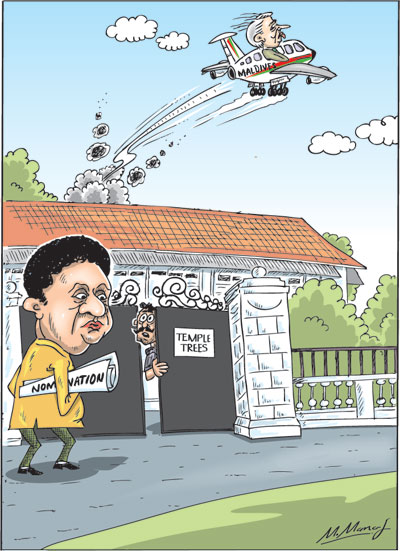 His absence from the dinner was conspicuous. Wickremesinghe shook hands with the envoys present and mingled around. There was no mention of elections or candidates. Yet, Karunanayake, a onetime Foreign Minister known for the high-spending project to get his 'commercial diplomacy' programme going by ordering Sri Lankan envoys to get foreign investors in their countries to come here, was embarrassed by the turnout. It was thus a case of playing Hamlet without the Prince of Denmark. The rationale behind the dinner was lost.
Seated at one end of a long table in the spacious dining hall was Premier Wickremesinghe. In the middle was Minister Rajitha Senaratne and at the opposite end Minister Karunanayake. It was a buffet dinner with both Western and Sri Lankan cuisine served. The talking point later among envoys who attended was why they were invited and what the purpose behind it was.
Sirisena's deal with SLPP
The first major secondary explosion — the result of the deepening crisis within the UNP — was on the Sri Lanka Freedom Party (SLFP) led by President Sirisena. He had hopes of working a political arrangement with Premadasa if he was the candidate. Time was running short and he was convinced that there were no prospects of an immediate settlement. He noted to a confidant that the UNP was now split in the middle and there were no prospects of reconciliation. He also said it is better for the SLFP to back the winning candidate. So he made an important decision — to go along with the Sri Lanka Podujana Peramuna (SLPP) with a partnership arrangement. The good news for him was that a group of SLFPers who had wooed the UNP were now reluctant to join the party amidst the disarray. After talks between President Sirisena and SLPP leader Mahinda Rajapaksa, the deal has now been wrapped up.
The finer parameters of the partnership had been in the making for several days now. They were gone through during a meeting Sirisena had with candidate Gotabaya Rajapaksa and Basil Rajapaksa, the architect of the SLPP. In terms of this broad arrangement, a percentage of candidates for parliamentary, provincial council and local authority elections would be given to the SLFP. There will also be a specified number when a Cabinet of Ministers is formed. SLFPers will also be accommodated in the National List.
Nevertheless, President Sirisena is determined to take disciplinary action against his one-time bosom confidant and broker S.B. Dissanayake and Dilan Perera for leaving the SLFP and joining the SLPP. It was Dissanayake who had telephoned Basil Rajapaksa and sought an appointment. When it was given, he had arrived together with Dilan Perera. Both handed in separate application forms to join the SLPP. Rajapaksa sounded a note of caution. He said whilst they were welcome as members, immediate priority would be given to those who had been with the party since its formation. He also told them that they should refrain from making public remarks against the party though they would be able to make criticism within.
The decisions for a political tie-up between the SLFP and the SLPP were endorsed at a meeting of leaders of joint opposition parties. Though it was scheduled to be held on Tuesday, it had to be cancelled in the light of the meeting between Sirisena and Mahinda Rajapaksa. They met on Wednesday at the Opposition Leader's official residence at Wijerama Mawatha. The Constitution of the joint alliance was approved.
Some of the highlights in the eight-page Constitution of the Sri Lanka Podujana Ekabadda Peramuna (SLPEP):
Ensure that war heroes who made sacrifices for the protection of the country's independence during the near 30-year-old separatist war will not be allowed to be taken before War Tribunals or will not be allowed to be demeaned.
Ensure that the private sector can carry on with their business in a free manner and provide them with required facilities and also protect local investors.
Change unfair taxes imposed on the public and also on entrepreneurs.
Ensuring equality before the judiciary for all citizens.
Ensuring that all citizens are free of harassment and are treated equally in society whilst also ensuring their security.
Buddhism will be given priority and there will be no hindrance to the practice and followers of any religion.
Ensure that the Motherland is not subjected to any security threat from a foreign force. Steps to be taken to protect the unitary status and independence of the country.
The Constitution lays down that "all parties and organisations joining the alliance with the SLFP should enter into written MOUs and the Executive Committee has the power to formulate such memoranda." An Executive Committee with a Secretariat will be responsible for the day-to-day administrative matters and coordination of its political events.
Party leaders decided that all legal activities of the Sri Lanka Podujana Ekabadda Peramuna (SLPEP) should be carried out by lawyer Raja Collure. This was the first leaders' meeting to be attended by candidate Gotabaya Rajapaksa. Basil Rajapaksa proposed that the Peramuna should have a Strategic Group made up of professionals from organisations like the Eliya and Viyath Maga. Vasudeva Nanayakkara declared that all decisions taken by them or any others linked to the party should be made by the Executive Committee.
Basil Rajapaksa said that their opponents' campaign would be based on three elements — cutouts in various areas, mud-slinging and spread of false propaganda. He noted that Minister Mangala Samaraweera was well known for this. He said that the Peramuna should be prepared to counter such measures and engage in a positive campaign. He said that he would like to give up the role of convenor if another could be appointed. However, the mater was put on hold after there was no nominee. His offer is based on criticism that he sometimes took follow-up action unilaterally without consulting other party leaders. He explained that his move was to ensure party unity.
SLFPers meet SLPP
Ahead of the party leaders meeting, there was a round of talks between the SLFP and the SLPP. Those representing the SLFP were Dayasiri Jayasekera, Mahinda Amaraweera and Lasantha Alagiyawanna. The SLPP side included Prof. G.L. Peiris and Basil Rajapaksa.
It was Dayasiria Jayasekera who made an appeal to the SLPP by saying "can't you even change your symbol from Pohottuwa (budding lotus flower) to a Chair". When told that the Chair symbol was now held by one time Prime Minister D.M. Jayaratne, Jayasekera replied "we can remove him." Exhorted Prof Peiris "we just cannot do that." Rajapaksa explained that it could not be done for the presidential election since the SLPP symbol was a brand name now. He said "we can take a look" at the matter at future elections. He also ruled out suggestions that some SLFP candidates be allowed to contest separately under different symbols.
It is not immediately clear whether President Sirisena will announce the new partnership when he addresses the SLFP annual convention on Tuesday. This is particularly since the formal arrangements are yet to be worked out. Whether this happens or not, it is now a fait accompli — Sirisena will not contest the presidential election and will now support Gotabaya Rajapaksa.
For UNP leader Wickremesinghe who is still riding the high waves checkmating his dissidents, the situation is seemingly unassailable. Yet, what the dissidents have done has caused enormous collateral damage to him even if he recovers from the current political imbroglio.
SLFP leader, President Maithripala Sirisena, who was on the see-saw, has at last found comfort in the now major offshoot of his party, the SLPP. At least for the moment, history will record him as a one-term President who ousted his predecessor and later joined him. Little wonder, Mahinda Rajapaksa told him during last Tuesday's talks, "Let's forget the past and now work together for a better future for our people." Sirisena nodded. He seems to agree now though it was different in late 2014 when he emerged as the presidential candidate
JVP leader invites people to a new journey

"People from every ethnic group are calling for a change. We are ready to be that change. We are hopeful of people's support to achieve that goal," says Anura Kumara Dissanayake, leader of the Janatha Vimukthi Peramuna (JVP) and presidential candidate.

Here are highlights from a Q and A with him:

ON WHETHER THE JVP WILL DILUTE THE EXECUTIVE PRESIDENCY OR REVERT TO THE WESTMINSTER MODEL: Our country was ruled by an executive presidency for more than four decades. Many crises were faced by the country due to the occupation of this office by the likes of dictators and hilarious characters. Therefore, the formation, implementation and monitoring of policies should be taken under the purview of a public forum.

DESCRIPTION OF THE JVP IDEOLOGICALLY. IS IT FOR A CENTRALISED ECONOMY DOMESTICALLY AND FREE TRADE INTERNATIONALLY: Considering the geographical positioning and natural resources, a country formulates its economic policy on these factors. No country in the world has either completely shut down or open its market. The decision on opening or closing markets is based on the nature of the country's production levels. Our policies will be based on these fundamentals and we will present an economic policy that would be unique to the country.

JVP'S MAIN APPEAL TO YOUNGER VOTERS: A unique political situation was created in the country in 2004, 2005 and 2015. The issue of dividing the country came about in 2004 and 2005. It needed to be given more prominence than the political ambitions of our party. Similarly, the country was faced with the threat of a dictatorship by 2015. Given the destructive forces at work, we left aside our political agenda for the benefit of the country. Our decisions were based on these situations. It helped bring some victories to the country. We accept that it caused some damage to our party.

ON A JVP CANDIDATE WINNING IN THE FIRST ROUND: We have not focused our attention on that. We are focused on handling our campaign on a victorious path.

ON THE JVP URGING VOTERS TO CAST A SECOND PREFERENCE: Our country is now divided into two political camps. Gotabaya and Sajith represent one camp. They are the cause for the crisis and not the solution. After creating the threat, they are now trying to take the lead in portraying themselves as the saviours.  They have pushed the rural areas into poverty. Those casting their votes to National People's Power will not have any doubts about it. We request that a second preferential vote be not cast at the presidential election.

PRIORITIES OF THE JVP: Our priority would be to gain administrative control at the parliamentary elections. Focus will be on economic development, pubic security, national unity and guarantee to ensure supremacy of the law.

JVP'S PROMISE TO VOTERS: A life filled with joy, comfort and prosperity. A steady future, particularly for the youth, to live without fear.

ON EXTENDING SUPPORT TO OTHER POLITICAL PARTIES LIKE THE UNP IN THE PAST: Our opponents are trying to spread such a perception among the people. The two archaic groups will not be able to take the country forward. We invite the people on a new journey. There is no necessity for us to support any other political party.