Sudath returns with 'Sulanga Mahameraka'
By Susitha Fernando
View(s):
Award winning filmmaker and popular teledrama director who shot to international fame as a tele director with his teleplay 'Amba Yahaluwo', Sudath Devapriya has returned to miniscreen with 'Sulanga Mahameraka', a story based on the aftermath of youth uprising in the late 1980s in Sri Lanka.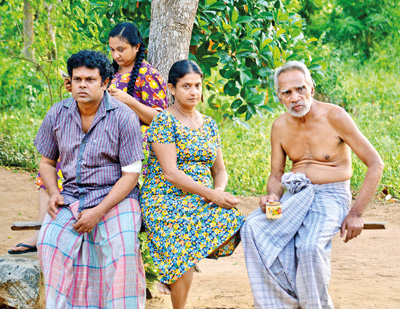 Revolving around an undergraduate who returns to his remote village after serving a long imprisonment which he was convicted on a false charge, the teleplay discusses the dark period the country underwent.
Wasantha who returns to his home in Molewa, comes to know about a series of tragedies that his family had undergone. During the period of terror, one of his brothers has been disappeared and his mother who couldn't bear the loss of her son has committed suicide. With son's disappearance and wife's death, Wasantha's father has become mentally ill.
Taking family responsibilities, Wasantha's elder sister Anulawathi sacrifices her entire life to look after the family. A teacher by profession, she is interested in the school principal but she is not in a position to enter into wedlock. With all these obstacles 'Sulanga Mahamerak' portrays a young man's struggle to fight against social, political and economical conditions in a country ravaged by a youth uprising.
The play stars Bimal Jayakody, Lakshmi Damayanthi, Sumith Rathnayake, Jayani Senanayake, Damitha Abeyratne, Hemasiri Liyanage and a number of other leading artistes.
Filmmaker and teledrama director Sudath Devapriya started his career in 1981 as a young actor after going through a theatre course under the late playwright and children's theatre expert Somalatha Subasinghe.
Later he joined the Sri Lanka Rupavahini Corporation and produced a number of popular TV programmes. His magnum opus in television, 'Amba Yahaluwo' tele drama based on T. B. Ilangaratnes popular novel in 1988 was telecast internationally. With a number of ever-popular children's song the teledrama went around the world telecasting in 27 channels.
Devapriya, directed three films starting with ' Elivena Dawasa' in 1990. He directed 'Tharanaya' as his second film in 1997. Produced by actress Sriyani Amerasena, the film won awards and represented at a number of international film festivals. His last film 'Udugan Yamaya' won a number of awards at the Presidential, Sarasavi and SIGNIS Film Festivals in Sri Lanka and screened at foreign festivals including the prestigious Cannes film festival in France, London film festival, Delhi film festival and New York film festival.
"The teledrama industry is in a real disaster. It is the television channels that decide the content of the teledrama, story and even its cast. I didn't want to be a part of this business and I stayed away from it," Sudath Devapriya said the reason for his long silence in the teledrama industry.
"We still consider the beginning of teledrama and the 1980s as the golden era of teledramaindustry in Sri Lanka. People like Dhamma Jagoda, Lucian Bulathsinghala, Parakrama Niriella and Dharmasena Pathiraja started a creative journey for Sri Lanka teledrama but this was hampered by imported soap operas and mega teledrama culture, Devapriya described the tragic fate of country's teledrama industry.
However this director whose teledramas were telecast even in foreign channels said that is necessary that we fight to have our own identity in this form of art.
"I know this a swimming against the tide but we need to do it for the sake of this art," he added.