Rukshan sings for 'Little Minds'
View(s):

'Little Minds Strong values', a DVD with brand new 29 Sinhala and Tamil video animated songs teaching children ethics and values is now out on sale.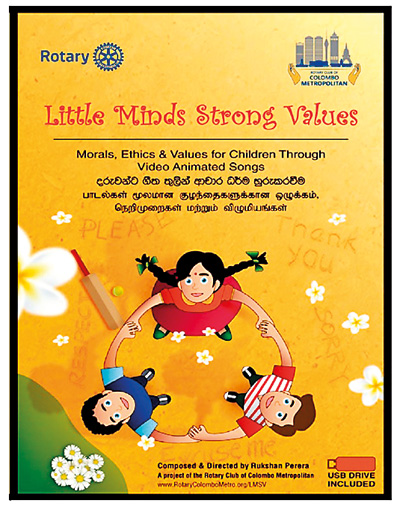 'Little Minds Strong values' is a Rotary national project initiated by Rukshan Perera, the musician, songwriter and past president of the Rotary Club of Colombo Metropolitan. The Rotary Team is currently preparing to distribute 5000 DVDs/Hard Copy Lyrics Books free of charge to pre-schools, primary schools, middle schools, high schools, music schools, choirs, places of worship and other children's organizations throughout the country, who wish to teach their children these songs with embedded ethics and values.
Anyone can request a free DVD by going to the websitewww.RotaryColomboMetro.org/LMSV and clicking on the REQUEST A FREE VIDEO. Rotary will mail you the DVD with a printed booklet free of charge.
'Be a part of the team to build the foundation for a society of good mannered, civic minded, decent people in Sri Lanka in the next generation' Rukshan stated.
The lyrics are simple and easy to understand, but full of moral resonance, advising children on the best way to conduct themselves in the situations of life with values and manners. The music accompanying the lyrics is catchy, vibrant, rhythmic, harmonious and uplifting to listen to.
The music videos contain bright colours and beautiful images of children from all the ethnic groups in the country singing the songs in unison.
Principals, Teachers, Directors and Religious leaders are encouraged to support this important project for Sri Lanka and encourage the students to participate in the island wide Annual Ethics and Values Competition with attractive awards worth Rs. 500,000/- for the winners.
For more information on the project, go to the websitewww.RotaryColomboMetro.org/LMSV. You may also write  toLittleMindsStrongValues@gmail.com or call 0766111932 for more information.