C Chain: The Fastest rapper in Sri Lanka
View(s):

C Chain is a popular Hip-Hop rapper, though he is still a new kid on the block. His popular hit 'Hood Eka' was a mixtape by C Chain along with Nikila (The Xoticc) and Pramuka (Rabbit).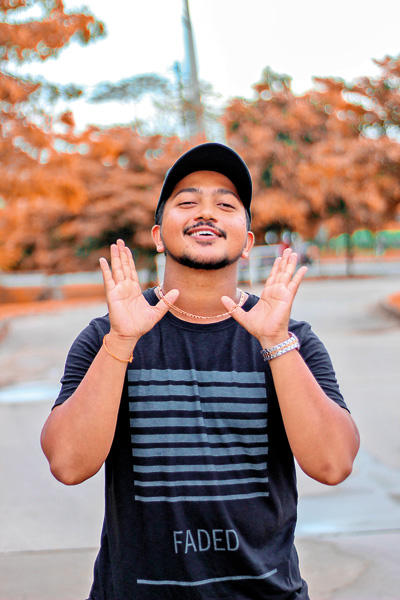 'Chamindu Yashod popularly known as 'C Chain' started his music career at the school level few years ago and now gained the name as the fastest rapper in Sri Lanka.
'My crew members 'Niki and Rabbit too are from the same school but we didn't know each other at the College. My favourite is Hip Hop. It's been Hip Hop all the way. I listen to any song that I think was good. But the reasons for me to end up with rap at the end of the day are the 'Beats and the Punch lines'. I have to mention that I'm a fan of many other genres too. I still listen to songs of Queen, Michael Jackson and many other pop and rock artistes most of the time' C Chain explained.
Chamindu stated that top international Hip Hop starts like Eminem, Machine Gun Kelly, YG and the late great Nipsey Hussle are some of the stars that inspire him mainly to be a professional rapper.
'But when it comes to the local rap industry, it was mainly the one and only Manasick. He's so real and unique. When it's an artiste, it's not only the music. I always look at their story. I love how they give up the fact of been dependents and make a name of their own in whatever the industry they belong to' he said.
'I was a kid with a big dream then, still the same kid with bigger dreams. I have been disheartened many times because I was either forced to stop music or booed off from some stage. There was a time where I had everything but then suddenly I lost everything making me a real heartbroken.
I'm talking about end of 2017 till the last days of 2018. That was the worst time period of my life. Back then I never thought I'd end up with a hot video like 'Ganan' with Russian girls and Hummers, flexing dollars. It was all about accepting fate and taking it to my hands. All I ever wanted was this' C Chain revealed about his ups and downs in life as a musician.
'My wolf pack, BLG IRC has always been together during the hardest times and held me up when I was at my lowest'.
C Chain along with his Crew are now working on their latest project 'Nawa Yakku' to be out by the end of this year.