Brandix's state-of-the-art clothing factory reduces environmental pollution
By Jayampathy Jayasinghe
View(s):
Batticaloa – What captures the eye of a visitor to the Brandix clothing manufacturing factory in eastern Batticaloa is the plaque that hangs conspicuously at the entrance to the facility. The plaque signifies net zero carbon status certification award bestowed on the company for sustainable development. The company proudly boasts of achieving the world's first LEED Platinum certification in 2008 and the World's first Net Zero Carbon status Certification award in 2019 at its factory in Batticaloa, it was revealed during a recent media visit to this complex.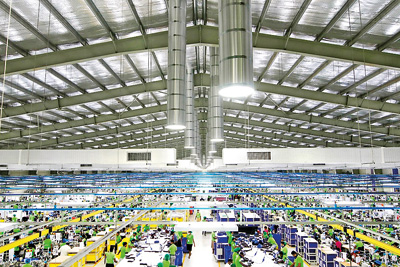 Erasha Somaratne, Group Head Engineer at Brandix Group, is responsible for maintaining sustainability strategy at the Brandix Group. He has several accolades to his credit being the architect for constructing the modern apparel factory at Batticoloa. Mr. Somaratne, explaining the intricacies of how Brandix works, said the damage caused to the environment by the factory has been minimised to a great extent. He said calculations show that to earn one dollar, 276 grammes of carbon was released into the atmosphere in the past.
Owing to a concerted effort, the company was able to reduce the carbon emission to 56 grammes. "We have invested around $28-30 million to achieve this task by not using diesel and fossil fuel for the operations in our factories," he said. One hundred percent success rate has been achieved by using biomass, ipil ipil to generate power generation while 1.65 megawatt solar panels have been installed on the factory roof top to provide electricity for the entire operations. "So far we have commissioned 8 megawatts of solar power generation plants at Brandix factories where a sum of $13 million has been invested so far. We intend to commission another 8 more plants in the future to generate 20 megawatts in each factory," he told reporters during the visit to the factory.
Director, Projects Brandix, Natasha Boralessa said Brandix's motto is hinged on providing inspired solutions to people.
She said Brandix's sustainability development programme had commenced almost a decade ago and the agreement signed between Brandix with GREEN Building Council is another milestone that pledged zero carbon emission at all Brandix facilities by 2023.
"The overall strategy of Brandix is not to impact the environment with air, water and with earth by any measure and to have zero impact our manufacturing operations," she said.
Brandix Deputy General Manager Jarook Mohamed said the Batticoloa plant employs 4800 persons and uses 30 litres of water per head for a day.
The water at the factory is recycled for other uses. Meanwhile in-house water purification system provides safe drinking water for all its employees, he added. The Brandix building at Batticoloa has been designed according to the US Green Building Council and American Society of Heating, Refrigerating and AIR Conditioning Engineers. (ASHARE) Around 44 per cent of energy is consumed for cooling of the building.