RTC initiates 'Spend a day with Horses' educational tour
View(s):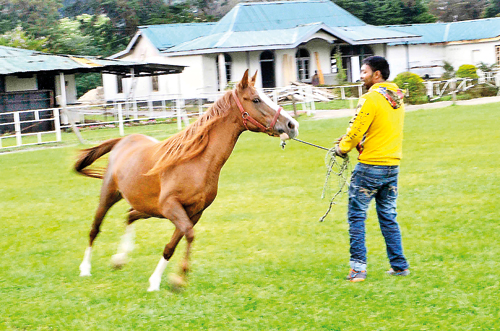 The Royal Turf Club (RTC) will become the first sports entity in Sri Lanka to open its doors to the public with its latest initiative 'Spend a day with horses'. The programme, which aims in giving the general public a glimpse of activities behind the curtain in horseracing, will be conducted targeting the youngsters and junior age groups, during the ongoing school holidays.
The RTC's 'Spend the day with horses' will include many activities, beginning from grooming, feeding, providing medical assistance and physical training sessions to horses, which are mainly done by the stable staff. Through the programme, youngsters will be able to gain a firsthand experience in how matters are handled and horses are being treated inside the stables.
"Through this programme, we intend to give the youngsters the opportunity to experience how horseracing is managed, how events are conducted and mainly on how the horses are been taken care of at our Racecourse in Nuwara Eliya. This will be an ideal way for the youngsters to educate themselves on horses, horseracing and other areas involved in it," Nishitha Rupasinghe, the Treasurer of RTC, stated.
The 'Spend a day with horses' programme will also include educational tours around the Racecourse in Nuwara Eliya, providing a comprehensive insight on the race track, stables, the areas where technical officers are being placed and interaction with jockeys, trainers and staff members of stables.
"We at RTC, take great pride in introducing this kind of an initiative in Sri Lanka. There are sports facilities, centres and other areas in other disciplines where the general public, mainly the young ones, could at least get the opportunity of experiencing a sightseeing tour. But RTC, while initiating the programme, is looking at going beyond sightseeing by providing the youngsters a whole experience on horses and horseracing," Rupasinghe explained.
Through the programme, the RTC, as other sports entities, are also targeting the interest of youngsters into horseracing, which is gradually reaching offshore, from Sri Lanka's only available racecourse in Nuwara Eliya. RTC officials stated that it would open the gates of the Racecourse in Nuwara Eliya for the youngsters and their families during the August holiday season. Further inquiries could be made by calling the RTC hotline on 0770309090.