'Vijayaba Kollaya' on screen
By Susitha Fernando
View(s):
Prof. Sunil Ariyarante's much awaited film 'Vijayaba Kollaya', screenplay written by the late writer Tissa Abeysekara based on the novel written by a best-selling author of Sinhala literature, W. A. Silva, will be on screen from August 1. Produced by H. D. Premasiri for Sarasavi Sine Ru, the film will be released on EAP circuit and will be shown in 80 theatres including Savoy Premier and Regal Colombo.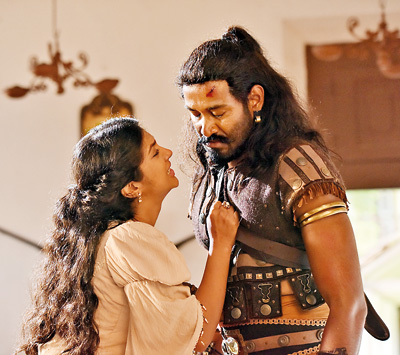 The first film to be shot with the 3D technology guidelines by 360 Production, 'Vijayaba Kollaya' stars Hemal Ranasinghe, Senali Fonseka, Ashan Dias, Chulakshi Ranasinghe in the main roles, others in the cast include Prithi Randeniya, Buddhika Jayaratne, Eardly Wedamini, Prof. Ariyaratne Kaluarachchi, Hans Billimoria, Gavin Ludewyke, Ryan van Rooyen, Gayana Sudarshani, Mariyon Weththasinghe, Sunil Costa, Anuradha Mallawarachchi, Sachithra Weerasinghe, Dhanushka Dias, Methin Jayasuriya and Ajith Shantha.
Set in the 16th century Sri Lanka, the story revolves around a triangle love among Neelamani, Nayanananda and Hasanga, the fictional characters created by W. A. Silva. The film story takes place at the time when there was a battle between the Kings of Kotte Kingdom and Portuguese.
"First published in 1938, 'W. A. Silva has beautifully combined the history and the fiction in his most successful novel 'Vijayaba Kollaya'. The novel was so popular and it is in its 30th edition," Proffessor of Sinhala language and award winning filmmaker Sunil Ariyarante told TV Times.
"It was Buddhi Keerthisena who took the right of the novel for a film and he even got Tissa Abeysekara to write a screen play. This was the last screenplay written by the late Mr. Abeysekara. I am grateful to Buddhi Keerthisena for giving us the opportunity to make a film based on the novel," professor added.
"There are number of films like 'Kele Handa', 'Deiyanne Rate', 'Daiwayogaya', 'Higana Kolla', 'Siriyalatha' and 'Handapana' made based on W. A. de Silva Silva's novels ," said Prof. Sunil Ariyaratne who is famed for his research based literature and films.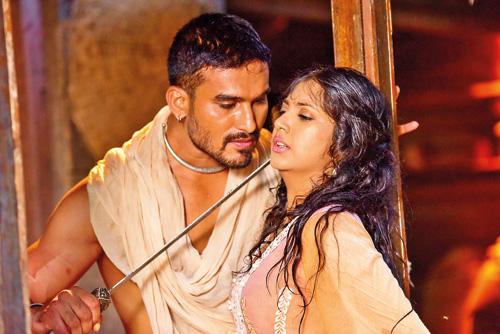 However though 'Vijayaba Kollaya' was the most successful novel written by W. A. Silva, it was never made to a film earlier. Speaking on this Proffessor says, "It is big challenge to do a film based on this particular novel. Firstly it requires a massive budget and we spent over Rs 70 million for this production and secondly it would be hard to recreate 16th century Colombo port. I think these were the main reasons why the novel was not made to a film. Anyway I am grateful to my producer H. D. Premasiri who took up this challenge.
Prof. Ariyarante says that the novel was one his favourites from the time he studied it as a text book for his Ordinary Level examination in 1963. "I never thought that I would make a film from the text I learnt as a student in 1963," he said.
"However releasing the film at this moment is a challenge. Following the Easter Sunday attacks Sinhala cinema has been undergoing a tragic situation. Few cinema halls were closed down with plans not to open again. Since the attacks no Sinhala film did financially and many filmmakers are reluctant to release their films," said Prof. Ariyaratne.
However we are taking a major risk and it is a sacrifice we are making. But there is a big demand for this film and it will be released in theatres of all circuits and we are confident that this film, like all films made based on W. A. Silva's novels would be a success," Prof. Ariyaratne said with a positive note.
The technical crew with some of the leading artistes in the field include Channa Deshapriya as the cinematographer, Bimal Dushmantha as the production designer and art director, Harsha Manjula handling make up, Wenuka Wickremarachchi costume designing, Tissa Surenda as the editor and Rohana Weerasinghe as the music director.
Umariya Sinhawansa and Sanuka Wickremesinghe have rendered their voices for playback songs. Boodi Keerthisena was in charge of visual effects and Vimal Deshapriya as the assistant director joined the film. The hair designer is Haroon Shaideen.
Production manager is Nimal Wijesiri Senadheera and production coordinator of 'Vijyaba Kollaya' is by A. D. Ranjith Kumara. The film is co-produced by Kumudini Dias Haputhanthri and Chandra Haputhanthri.