Fingers to 'Sing with Moratuwa'
View(s):

The band 'Fingers' from Moratuwa is the latest addition to the music industry. The band 'Fingers' first came into limelight in the mid 2016, with their maiden concert 'Sing with Moratuwa'. 'Sing with Moratuwa' was their official induction party in July 2016, where all members of the band initiated their professional career as musicians.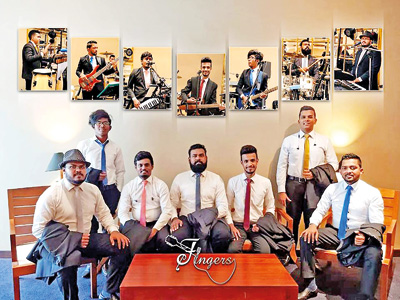 After three years of work in the industry, the boys managed to gain experience and exposure to the higher level of professionalism.
To celebrate their third anniversary, 'Fingers' have set to explode again under the same banner 'Sing with Moratuwa'.
The latest 'Sing with Moratuwa' sing along dance festival will come alive on 3rd August, 2019 at the Sapphire Banquet hall of the Ramadia (Ranmal) Hotel in Moratuwa. Chithral Somapala, Mariazelle Gunathilake, Shivantha Fernando and Corrine Almeida are billed to perform with the Fingers at 'Sing with Moratuwa'.
'For the past three years, we have played for more than 150 events including dances, concerts and other private gigs. Even though we are based in our home town Moratuwa, we have been fortunate enough to get events and concerts throughout the country. With the success of our band, we were able to build up our own studio in Moratuwa enabling us with more musical facilities to strengthen our capability as a band' said Shevon Fernando, the leader of 'the Fingers'.
Fingers comprises of Shevon Fernando (leader), Lakmina Fernando (keytar and vocal), Shehan Fernando (ketboards and vocal), Shuresh Fernando (bass and vocal), Sachintha Perera (percussion), Sampath Silva (drums) and Sangeeth Peiris(guitar and vocal).
The band was featured on TV 1 and Sirasa TV in many programmes including recently telecasted Valentine Day Programme and Kedella Exhibition.
'During this period, we had many opportunities and openings to take part some of the major musical events and concerts in the country. In fact we were fortunate to participate in number of musical events and ccasions including concerts, TV Programmes, special functions and weddings.
The tickets are prices at Rs 3000/- and 2500/- including dinner and are available at Fleminco Office, Port Valley Restaurant, Hair Avenue, Pop Corn Movie Box, Ramadia Hotel along with tickets.lk Colombo Office.
For more information call 0715251111 and 0771524429.