Bringing world theatre to Sri Lanka
Colombo International Theatre Festival felicitates Dr. Jayalath Manoratne
View(s):
Bringing a rare opportunity for Sri Lankan theatre lovers to experience foreign theatre and witness an international theatre festival, Colombo International Theatre Festival (CITF) 2019 will be held from August 3 to 9 at the Elphinston theatre, Colombo.
Organised by Inter act Art, this year festival will felicitate actor and playwright Dr. Jayalath Manoratne who has been serving Sri Lankan theatre for several decades. This year the festival will represent productions from Germany, India, Austria, Pakistan, Iran, USA and Romania and it will include theatre forum and theatre workshops conducted by international scholars.
Conducted for the 8th successive year, the festival will feature non verbal play 'Book of Love' by Aamir Nawaz – Maas Foundation – Pakistan and American English play 'Let It Be Art!' by on August 4. On August 5 Iranian play 'Ardakani Honorable Family' by Amir Bashiri – Avan Theater Group, Sri Lankan play 'Do re mi fa so la ti' by Sachithra Rahubaddha and award winning playwright Nalin Lusena's 'Nokiya Hitapu deyak' will be staged.
Austrian plays 'The Sky Above – The Mud Below, Valentin Alfery- Hungry Sharks – Austria (Non verbal) and German play 'Things to wear' by Melanie Florschütz / Michael Döhnert- Theaterhaus Ensemble will be staged on August 6.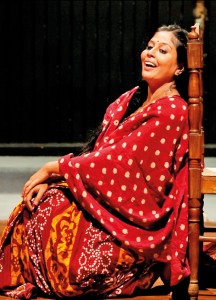 Romanian play 'Rehearsal for Elsinore' by Bogdana Darie – National University of Theatre and Film Romania and 'Menna Ape Rajjuruwo' directed by D.K. Atigala – Vinivida Theatre will be staged on August 7.
On August 8, Sri Lankan children's production 'Fight Fancy' directed by Nimasha Fernando – Musaeus College and 'Grease Yaka Returns' by Rajitha Hettiarachchi and Nishantha de Silva -Ananda Drama will be staged.
Two Indian plays 'Soul to Soul' by Satish R. Narvekar – Rudreshwar and 'Eladidi' by Subhendu Bhandari – AmtaParichay – India will be staged on August 9."Following the Easter Sunday attacks in April there were many obstacles to stop the festival this year. But most of the foreign playwrights request that it should be the very reason why the festival should be in this year," said M. Safeer, the Festival Director.
Veteran playwright Lucian Bulathsinhala highlighting the importance of having an international theatre festival said that it was only in 1980s he was able to witness a foreign festival.