Man with the Golden Arm – Angelo Mathews
View(s):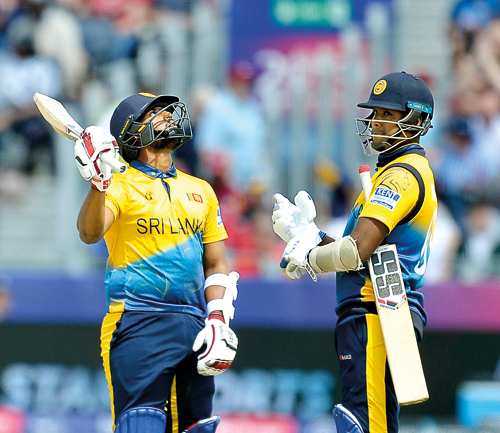 An American drama film "Man with the Golden Arm" based on the novel under the same title by Nelson Algren was screened way back in 1955. The book won the National Book Award, while the film, starring Frank Sinatra and the leggy Kim Novak, was nominated for three Oscars. More importantly, in recent times, Australian James Harrison (81) was also known as the "Man with the Golden Arm". Harrison has extended his golden arm over 1000 times and saved the lives of some 2.4 million babies by donating his rare blood plasma that contains an unusual antibody which can create a treatment that saves babies lives. As an octogenarian no more can he donate his blood. Surely Harrison should be considered the prima donna of those with the golden arm.
With the Cricket World Cup 2019 now nearing a close, a Sri Lankan cricketer too should be given the title "Man with the Golden Arm" when Sri Lanka overcame West Indies in the first dead rubber game played at the Riverside ground in Chester-le-Street, Durham, on 1 July, under the most curious of circumstances. What a game it turned out to be when Sri Lanka got the better of
the West Indians in a cliff-hanger.
Batting first, Sri Lanka whose highest total so far in the tournament had been 247 runs, went on to reach 338/6 in their 50 overs. This was thanks in the main to 21-year old Avishka Fernando (104) who scored his maiden international hundred in grand style, supported by attacking innings by both opener Kusal Perera (64) and an unbeaten 54 by Lahiru Thirimanne. Fernando may not become an Aravinda de Silva in the near future but at 21 years of age, if handled carefully, he sure is a batsman of rare quality.
Now back to the West Indies encounter.
With Chris Gayle in their ranks, even a total of 350+ may not have been a problem. However Gayle did not get into his usual attacking groove and was dismissed for a modest 35 runs in 48 balls. He did not do any better with the bat in yesterday's game against the Afghanistanis either being the lowest scorer (7) in the side.
Back to the Sri Lankan game.
Not to be outdone, with the loss of Gayle, and the West Indians at a shaky 71/3, 23-year old left-handed Nicolas Pooran (118) stepped into the breach in the 16th over with his team requiring 268 runs in a tad over 34 overs. Incidentally, the two centuries scored by Avishka Fernando and Nicolas Pooran was the first occasion when two youngsters from either side under the age of 25 years made their debut international ODI centuries in the same game.
Thanks to some poor fielding (four catches were grassed) by the Sri Lankans and low quality bowling, except by the evergreen Lasith Malinga (3/55), the Windies came within sniffing distance of victory. Pooran's main partner, Fabian Allen, who had never scored over 10 runs in an ODI innings previously, though he has two first-class centuries to his credit, yet scored an attacking 51 runs off 32 deliveries. However, after he was unfortunately run out, at the beginning of the 46th over with his side still requiring 57 runs in the last six overs there was still a game on. Pooran then hit a six and two fours and brought the equation down to a gettable 31 in three overs for the West Indians. Meantime, Kasun Rajitha, Dhananjaya de Silva, and Isuru Udana now had finished their quota of overs, and Malinga having only two overs left there was consternation in the Sri Lankan camp as to who had to deliver the one crucial over from one end. Even skipper Karunaratne earlier had had a bowl of one over for 7 runs.
Then came the turning point. It was the 48th over – but no bowler, or so it seemed capable of delivering this all-important over!
Former skipper Angelo Matthews, who had not batted too well in the game, now decided to take a hand in the game, though he had not turned his arm over in any ODI game for the previous eight months because of his constantly recurring leg-injury. Now it was a case of all or nothing. Walking up to the present captain Karunaratne, Mathews requested that he be given the ball, and Karunaratne had no choice. Obviously the latter respected his former skipper.
Mind you, debut centurion Pooran was on strike. In ambled Matthews, and turned his arm for the first ball, almost casually, well outside the off-stump. This delivery could have been sent screaming past extra-cover to the boundary by a batsman in form. Pooran must have thought all his Christmases had come in July and cut wildly, but Pooran was facing Angelo Matthews "the Man with the Golden arm". The result: it was a snick and an easy catch to wicket-keeper Kusal Perera! Malinga cleaned up No.10 and the West Indians lost an exciting game by 23 runs, which was Sri Lanka's third win in the tournament. All Sri Lankan supporters will now hope that the "Man with the Golden Arm" will resume his former bowling career – at least for a useful handful of overs!
That said, it is time the authorities go back to the drawing board for proper future planning especially for an event such as a World Cup that comes once in four years.
Surely that is not asking too much?